Education is a crucial aspect of human development and a cornerstone of any successful society. However, traditional educational methods and learning environments are changing – students need spaces that foster creativity, critical thinking, and collaboration.
This article aims to explore the key characteristics of effective learning environments, and their benefits for students and teachers, and how these have informed the creation of model classrooms at Pragyan School, Greater Noida. I hope to also inspire educators to reflect on the teaching methods and learning environments that will foster student success and lifelong learning in their own schools.
Creation of model classrooms
Carol Ann Tomlinson, in her book The differentiated classroom (2014), proposes that: 'teachers in such classrooms accept and act on the premise that they must be ready to engage students in instruction through different approaches to learning, by appealing to a range of interests, by using varied rates of instruction along with varied degrees of complexity and differing support systems.'
At Pragyan, we have been successful in creating a model classroom that is a well-organised space, which helps to reduce distractions and promote a focus on learning. Our students can choose from a variety of seating options – such as desks, bean bags, and floor pillows.
The classroom is equipped with interactive technology, such as digital whiteboards. We've found these whiteboards offer dynamic, visual, and interactive learning, real-time feedback, multimedia integration, and accessibility features that our traditional chalkboards didn't provide.
Group work is an important element of our classroom teaching. It is incorporated into lessons as it helps develop teamwork, communication, problem-solving, and critical thinking skills. Collaborative workspaces created in our model classrooms support the completion of group projects. Students have the opportunity to work at their own pace and receive individualised instruction based on their needs and interests. Our classrooms stimulate student engagement, collaboration and learning, they foster curiosity and promote academic success.
Principles of building an effective learning environment
A positive learning environment
Creating a positive learning environment is essential for students to thrive in their academic and personal development. A supportive and welcoming classroom atmosphere is of utmost importance. It can be achieved by creating a warm and inviting physical space, greeting students at the door, and using positive language and tone of voice. Teachers can also build relationships with their students by showing interest in their lives and experiences outside school.
It is also crucial to create a safe and respectful space where all students feel included and valued, regardless of their backgrounds, cultures, or identities. Teachers can foster a respectful and inclusive learning community by promoting open communication, active listening, and empathy. Encouraging students to share their perspectives and experiences, and validating their opinions, can help create a more inclusive classroom environment.
Robust teacher-student relationships
Building a strong teacher-student relationship requires a combination of trust, respect, positive communication, and guidance. Teachers should strive to communicate clearly and effectively with their students, using positive language that encourages and motivates them. Teacher feedback is also an essential part of student growth. Teachers should provide feedback that is specific, actionable, and focused on helping students improve their skills and knowledge. At the same time, they should provide guidance and support to help students overcome any challenges or obstacles they may encounter. Transparent communication and constructive feedback help build trust and respect and forms the foundation of lifelong learning.
A student-centred approach
A student-centred approach to learning is focused on empowering students to take ownership of their own learning and be actively involved. Classrooms at Pragyan are equipped with learning stations where students are given choices to express themselves in different modes, such as verbal, written, artistic, or using technology. For example, while teaching story setup in English to students of class V, 4 stations were created. Each student had to choose one station to show a story setup to their classmates. The stations gave them an option for the medium for this display which included artistic display, display based on technology, verbal display, written display etcetera. We have found these stations provide students with freedom for expression, giving them more control over their learning. For the entire exercise to be fruitful, it is imperative for the teacher to clearly state the instructions and learning outcomes to the students.
John Hattie and colleagues (2017) state that one of the ways to support student learning in the deep learning phase is through accountable talk – 'a set of expectations for students that is supported through the use of language frames that scaffold the use of language to explore a topic,' (p.144). At Pragyan, students are encouraged to reflect on their own learning and to set goals for themselves. By taking ownership of their own learning, students become more engaged and motivated, and develop important metacognitive skills, like self-awareness and self-regulation.
Technology integration
'...barriers to learning are not, in fact, inherent in the capacities of learners, but instead arise in learners' interactions with inflexible educational materials and methods,' (Rose et al., 2002). Effective technology integration requires meticulous planning and consideration of the needs and abilities of individual students. Our teachers carefully plan the usage of technology to enhance and extend learning experiences. They choose age-appropriate tools and resources, including Canva, Prezi, GCompris, Adobe, Wakelet and Quizziz to help meet the needs of their students, and also create their own teaching content for their classes.
Teachers are mindful of providing assistive technology for students with disabilities or ensuring that technology resources are available to students from low-income families. While technology can be a valuable tool for learning, it should not replace traditional teaching methods altogether. At Pragyan, we strive to strike a balance between using technology and using more traditional methods like direct instruction, hands-on activities, and group work.
A game plan for schools
Creating an effective learning environment requires a commitment to ongoing professional development, effective classroom management, innovative teaching methods, and continuous improvement. Our teachers regularly participate in workshops, conferences, online courses, and peer-to-peer learning opportunities. This helps them hone their skills and keep themselves updated with the latest in the field of teaching.
Our educators include a variety of teaching methods in their practice, including project-based learning, flipped classrooms and blended learning, to engage students and promote active learning. Creating an effective learning environment does not happen by chance, it requires a commitment to ongoing improvement. This involves regularly assessing student progress and adjusting instruction accordingly, seeking feedback from students and colleagues, and reflecting on teaching practices to identify areas for improvement.
Evaluating the success of our model classrooms
At Pragyan, we have been evaluating the effectiveness of our learning environments through:
Student achievement data – Student achievement data, such as test scores or grades, help provide an insight into whether students are making academic progress in the new learning environments. We have observed a huge improvement in student results in our model classrooms. We also use this data to identify areas where students may be struggling and adjust instruction accordingly.
Student and teacher surveys – Surveys provide valuable feedback from both students and teachers about the learning environment. Our exit slips contain questions focused on factors such as engagement, support, and overall satisfaction with the learning experience.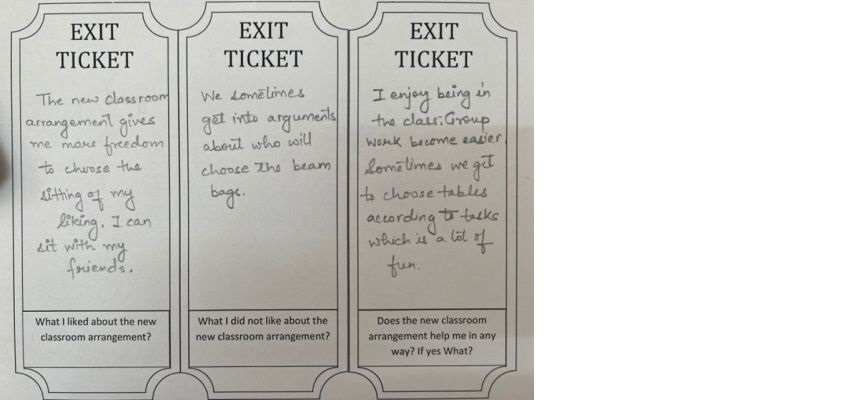 Classroom observations – We also regularly observe teachers and students in the classroom to evaluate the effectives of the new environments. I personally look for factors such as student engagement, teacher instruction, innovative instruction strategies, classroom management, and overall classroom atmosphere.
Some final thoughts
As educators, it is our responsibility to create learning environments that support student achievement, engagement, and wellbeing. At Pragyan, we prioritise ongoing professional development, effective classroom management, innovative teaching methods, and continuous improvement. We remain committed to creating effective learning environments that meet the diverse needs of all students, and to using research-based strategies and approaches – such as Social Emotion Learning (SEL), personalised learning and inclusive education – to achieve this goal.
References and related reading
Darling-Hammond, L., Flook, L., Cook-Harvey, C., Barron, B., & Osher, D. (2020). Implications for educational practice of the science of learning and development. Applied Developmental Science, 24(2), 97-140.
Hattie, J., Fisher, D., & Frey, N. (2017). Visible learning for mathematics, grades K-12: What works best to optimize student learning. Corwin Press.
Marzano, R. J. (2007). The art and science of teaching: A comprehensive framework for effective instruction. ASCD.
National Council of Teachers of Mathematics. (2020). Principles to actions: Ensuring mathematical success for all. NCTM.
Rose, D. H., & Meyer, A. (2002). Teaching every student in the digital age: Universal design for learning. Association for Supervision and Curriculum Development
Tomlinson, C. A. (2014). The differentiated classroom: Responding to the needs of all learners. ASCD.

How does the physical environment at your school impact the way you approach teaching and learning? Are you making the most of your learning spaces?
Is there flexibility to change the layout in your own classroom? Do you move or rearrange furniture according to the lesson you're teaching and the task that students are working on? How does this impact the way students engage in these lessons?