From a technical school of the future in Denmark to a building that reimagines school architecture in India ­– the 12 shortlisted designs up for this year's World Architecture Festival (WAF) award in the 'Education - Future Project' category have the potential to redefine how students learn.
Still in development, Australia has three projects nominated in this category, while India and Russia have two entries, and New Zealand, Kenya, Denmark, Canada and the UK all have one. The winner will be announced in November at the World Architecture Festival in Amsterdam.
Projects in this category include nursery/infant schools, primary schools, secondary schools and special needs facilities, as well as further education institutions. Here's a snapshot of the shortlisted projects.
Carey Baptist Grammar School, Kew, Australia
Architect: Architectus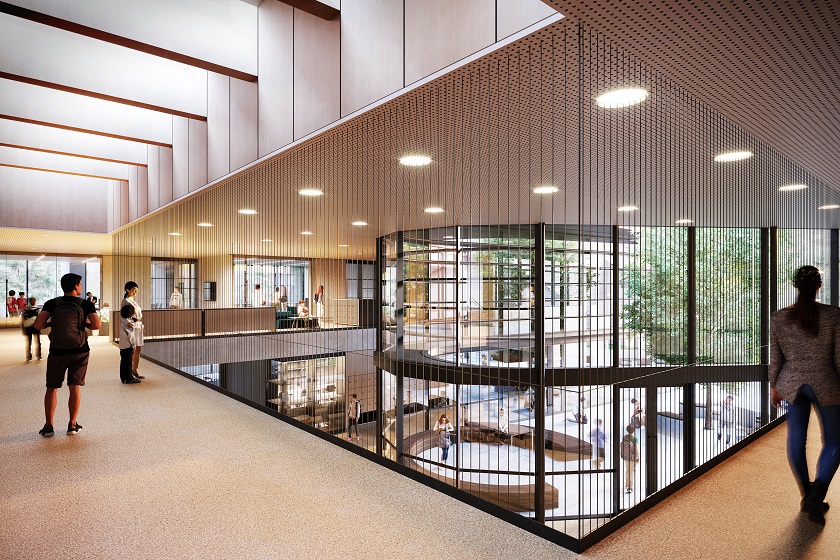 Image credit: Architectus
In collaboration with school leaders, students and teachers at Carey Baptist Grammar School, architecture firm Architectus developed an Education Design Brief that responds to the specific needs of Carey's middle school students and their teachers. It will include six interconnected learning precincts.
Custom-built joinery and loose furniture will be used to create a diverse range of learning settings in each precinct. Learning and teaching activities will extend out from formal learning labs into informal learning zones, intended to encourage crossover between subject areas and promote interdisciplinary learning.
The plan is to have formal learning labs that can be transformed, with the aid of generous openings, vertical connectivity and staggered interfaces between spaces, to create an interconnected learning landscape.
Tatu City Education Village, Nairobi, Kenya
Architect: Boogertman + Partners Architects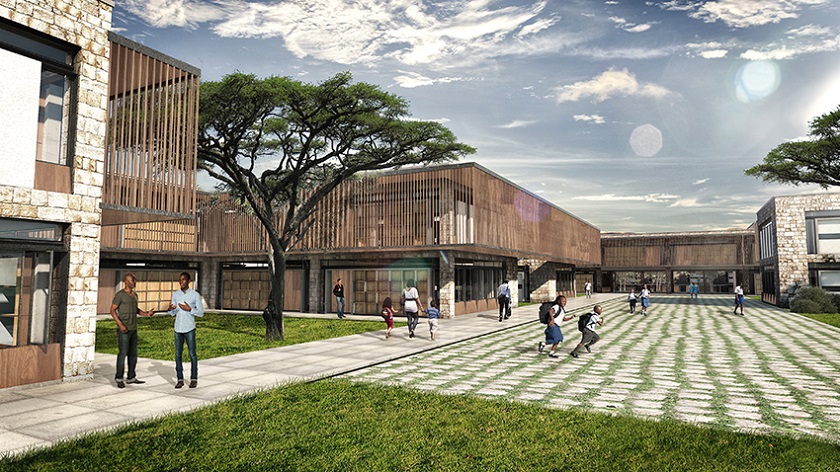 Image credit: Dewar van Antwerpen Renders-Jacques van Deventer
Following a lengthy architectural research study on the direct effect that physical spaces have on social behaviour and learning outcomes, Tatu City Education Village in Nairobi, Kenya was designed. It reflects the client's desire to create a facility that is spatially flexible, adjustable, and is suitable in multiple locations throughout Africa.
The aim of the new facility, designed by Boogertman + Partners Architects is to not only uplift the community, but provide children with an education. It therefore includes not only a school for various age groups, but a multipurpose hall, sports centre and library for community use, as well as a community gathering plaza at the centre of the village.
The design incorporates local materials which emulate the natural Kenyan landscape. A unique hand cut blue stone is used as masonry blocks. This traditional craft is disappearing in modern society, so this project aims to revive the skill.
Carlton Connect, Melbourne, Australia
Architect: BVN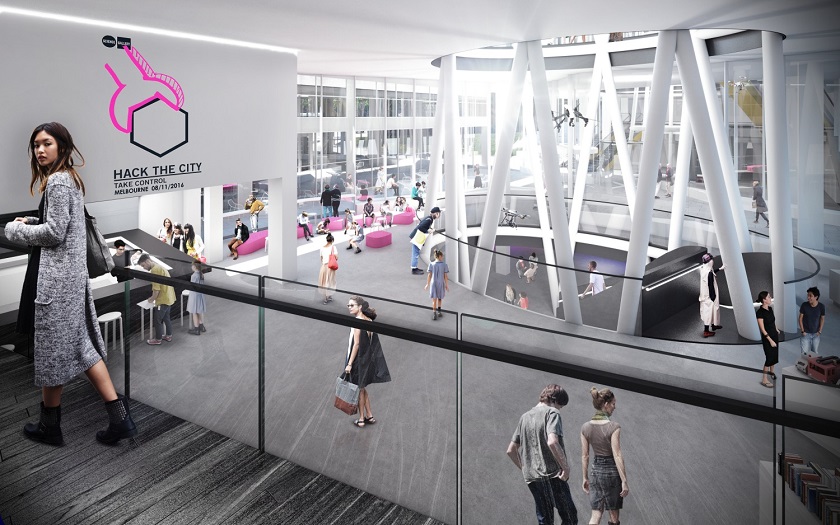 Image credit: BVN
A former hospital site in Melbourne will be repurposed as an Innovation Precinct, bringing together industry, researchers, government and the community to collaborate on new projects.
The existing building will be stripped back to its superstructure, with voids and a structural tube inserted. The facade of the building will be fully replaced for environmental performance.
With a focus on sustainability, the building is aiming for a 6 Star Greenstar commercial office rating. The custom designed façade system includes a series of operable external shades that would enable the building to be responsive to changing conditions, including climate resilience and increased temperatures. It also allows for clear double glazing.
The Choice School Thiruvalla, Thiruvalla, India
Architect: CetraRuddy Architecture
Image credit: CetraRuddy Architecture
The Choice School, designed at CetraRuddy Architecture, reimagines school architecture in India. It incorporates vibrant colours and textures, as well as the use of local materials such as stone and clay tile.
The site's irregular topography demanded an S-shaped footprint with varying levels, housing students in Grades 1-12 in one building to help foster relationships between students of different ages and allow for a continuum of learning.
The school is divided into three sections – Primary School Block, Middle School Block and High School Block – each containing its own entry, administration offices, classrooms, library, and student commons. It also has an indoor-outdoor science laboratory.
UTS Central, Sydney, Australia
Architect: fjmt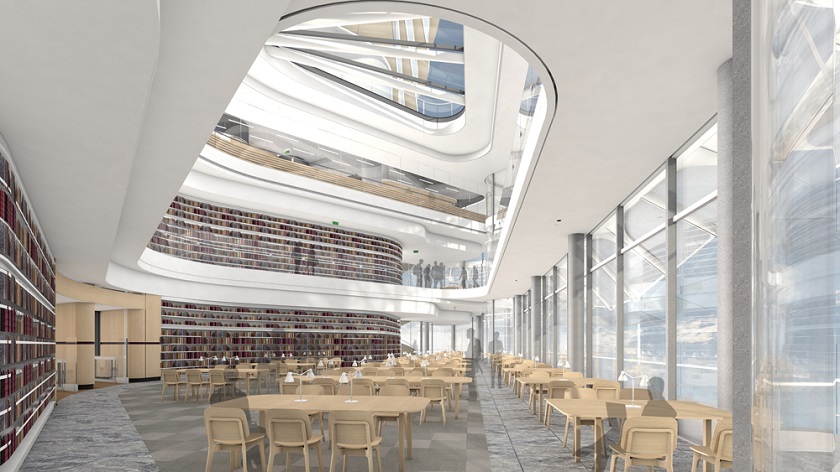 Image credit: Renders: Virtual Ideas
The lower levels of the UTS Central building at the University of Technology, Sydney, will consist of a dramatic podium that will house the bulk of the social, student-focused areas of the campus.
The upper levels take the form of a tower that twists and rotates as it climbs. On levels 3 and 4, the clear glazed facades create a sense of transparency, and connect the building with the wider campus and surrounding streets.
A multi-level reading room provides spaces for study, while the plan includes a generous roof terrace to further encourage engagement between students.
TEC H.C. Orsted Gymnasiet, Copenhagen, Denmark
Architect: KANT Arkitekter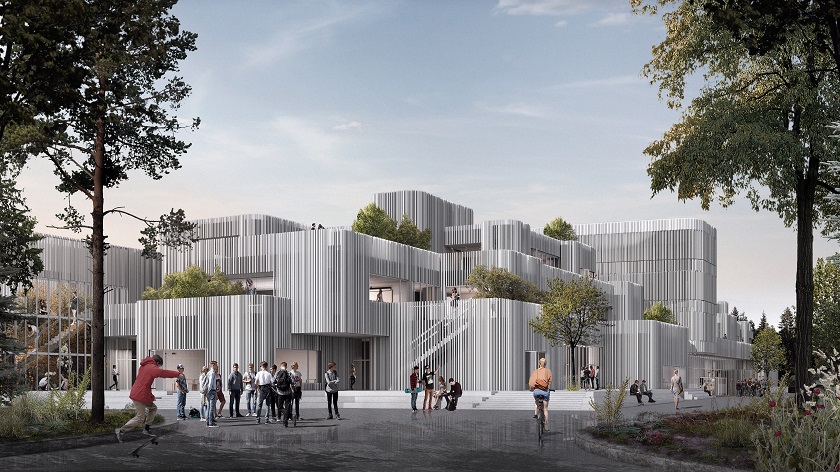 Image credit: KANT Arkitekter
TEC H.C. Orsted Gymnasiet is a 'technical upper secondary school of the future' located in the Danish city of Lyngby. Designed by architects at KANT Arkitekter and named after the Danish scientist who discovered electromagnetism, the school aims to become a technology and science 'playground' for both students and teachers.
A feature of the building design is the appearance of a stacked assembly of rounded, spatial volumes conveying a visual reference to electromagnetic coils. The coils – housing classrooms, labs and meeting rooms – constitute the interior structure and are also manifested in the façade.
The architects have said that curiosity is a consistent theme for the building and they wish to inspire curiosity in the students on a daily basis, as well as in visitors and passers-by who encounter the school.
Destination Project - Science & Academic Building, Lethbridge, Canada
Architect: KPMB Architects / Stantec Architecture, Architects in Association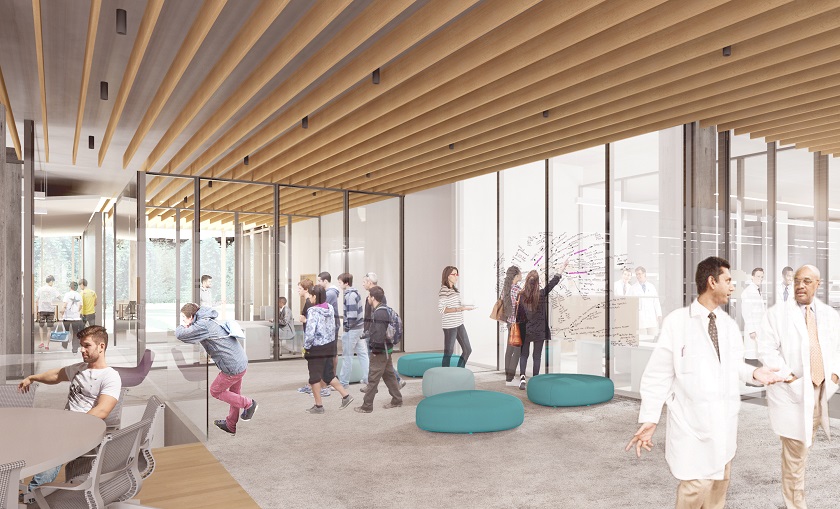 Image credit: KPMB Architects / Stantec Architecture, Architects in Association
The Destination Project is situated at the north end of University Hall at the University of Lethbridge, south of Calgary in Alberta, Canada.
The Science and Academic Building brings together six departments within the faculty of Arts and Science – Chemistry, Biological Sciences, Biochemistry, Neuroscience, Psychology, and Physics.
It will co-locate laboratory teaching and research activities, as well as outreach programs and non-discipline specific spaces and instructional spaces. Some of the key design objectives include improving overall campus connectivity and creating a transdisciplinary collaborative environment for research and teaching.
Moscow State University, Moscow, Russia
Architect: RTDA Authoring Team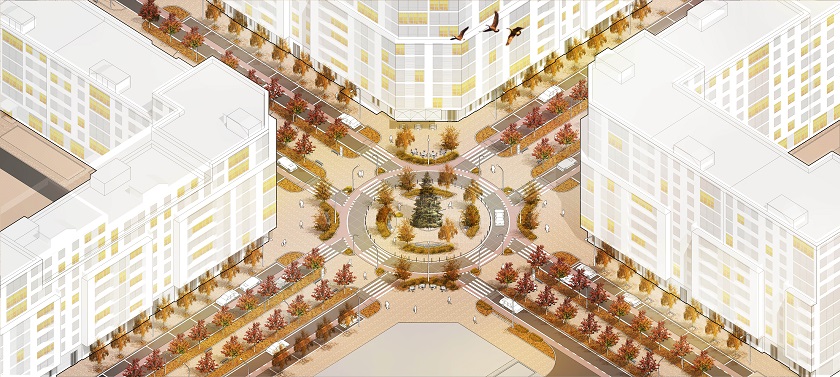 Image credit: RTDA Authoring Team
Moscow State University has long been considered one of the most iconic buildings in Russia, but now it is expanding its territory.
Architects at RTDA Authoring Team have designed the new campus to be the centre of research and education in Russia. The aim is to integrate the campus into the urban fabric by combining buildings and public spaces. Not only will it be a place for scientific research and training, but for everyday life.
The project is in line with the city's overall development strategy aimed at economic growth, improvement of transport links and creation of new public spaces.
The Learning Squares, Mumbai, India
Architect: SANJAY PURI ARCHITECTS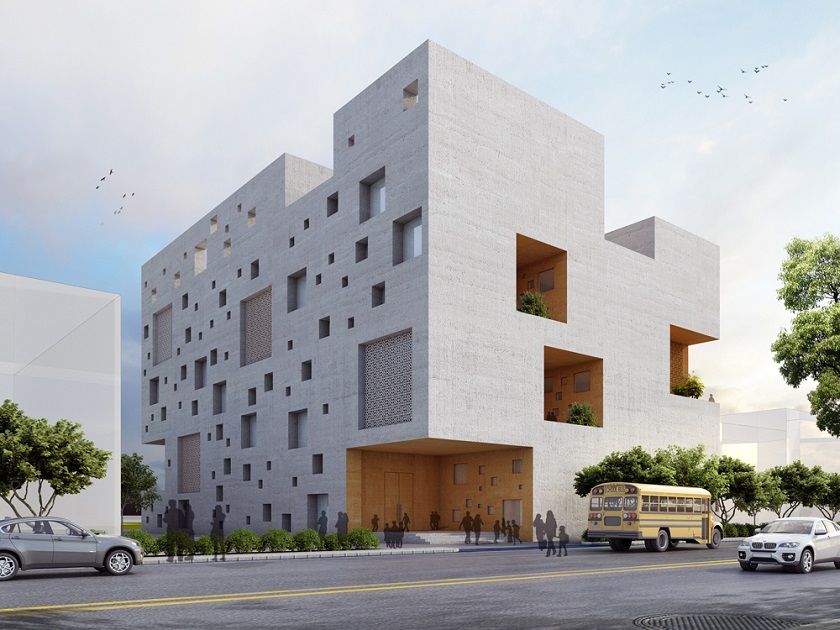 Image credit: SANJAY PURI ARCHITECTS
Located in a small rectangular site in Mumbai, India, The Learning Squares presented architects at Sanjay Puri Architects with a challenge – how could they meet all the client's requirements in just 1540 square metres? The result ­is a six level building with an internal sheltered courtyard that opens up to a large playground.
With temperatures in excess of 35 degrees Celsius for most of the year, the non-air-conditioned classrooms are ventilated from both sides – east and west.
The school will also have an enclosed auditorium, laboratories, an arts and crafts area, a library and a landscaped courtyard.
Educational centre for gifted children, Sochi, Russia
Architect: Studio 44 Architects
Image credit: Studio 44 Architects
The Educational Centre for gifted children, in Sochi, Russia, will accommodate 600 students at any given time. It is designed for gifted students aged 10-17, who will participate in 21-day programs.
Three buildings will be erected – School, Sports and Arts ­– and while they will all be architecturally varied, the project team says they will maintain a uniform plasticity of streamlined spherical and ellipsoid shapes.
The new buildings will also be consistent with the nearby Olympic sports facilities, particularly with the Fisht Stadium, which can be seen from the complex.
Lincoln University and AgResearch Joint Facility, Christchurch, New Zealand
Architect: Warren and Mahoney Architects with Woods Bagot
Image credit: Warren and Mahoney Architects with Woods Bagot
Two fundamental influences have driven the arrangement of Lincoln University AgResearch Joint Facility in Christchurch, New Zealand – the need for a highly adaptable space and the need for intensive social interaction.
The architects behind the design, Warren and Mahoney, in association with Woods Bagot, Boffa Miskell and Lab-works, have incorporated the viewpoints of Māori, farmers and a wide range of agricultural stakeholders to devise a single, unified masterplan. This will allow collaboration, world-class research and a shared identity to take place.
The building itself will be structurally cross braced to protect it from the frequent earthquakes suffered by the region. It will include flexible, informal learning zones to encourage shared learning, and interconnected areas for spontaneous interaction. Meeting spaces, offices and laboratories are designed to exist in close proximity, allowing staff to work anywhere in the facility with ease.
St Mary's Calne School Library, Calne, United Kingdom
Architect: Woods Bagot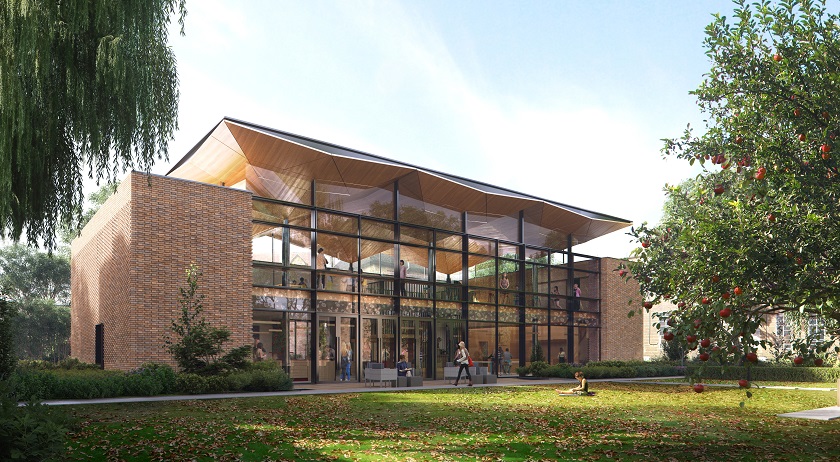 Image credit: Woods Bagot
St Mary's Calne is an independent boarding and day school in the United Kingdom with an enrolment of approximately 360 girls aged 11 to 18. The site for the new library forms part of an existing green space on campus, alongside a mature orchard of nearly 30 apple trees.
The new building aims to prepare students for tertiary education by capturing the shift from passive, teacher-centred learning to technology rich, interactive learning. Internally, the new library is planned over two levels – a lively, dynamic ground floor with direct access to the orchard and a quieter, formal upper level for more focused study. Conventional book shelves have been avoided. Instead, the walls will be lined with books, reading nooks and display zones to maximise the open space for learning.
The orientation of the building ensures that the glazed elevation is facing north-east, limiting solar gain and direct sunlight. The roof structure mimics the orchard trees, floating lightly on six slim steel columns and hovering above the masonry shell.