The 2015 World Innovation Summit for Education (WISE) Awards have honoured six projects for their creative approach to learning and positive impact on society. The winning initiatives focus on literacy, equal access to education, STEM learning and skills for future employment.
Al-Bairaq (Qatar)
The aim of the project, led by the Centre for Advanced Materials at Qatar University, is to boost the number of students enrolled in STEM subjects (science, technology, engineering and mathematics).
Mirroring the experience of other countries, studies show Qatari students lose interest in science and maths in high school. Around eight out of 10 independent secondary schools across the country have participated in Al-Bairaq, which gives students access to hands-on, practical activities and a link to experts on the ground.
Working in small groups and supported by a university mentor, the youngsters spend three months on an interdisciplinary research project covering any STEM-related subject. To date, topics have included nanotechnology and sports science.
The Al-Bairaq team says one of the drivers of the project was to come up with an easier, more flexible way for youngsters to study maths and science. 'Students who participate in the program gain self-confidence as well as leadership and problem-solving skills. They work side by side with research experts analysing and interpreting data, and most importantly, developing new products.'
Bridge International Academies (Kenya, Uganda, Nigeria and India)
This chain of nursery and primary schools is based on a scalable 'Academy-in-a-Box' model and offers support for people living below the international poverty line (less than $2 a day).
The project team says education challenges for these communities in Kenya include high teacher absence, which impacts on student learning. 'Teachers are absent from class as much as 47 per cent of the time, teaching only 2 hours and 19 minutes a day.'
Even public schools can cost between $2 and $12 per month. Bridge International Academies charge, on average, $6 a month and also offer scholarships to the best students.
Content such as practical learning tools, exams, workbooks and lesson plans, are produced by the project's Master Teachers and distributed to academy teachers through tablet computers so they can concentrate on delivering the lessons, student progress and building relationships. The Master Teachers also monitor what happens in class, including student data.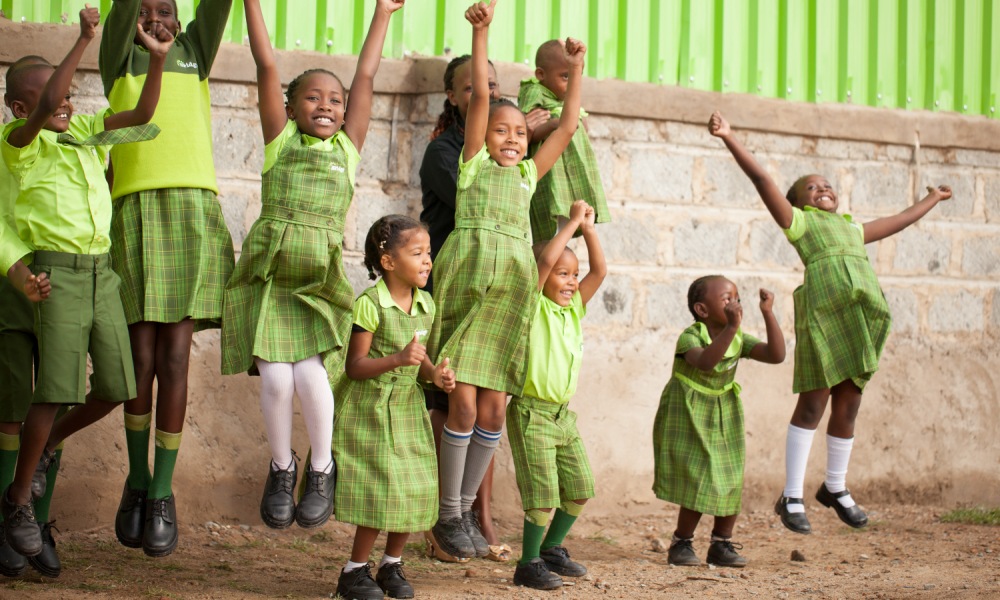 Image supplied by Bridge International Academies.
To date, more than 115 000 students and 5000 teachers have benefited from the project. Assessments carried out by an independent agency have found the academies have 'a significant effect, as compared to neighbouring schools.'
The Educate! Experience (Uganda)
This project partners with secondary schools in Uganda to build teacher capacity to deliver student-centered learning – with the aim to develop the leaders and entrepreneurs of the future.
Youth unemployment is a major challenge in Africa and the Educate! organisation says secondary schools are a largely untapped resource for change. The project focus is on teaching students the 21st Century skills needed to create their own small businesses – not just to improve their own lives, but also to develop their communities.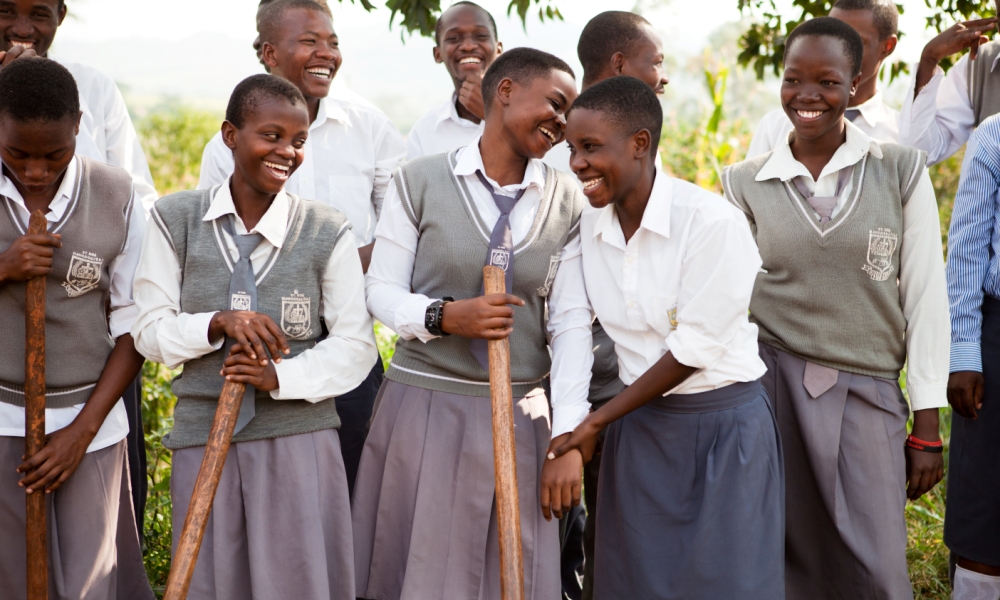 Image supplied by The Educate! Experience.
In the last five years, more than 90 000 secondary students have benefited from Educate! Much of its curriculum has already been integrated into Uganda's national entrepreneurship curriculum and the project is pushing for systems across Africa to adopt the model.
To measure the ongoing impact, Educate! has developed its own evaluation tools focusing on areas such as youth poverty and skills assessment. The project team says internal evaluations of the first two classes show 94 per cent of graduates now run a business, have a job, or attend university. Of those running a business, 44 per cent employ at least one other person.
The Talking Book Program (Ghana)
The organisation Literacy Bridge is using audio to deliver practical lessons to communities in the Upper West communities of Ghana, where literacy rates are less than 10 per cent.
Interviews, songs, dramas and stories are loaded onto low-cost Talking Book computers that can be powered by locally available batteries, designed for those with no access to electricity. Community agents help distribute the resources to households in each village.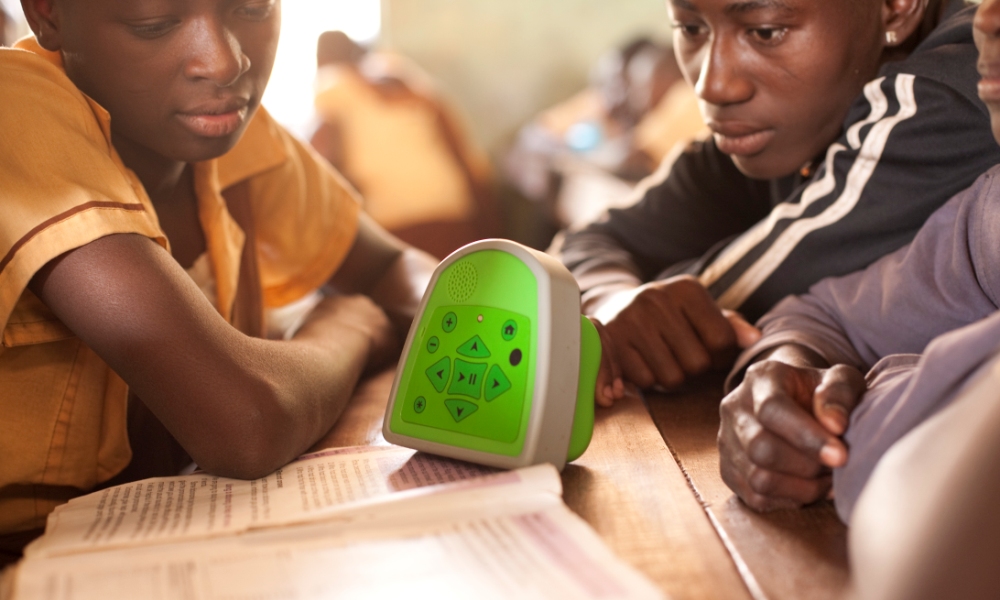 Image supplied by Literacy Bridge.
Lessons focus on health and sustainable farming – local experts are asked to record their knowledge to create an audio library for youngsters and their families. Villagers are then encouraged to record messages to share their own ideas and information and give feedback to local organisations.
The Literacy Bridge program involves partnerships with government and non-government agencies, including the Ministry of Food and Agriculture and UNICEF. To date, 60 000 children have benefited from the Talking Book initiative, which reaches 5000 households across 50 Ghanaian villages.
Nafham (Egypt, Saudi Arabia, Kuwait, Algeria and Syria)
This free, online K-12 platform is connecting students across five countries with thousands of crowd-sourced educational videos linked to their national curriculum.
Nafham says many Arab countries are facing public sector education challenges related to access, quality and infrastructure. 'Public schools do not have the capacity to receive all students in good conditions ... [millions of dollars are spent] on private tutors every year, which puts a lot of pressure on many families' budgets.'
The crowd sourcing model means the project can reach large numbers of schools and students - around 450 000 unique visitors each month. All the videos are between five and 15 minutes and can be accessed via the organisation's website, mobile apps and smart TV.
Students are encouraged to create their own lessons - to deepen their own understanding and explain topics to their peers. As part of the process, teachers review the online content regularly.
VideoBook for Deaf Children (Argentina)
The VideoBook project is reaching out to isolated deaf children in rural areas and making connections between deaf youngsters and adults.
It promotes reading by offering free access to a website with a video library of stories presented in Argentine Sign Language (LSA) by deaf readers. All the books have voiceovers, so hearing families and teachers can also enjoy them.
The project team says there's a lack of accessible and appropriate material for deaf school students. The majority of teachers don't know sign language and will often use resources intended for children with intellectual disabilities instead. 'The most vulnerable are those in rural areas. This situation leads to social exclusion, functional illiteracy, unemployment, low self-esteem and risk to physical and emotional health.'
Videobooks has already produced two collections of contemporary stories and classic tales, and is now developing a new collection for teenagers. The website attracts around 3000 visitors a month from 40 countries, mostly in Latin America. It's estimated 12 000 deaf children and teenagers have already benefited from the initiative.
The six winners were celebrated at WISE 2015 in Doha, Qatar, earlier this month. The other finalists were: The Edible Schoolyard Project; Universe Awareness (UNAWE); Teacher Changemakers Movement; NetEase Open Course; Lights to Learn; The Lab on a Bike; INEE - The Inter-Agency Network for Education in Emergencies; GirlEng (Girls in Engineering); and Discovering Diversity. To find out more about all of the projects, visit the WISE Awards website.