As Teacher reported earlier this year, Indonesian early childhood educator Hikmah Mulia Dewi beat more than 10 000 nominees to make the top 50 in the prestigious Global Teacher Prize. In this follow-up Q&A, we ask Hikmah about the challenges of founding two schools, her teaching philosophy and her passion for sharing expertise. She also shares an example of a hands-on learning activity for students exploring the batik industry, and details of the programs she's developed to involve parents and members of the wider community in early childhood education.
How did it feel to make the top 50 of the Global Teacher Prize?
It was amazing. I cannot express in words how much I dreamed of this. When I received the news for the first time I jumped up and down like crazy!
I read that your mother was an elementary teacher. Is this where your passion for the profession came from?
Actually, when I was little I hated my mother's profession because it was a lot of work [for her] and little salary. I had to study independently because my mother focused on her duties (though I enjoyed when I was invited to class by my mother). Then I had to accept the fact that I could not go to college immediately because [I couldn't pay the fees]. I decided to teach while saving tuition fees. When I met with children, I realised and understood why my mother really loved her work, because I also really love that job now. Meeting children and teaching them gives me a lot of happiness and extraordinary experiences.
You set up Rainbow Preschool in 2011. What is your vision – what do you hope to achieve?
I want to provide quality early childhood education for as many children as possible, because early childhood education is the foundation that will support education at the next level. I want to change generations and the world for the better through education, and invite everyone to be an agent of change from an early age.
I can't imagine starting a school from scratch. What were some of the challenges?
There are many challenges when starting something. Also from family too, because I was considered too young to do that. But, the biggest challenge I face is the public's view of early childhood education, where some argue that it is not as important as other education.
Can you tell us a little bit about your schools and the context?
I founded two schools (both in Pekalongan, Central Java). Pekalongan Rainbow Preschool has 100 students aged between two and seven (35 per cent of students receive full or partial scholarships), 11 teachers, two cleaning and cooking staff, a principal, and one administrative officer. Rainbow Preschool 2 Pekalongan has 50 students aged between two and seven (60 per cent with full or partial scholarships), seven teachers (including one principal and one administrative officer), and two cleaning and cooking officers.
What is your teaching philosophy?
My teaching philosophy is also my school philosophy: Rainbow acknowledges and celebrates the uniqueness of every child; Rainbow believes that children learn best through hands-on and relevant experience; and, Rainbow recognises that every child learns differently and every child is smart.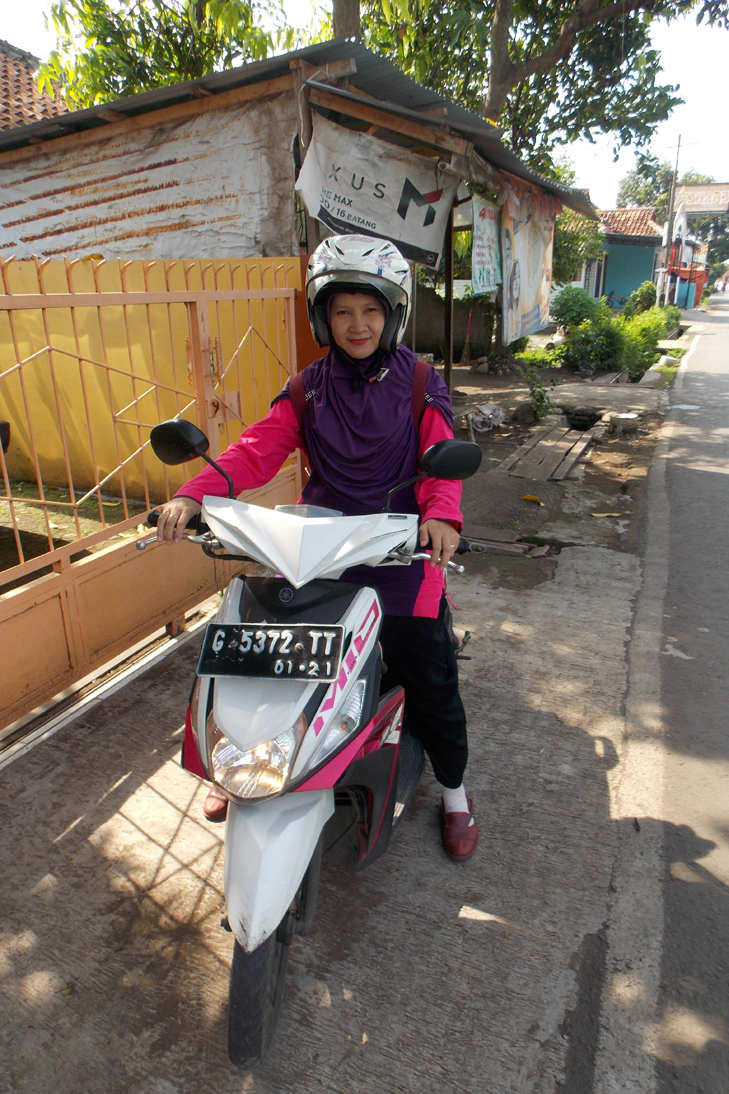 [Hikmah Mulia Dewi is passionate about providing hands-on learning activities and experiences for her students. Image credit: The Varkey Foundation]
Can you give an example of the hands-on activities students take part in?
Learning is based on children's life experiences and also the environmental issues surrounding the child. For example, Pekalongan is a world batik city. Children are accustomed to seeing the batik industry, which unfortunately destroys the environment, including rivers. In one activity, I started by asking the children for their ideas about [this issue] and what we can do. I invited the children to observe the results of batik, see the batik tools and materials … and ask any questions. Then they gathered information about environmentally-friendly batik practices. They made eco-friendly batik works from natural materials and used their work to create a show. Finally, they compared the [two approaches], and at school they took part in batik exhibitions and taught others about eco-friendly batik.
How do you involve parents and the wider community in daily school life?
I have made various program activities involving parents and the community. These include:
'Parent teacher' – every Saturday, parents take turns teaching children in the class;
'Father's School' and 'Mother's School' – online and offline parenting communities to help mothers and fathers to understand more about their tasks and roles in children's education and in society;
field trips for parents and members of the community;
story time activities for parents and children; and,
working together to make literacy corners in students' schools and homes.
In addition to supporting students and their families, you're also committed to sharing your expertise to help fellow teachers. Can you tell us about the Noble Educator Academy?
I made the programme to improve the teaching profession, especially for preschool teachers. This program has its own curriculum and contains various types of training … from being a teacher to an expert teacher. The program consists of four levels: 'Fitrah', which is basic education about being a teacher; the 'Peduli' class is about [a holistic approach] to education and childcare; 'Cemerlang' class is about achievement and the balance between work and family; and the last one is a global class which is about sharing knowledge with others. The classes are taught offline through training and workshops, and online through WhatsApp lectures and YouTube tutorials.
Finally, you're an inspiration and mentor to others. Who are the teachers that have inspired and mentored you?
Everyone is a teacher and everyone is a student. I have learned many things from several teachers around me and around the world. Every teacher – from any level in any area – has something that I can take as an inspiration to teach. But, I express my gratitude to my parents for raising me and giving me valuable experiences, and thank my husband for supporting me to successfully face challenges to become a good teacher.
In this article, Hikmah Dewi Mulia gives an example of a hands-on learning activity that she's developed for her own students, based around Pekalongan's batik industry.
With a colleague, or group of colleagues, think about your own school context:
Make a list of the local industries or businesses in your own area.
How could you incorporate one of these industries into your teaching and learning?
How could you make this a hands-on experience?
What might the benefits be of this approach: For students? For teachers?
What might the challenges be: For students? For teachers?