At Russell Vale Public School in the northern suburbs of Wollongong in New South Wales, student responses to surveys have communicated their desire for an upgrade to the toilet block buildings.
Students at the primary school have participated in the State Government's Tell Them From Me survey for a few years, and Principal Paul Cuthbertson used the feedback, which mainly commented on how dark the area was, to begin work on an upgrade.
'I wanted to have something bright and colourful on the outside where the kids were entering so I did bring my idea forward at a P&C [parents and citizens] meeting as a sort of joint partnership where we could work together,' Cuthbertson tells Teacher. 'And so I did actually survey the parents. I surveyed the students and the teachers as well, too, separate to that, to find out what they would like.'
Through these discussions and investigations came the idea to commission artwork for the area. Cuthbertson was given a list of suggestions, and found local artist Jyiro on Facebook. The artwork was completed over the school holidays so students could be surprised when they returned for the new year.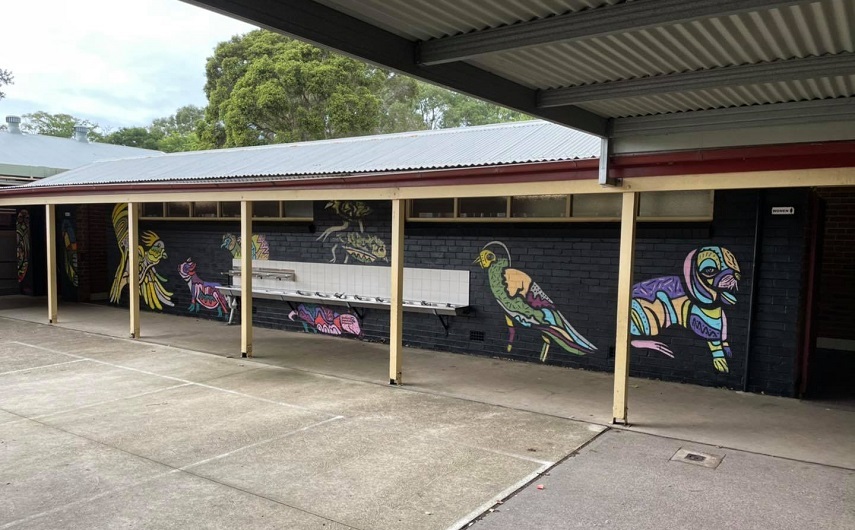 The artwork completed by Jyiro. Image supplied.
'Since then we have completed internal works as well, too. So the internal works, it's much brighter now inside, the colours match the front, minus the black. So it's really bright and welcoming,' Cuthbertson says. 'We've put in new lights, we put in hand dryers. We put in drink bottle filling stations, all of that sort of stuff which was part of the survey that we got back from the students and parents.'
Reflecting the school setting in artwork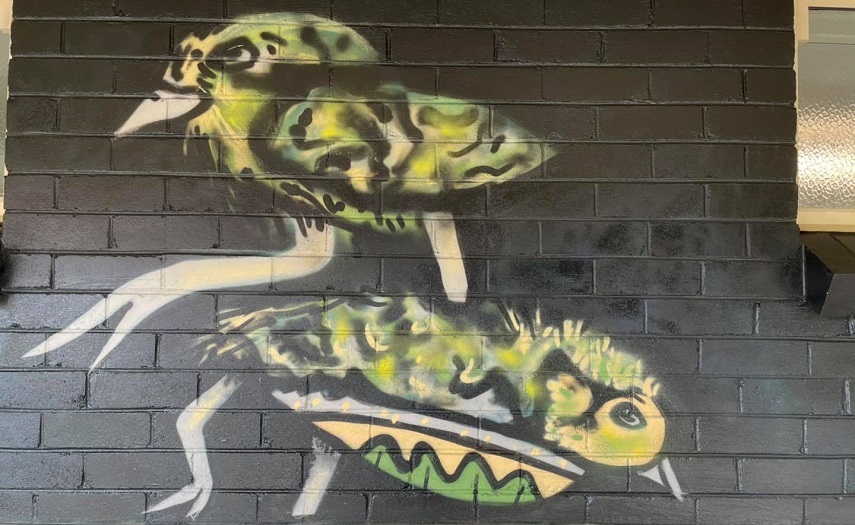 Jyiro painted plover birds which are frequently seen on the school grounds. Image supplied.
When deciding what the artwork should feature, Jyiro suggested concentrating on local animals that are seen on the school grounds to bring the students' wildlife experience together in a snapshot.
Birds like lorikeets and cockatoos are often seen, as are Tawny frogmouth owls. 'We have miniature pigs at our school as well, too. And we have rabbits,' Cuthbertson shares. 'The plovers are an interesting one because every single year we have plover nests within our school grounds so our kids are well aware of these birds and the times of year that we need to look out and give special care to them.
'We've got about a dozen chickens and we sell eggs to the community and to the students too … it really is a fantastic opportunity for the kids to connect with the nature.'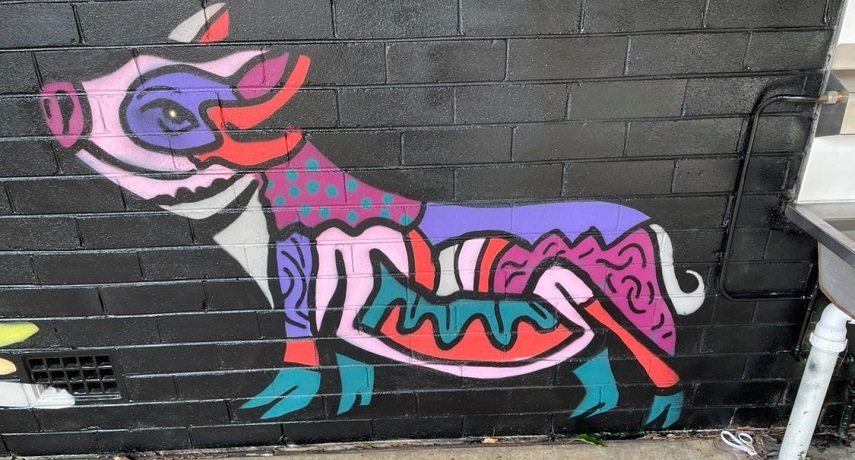 A pig is featured among the animals too. Image supplied.
These animals also play an important role in student engagement and wellbeing. 'If I have a student who's out on the street who's having difficulties getting through the gates, quite regularly I'll just say to them, "let's go out the back and have a look at the chickens or the pigs and whatnot"', Cuthbertson explains.
'And while I'm back there it will give me the opportunity to have a chat with them to sort of figure out what's going on and nine times out of 10 we will be there for a few minutes and I'll say "okay, I'm going to head back, do you want some more time back here?" And they say "no, I'll come around and join my friends". So it's, it really has a benefit to those students as well.
'We've loved the artwork so much that we've recommissioned him for a second job,' Cutherbertson shares, adding that work has just been completed on their sports shed in the same style and colouring as the toilet blocks, which depicts children playing different sports.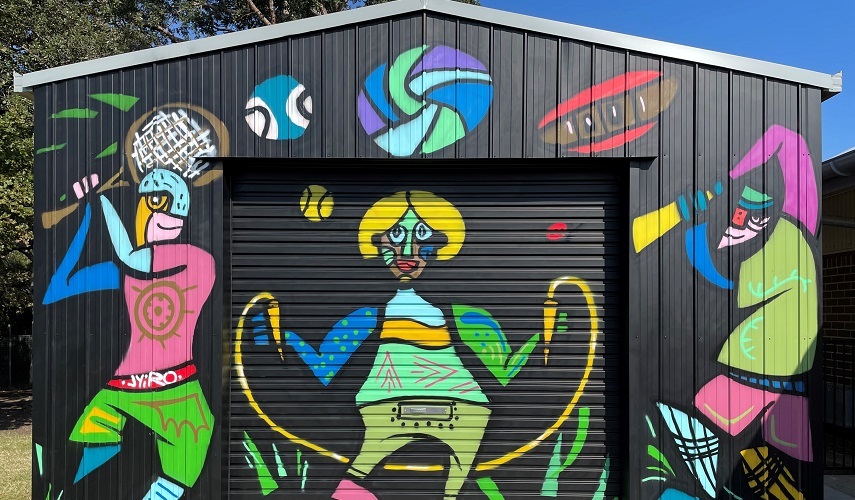 The recently completed sport shed at Russell Vale Public School.
Think about an area in your school which has been identified as one that needs some physical improvements.
How will you decide which improvements you will make? Will staff, students and parents be consulted? Has the use of colour or art been raised as an important element? How could artwork be used to reflect the school community in this area?