Indian primary school teacher Ranjitsinh Disale who has transformed education for girls in his community has been named winner of the 2020 US $1 million Global Teacher Prize.
The announcement of this year's Global Teacher Prize, presented by the Varkey Foundation in partnership with UNESCO, was made at a virtual ceremony hosted by actor and writer Stephen Fry in London last week. Disale, from Zilla Parishad Primary School in Paritewadi, Maharashtra, India, has pledged to share 50 per cent of his monetary winnings with the remaining nine finalists for the prize.
Each year the prize is awarded to one exceptional educator who is making an outstanding contribution to the profession. Over 12 000 nominations for eligible teachers from over 140 countries were nominated this year. Previous winners include Peter Tabichi from Kenya, Andria Zafirakou from the United Kingdom, Maggie MacDonnell from Canada, Hanan Al Hroub from Palestine and Nancie Atwell from the United States.
Ten countries were represented in the Top 10 finalists for the prize this year: Italy, Brazil, Vietnam, United Kingdom, South Korea, United States, South Africa, Nigeria, India and Malaysia.
Improving learning outcomes for girls
Disale has been teaching at Zilla Parishad Primary School since 2009. Teenage marriage was common for female students when Disale arrived at the school, but his tireless efforts to engage them in school has created an environment where there are now no teenage marriages in the village, and 100 per cent attendance of girls at the school. This despite most female students living in communities which do not place much value on girls' education, and at times, their attendance would drop as low as 2 per cent.
'Girls' education is more than just getting them into the schools,' Disale says. 'It's more about feeling safe in their community, in their society.'
'I just wanted to create a learning environment for every student that could spark their curiosity and make them innovative problem solvers, so that they can contribute to the community.'
When Disale began teaching at the school, the only textbooks available for students were not written in their local language which left many students disengaged. To turn this around, Disale learned the local language so he could translate the school's textbooks. This also helped him connect with parents in the school community.
'I still remember the day when I saw the school building and I saw that this is like indifference of the parents, looking at the education,' he shares. 'So I started to interact with the parents, I learned their language, participated in their events, so it was like being a member of their community.'
Disale has also implemented the use of QR codes in his classroom to enable a more personalised learning experience for his students. The QR codes are embedded throughout text books and lead students to different audio and video resources.
'So when the students scan those QR codes, he or she gets the personalised and really curated content for himself,' he explains. 'Considering his style of learning, I change the content at the back end.
'So this is how I make their learning personalised. … Technology is helping me to bridge that gap between students living in villages and students living in cities.'
2020 COVID Hero Award
In recognition of the extraordinary circumstances faced by educators all over the world this year, and their role in keeping students engaged in learning, the Global Teacher Prize awarded an additional prize at the 2020 ceremony.
The COVID Hero US $45 000 was taken home by Top 10 finalist Jamie Frost, a mathematics educator from Tiffin School in the United Kingdom.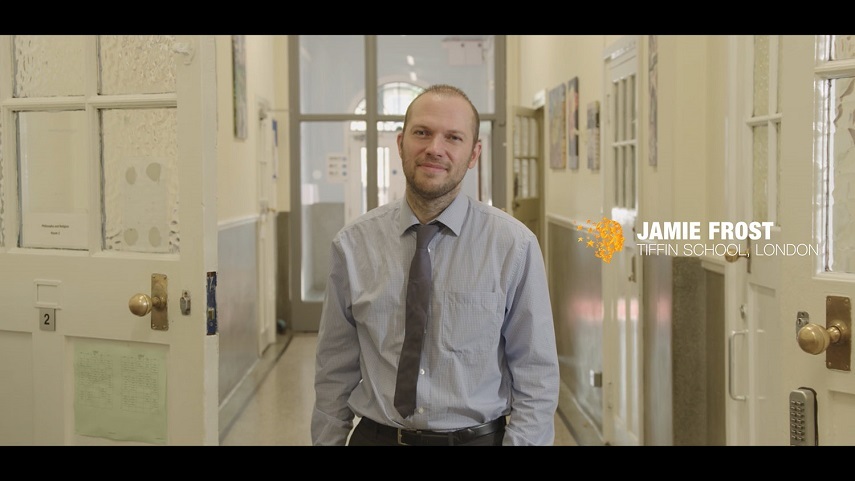 Jamie Frost, winner of COVID Hero Award. Image: The Varkey Foundation.
Frost was recognised for his efforts to make mathematics education freely accessible to students all over the world. He does this through his website, Dr Frost Maths, which he established in 2012 and is home to many free resources for students and teachers.
While Frost initially built the website to support his school's lower attaining students, it has garnered success over the years, seeing 400 000 views per day. During the pandemic, however, these daily page views sky rocketed to 1.3 million, a demonstration of the impact he has had during such a difficult time.
Global Student Prize
At this year's ceremony, the launch of a new award, the Global Student Prize, was announced. The US $50 000 prize will acknowledge the efforts of students around the world who are making a difference to the lives of their peers and society. Applications for nominees will open next year.