Two educators from the Philippines are in the running for teaching's biggest prize after being selected as finalists from over 8000 nominations. Grade school teacher Michelle Rubio and Science teacher Bryant Acar have both made the top 50 for the US$1 million Global Teacher Prize – the only finalists from the Southeast Asia region.
The shortlist for this year was selected from over 8000 nominations covering 121 countries. Six of the 50 come from the USA and there are two each from Argentina, Australia, France, India, Nigeria, the Philippines, Turkey and the UK. The remaining finalists represent 28 different nations.
The annual prize is presented by the Varkey Foundation in partnership with UNESCO. It recognises an exceptional teacher who is making an outstanding contribution to the profession and highlights the important role of teachers in society.
The Varkey Foundation published details of all the finalists on its Global Teacher Prize website. 'Our Top 50 come from all corners of the globe,' it said. 'From teaching in remote towns and villages to inner-city schools, they advocate for inclusivity and for child rights, integrate migrants into classrooms, and nurture their students' abilities and confidence. They are all champions for change and are inspiring their students and communities around them …'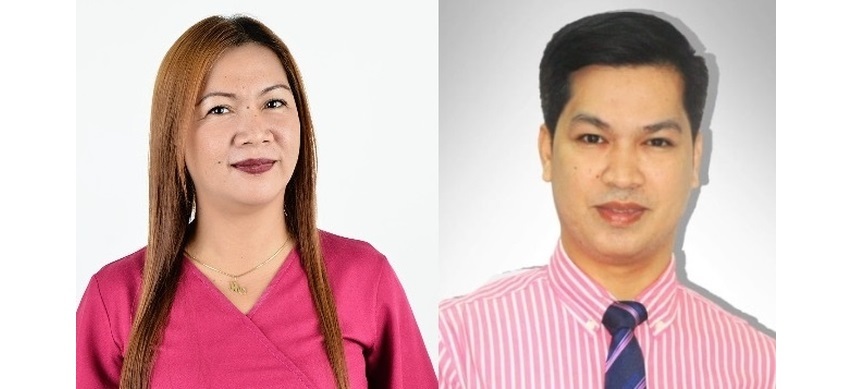 [Michelle Rubio and Bryant Acar. Image: The Varkey Foundation]
Michelle Rubio is a grade school teacher at Calao Elementary School in Sorsogon City, on the island of Luzon. She has been recognised for using innovative strategies to make learning fun and engaging, and for her care and compassion to students and their families, including during the pandemic.
Among the techniques she's used, Michelle has turned her car into a 'Reading Car' – taking reading lessons and streaming them to parents on Facebook so they can watch their children progress. Her 'Resort for Learning' has been another hit with students and neighbouring schools who are now creating their own versions. The Resort is a part of the school that is full of beach props like umbrellas and a hut. The Varkey Foundation says while the play aspect makes learning fun, there's also an improvement focus. 'The Resort for Learning has the ability to display PowerPoint presentations built in, features six reading stations geared for children of different abilities and featuring specific themes – Read and Spell, Shopping of Words, Read-Stop-and Dance, Pair-Reading and Pathway Reading. Michelle is careful to see how each child progresses through each one, with oral reading tests and songs used to learn phrases ahead of reading and recognising them in print.'
During the pandemic she's supplied face masks and shields to hundreds of learners and families, and visited homes to deliver free food packs. Throughout her career, Michelle has paid for hospital care for some students and parents who couldn't afford care and has even taken children into her own home when their parents cannot cope.
Bryant Acar is a Science teacher at the Science and Technology Education Center – a Senior High School in Lapu-Lapu City, Cebu. When he first joined in 2016 there were no laboratory facilities so he saved up his own salary for five months to buy two electronic microscopes and secured donations of a projector, books and a laptop from friends.
He trains senior high school students in between lessons and on the weekend by linking up with local universities to access their facilities for experiments and testing. His students have won local and international science fairs. Bryant also shares his expertise with other teachers, as a subject trainer for his school, division and region.
He has created his own teaching and learning modules and resources, including textbooks and worksheets, and is passionate about taking a 'learning-by-doing' approach and giving his students a hands-on experience. This includes taking part in projects and research to find solutions to real-world problems in the local community. The Varkey Foundation explains: 'They interview local people and survey an issue to come up with solutions, which have included Arduino-based innovations that could detect fire, flooding or theft; making seaweeds into biodegradable plastic and creating a learning app. These all build his students' 21st century skills …'
During the pandemic he has trained up colleagues in online learning technology such as Google Meet and Google Classroom and made sure all students have access to a computer or tablet device at home.
The top 10 finalists of the Global Teacher Prize will be revealed later this month and the winner will be announced at an awards ceremony in Paris in November.
UPDATE 15 October 2021:
Bryant Acar has been shortlisted in the final 10 for the Global Teacher Prize.
To find out more about the educators named alongside Michelle Rubio and Bryant Acar in the top 50 shortlist, visit the Global Teacher Prize website.