Each week, Wellbeing by Teacher shares recipe ideas, fitness tips, book reviews (and more!) from teachers, school leaders and others working in the sector.
In today's piece, Libby Renton, a Year 6 teacher, Upper Primary Coordinator and Integrated Studies Coordinator at Presbyterian Ladies' College in Melbourne has penned a review of British novelist, Kate Atkinson's Behind the Scenes at the Museum.

Kate Atkinson's writing is a relatively new discovery for me and I have been gradually reading my way through her books. I like the way she builds descriptions of her characters and provides insights into their thoughts and motives. Behind the Scenes at the Museum tells the story of a family across several generations, but it is the way in which it is told that I found so appealing and is what makes it different from other family saga narratives.
The voice of the narrator, Ruby, begins from the moment she is conceived in 1951 and we journey with her through to the early 1990s. Ruby describes her family life, both past and present, with wry humour and perceptive wit. Some chapters are 'Footnotes' scattered throughout the book and are used to explain different periods or episodes from the family's history, reaching back through past generations to backfill elements of the story. Ruby alludes to future events, dropping clues that lead the reader on in order to piece together certain elements of the plot.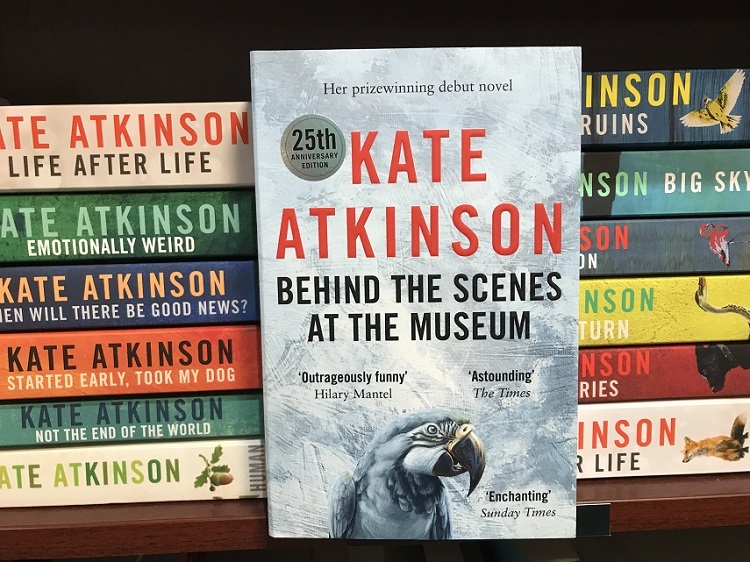 As the narrative winds its way through history and the present, the reader gains an understanding of the relationships between the different family members across the generations, as well as the complexities and motivations in the characters' lives. We gain an insight into how the actions of people in the past still influence the behaviour and actions of people in the present. The characters are flawed people, yet somehow still likeable and I think this is where Kate Atkinson's writing shines.
This is a book that I really enjoyed. Whilst it's not a 'laugh out loud' funny book, some of the black humour and ironic expressions and descriptions definitely had me smiling quietly to myself. There are also sad and poignant moments that Kate Atkinson handles with skill. Her writing is detailed, descriptive and evocative. If you have not yet discovered this author, she is one that I would recommend.
How do you care for your own health and wellbeing? Do you have a great book you've read that you'd like to share with Wellbeing by Teacher readers? We'd love to hear about it. Email us with a brief outline and we'll be in touch.