One year ago, Teacher went live at the annual ACER Excellence in Professional Practice Conference. To celebrate, we take a look back at some of the team's favourite articles, podcasts, videos and infographics from our first 12 months.
Imagining the schools of the future
What part of the education system is likely to change in the future? This infographic was based on the results of a survey conducted at last year's World Innovation Summit for Education (WISE), where a global community of experts revealed their perspective on what school will look like in 2030. Take a look.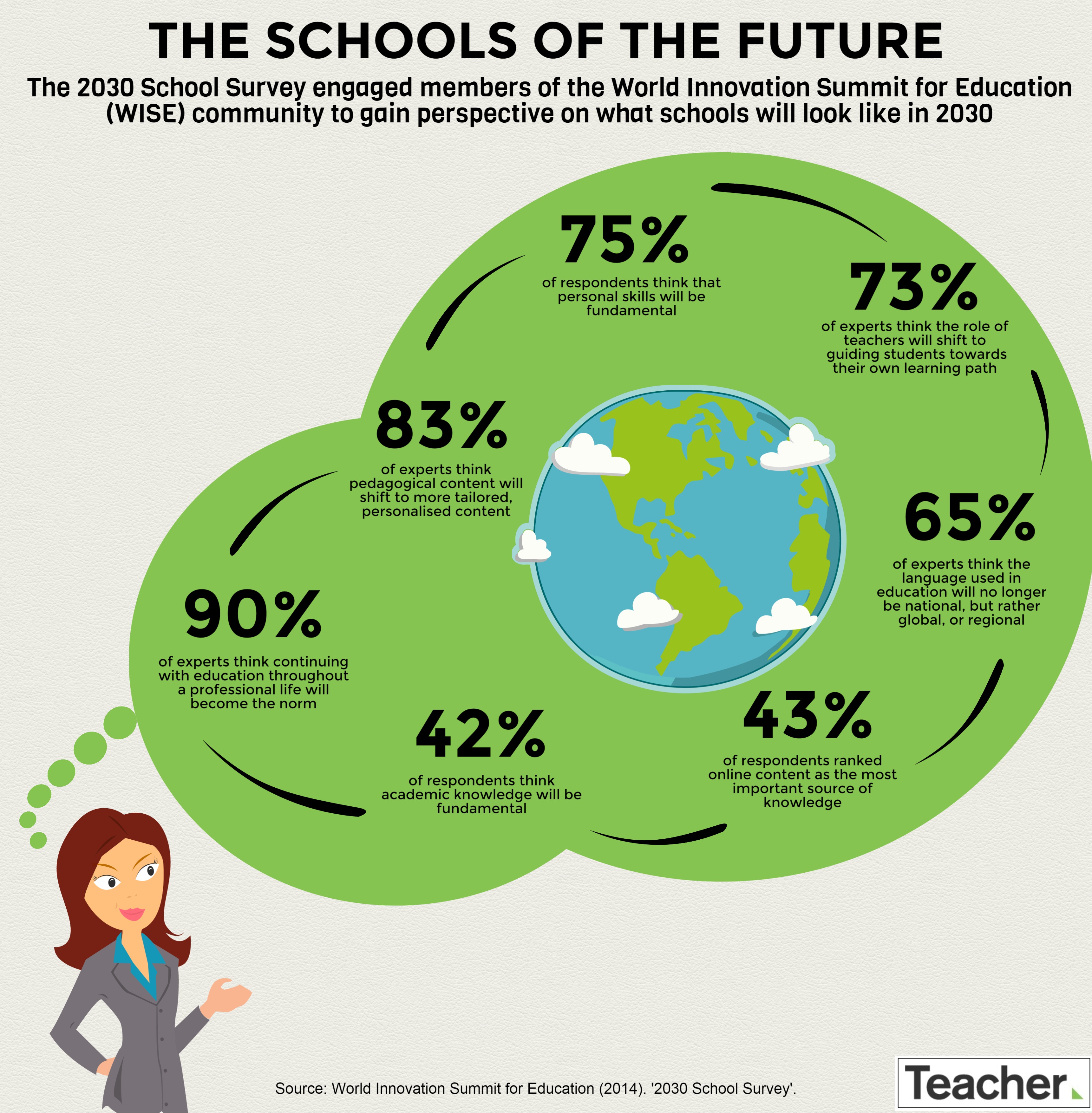 ---
Ahead of the curve
In February this year we highlighted a school in Western Australia that has seen such a swift turnaround in student results, that independent think-tank The Grattan Institute named it one of four Australian schools that proved rapid transformation was possible.
Dr Neil MacNeill, the man who steered Ellenbrook Independent Primary School through the challenge, sat down with Teacher and shared his school's story in Ahead of the curve.
It was, he says, an approach that listened to teachers as well as instructed them, and set achievable early targets for quick results because 'success breeds success'.
Nevertheless, guiding the changes needed a firm pair of hands to tackle some entrenched views on the best ways to teach early years literacy and numeracy.
... 'We were very good at OBE (outcomes-based education),' MacNeill says. 'We had hundreds of school administrators coming through the school looking at what we were doing in the classrooms. But our NAPLAN results were really awful and causing concern.
'So, from a moral sense, we asked "what can we do better?" We realised that a constructivist approach to pedagogy wasn't delivering the goods that our kids needed.
'It really came down to literacy and numeracy - the fundamentals of primary education.'
Read more about Ellenbrook's journey in Ahead of the curve.
---
Learning spaces: Don't forget the staffroom
Building new learning spaces and breathing new life into existing facilities was a great opportunity for one principal to develop her vision for the school – and the staffroom was a big part of her master plan.
Instead of working from small offices, members of staff (including members of the executive team and learning support assistants) now use one workspace in the new staffroom.
See what principal Lana Read had to say when she spoke to Teacher editor Jo Earp in October last year about the changes.
'... You're actually completely breaking down those barriers [to staff] communication and collaboration and you're seeing each other every morning,' Read says.
'They're together from the beginning of the day and if one of them is away, for example, you welcome a relief teacher directly into the family so to speak. The dialogue and the professional conversations that happen in our staffroom happen 24/7 because they're all there .. they talk about the progress of the children all day.'
... 'The whole area has become like the hub of any good home; it's where people meet, it's where they talk, it's where they eat and it's where we have a relax on a Friday afternoon.'
Read more about the changes at Macgregor Primary School in Learning spaces: Don't forget the classroom.
---
The Research Files Episode 5: John Buchanan discusses teacher retention and attrition
Teacher's first podcast series, The Research Files, has proven to be one of our most popular. Each month, academics provide a snapshot of the findings of their research, which the editorial team compiles into short podcasts – no more reading 200-plus page reports! (although we do, of course, include links to the full research report for those who want to explore the topic in more depth).
A memorable episode for us was our chat with Associate Professor John Buchanan, who gave listeners an insight into research he carried out with colleagues about the reasons early career teachers leave the profession.
'First of all was collegiality as I've mentioned, they've wanted not to be left alone ... several of them said that they had difficulty in seeing more senior staff who didn't seem terribly engaged in welcoming them into the profession, or willing to help them by perhaps sharing resources and that sort of thing. In some cases, they even said they looked at older and more experienced teachers who had become quite jaded and cynical and they said 'I don't want to become like that person'. So, I think some intended to leave just so that they wouldn't become cynical.
'In terms of student engagement, behaviour management - that was another big issue. Again, if there was support, it seemed to be tolerable unless the behaviour management was of an extreme nature.
'... The third issue was working conditions and teaching resources, and it's linked probably with collegiality to some extent. In terms of resources, there didn't seem to be in some schools a great willingness among more experienced teachers to share their resources, to share their teaching ideas, etcetera. So, the new teacher ended up feeling fairly isolated. Working conditions, I think probably it was mainly second career teachers who noticed that. Some had come from office jobs where there's a very calm atmosphere, pot plants all around the place, and they went to the hurly burly of a school where they were really confronted by what they saw.
'... In terms of some of the other issues that the interviewees wanted, they talked about [professional support], so professional development. Some of them said it tended to be fairly piecemeal and not very well articulated, a lot of them said they preferred to go off campus for professional development - I think it was partly so they felt away from their workplace and they could really engage in and concentrate on the matters at hand'.
Listen to the full podcast in Episode 5 of The Research Files.
To download all Teacher's podcasts for free, visit our iTunes channel: http://acer.ac/teacheritunes
---
Teachers and ICT
How many of your colleagues are using ICT in the classroom? Is social media a commonly used teaching tool in Australia?
One of our most popular video infographics looked at figures from the world's first computer-based international study into computer and information literacy.
Simply click 'play' to take a look.
Teachers and ICT from ACER on Vimeo.
Thanks to all our readers and listeners for your support this year. We're off to play pass the parcel, make balloon animals and eat cake.
What was your favourite Teacher article from the past year? Is there a topic you'd like to see covered in the next 12 months? Share your thoughts by posting a comment below, tweeting @teacheracer or leaving a message on our Facebook page.