New South Wales public school principal Hamish Woudsma recently returned from the professional learning trip of a lifetime, a six-day Art of Leadership – Improving Schools course at Harvard University's Graduate School of Education. Teacher spoke with Woudsma before he embarked on this trip. In this follow-up, the Banksia Road Primary School Principal shares what he learned during his time in Boston.
The Harvard experience is unlike any other professional learning I've ever done. Throughout the six full days, I was pushed to challenge my thinking, with a total of 41 hours of learning covering a variety of topics – everything from leading positive school change, to effective Instructional Leadership, to the power of narrative. I was joined by 150 principals from across the globe, all in one lecture room with the same unwavering desire – to be the best principal they possibly can.
The learning I took away from the experience can be broken down into four parts:
The pre-readings provided the background knowledge and sparked neural synapses. Many of the readings involved case studies and questions to ponder.
The lectures were engaging and highly interactive.
The real learning occurred within the small group tutorials. Within this group of 12 educators with one facilitator, we debriefed each lecture sharing our depth of knowledge, beliefs and perspectives. The consultancy group was an insightful learning experience as group members each helped one another with their problem of practice.
The deeper learning comes from the post readings and purchasing of books which has allowed me to delve deeper into the ideas of particular lecturers.
Reflecting on the experience
Within my group, there were principals from Boston, Houston and Texas, and internationally from Switzerland and Palestine. I have acquired a substantial supply of strategies to my leadership toolkit. The opportunity to reflect on critical aspects of leadership with principals from around the world was profound and this discussion continues.
One of my fondest memories of the experience was the second day where we moved off site on the 'Project Adventure.' Spending the day with my tutorial group, on the ropes course and collaborating on various group challenges, this is where we formed the trust and relationships that would allow us to confidentially share our problems of practice and leadership journey. One recollection I have of the day, after successfully completing a group challenge involving the 12 of us finding equilibrium on a large balance beam and then passing a noodle around in a specific order – the conversation that ensued blew me away.
The analogies and metaphors about leadership were profound. One of my colleagues remarked: 'The goal was to collectively balance on the beam, the noodle represents the school's mission. Initially, things went awry as we each had different ideas and were all going in different directions causing disunity. It wasn't until we all stood back off the balance beam and discussed our mission (a strategy for passing the noodle), we collectively achieved our goal.' I remember thinking – these guys are too smart for me.
My problem of practice
All of the participants enter the Harvard course with a problem of practice they are trying to solve. My 'problem of practice' was to further refine and enhance our Instructional leadership model at Banksia Road Primary School. The lecturer, Candice Bocala shared an eight step Data Wise Improvement Process, which provided a framework to reflect on our model of Instructional change.
There is also a free online Harvard course which we may explore if my leadership team believes there is value.
I will use the Data Wise Improvement Process to reflect and refine our current model at Banksia Road whilst sharing our ongoing learning with colleagues within and beyond my network.
Instructional leadership is not a new concept to schools in the US. Since 2012, most schools have had at least two 'Instructional Coaches' or what they call in some states 'Directors of Learning'. Many of these leaders have developed effective strategies to successfully lead what they call an 'adaptive challenge' as opposed to a 'technical challenge.'
Technical challenges involve applying knowledge and information processes that can be consistently applied, for example producing a timetable. It must be noted that technical challenges are not always easy; a surgeon may complete a technical challenge during an operation.
Adaptive challenges involve problems that are complex where solutions are not clear or easily solved. They require leaders to engage people in order to solve problems. It is all about relationships and trust.
For effective instructional leadership, you need to create the optimum staff culture which involves the right balance of psychological safety and accountability as depicted in the following diagram.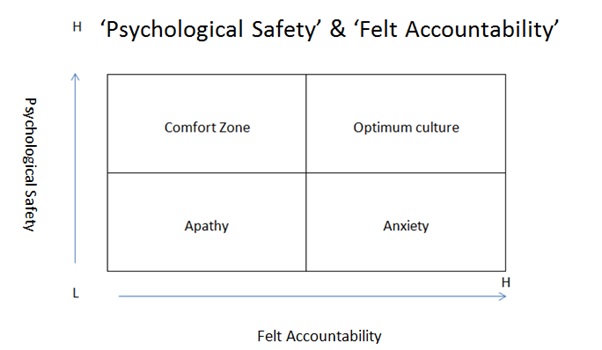 Image supplied.
High levels of psychological safety afford teachers the opportunity to take risks without fear and trial different teaching methods. Teachers take greater ownership for the results and this exponentially builds capacity.
In a time where many teachers are overwhelmed with the increasing demands of the job, principals need to value their time and filter any tasks which don't directly impact student outcomes, for which teachers are definitely accountable. Mutual accountability and collaborative practice are the keys to building collective capacity.
In terms of challenging the status quo, I will apply my vast amount of learning around effective leadership and will inject some key ideas to amplify the impact of instructional change. The students at Banksia Road will each continue to autonomously strive towards their individual learning goals and our parents will continue to attend the Goal Setting Interviews in their droves as they did in Term 1, where we had 97 per cent parent attendance.
I thoroughly recommend this experience to other educators. The entire course is run so professionally, I was so impressed by the Harvard website and access to the pre- and post-readings, the world class lecturers, the small group tutorials and, of course, the lifelong contacts with educators around the globe.
Think about a professional learning session you've attended this year. What were some of the things you learned? Have you been able to put them into practice? Was this professional learning experience something you'd recommend to other educators?