The sound of roaring engines may be music to the ears of Formula 1 fans, but it's caused an annual headache for one school on the edge of a world famous racetrack ... until now.
The Mac.Robertson Girls' High School is just a few hundred metres from Melbourne's Albert Park circuit - in fact, one of the public entrance gates for the race is on grassland the Year 9 to 12 government school uses as its sports oval.
Although the big race takes place on a weekend, Ferrari and co put the turbocharged cars through their paces on the Thursday and Friday.
Traditionally, the school has used those days for offsite staff professional development or sports events. This year however the sound barrier was broken by delivering lessons online - live.
All the staff delivered their lessons from the school - giving them a chance to experience the F1 noise firsthand. 'Thursday was the first time in my five years here that I've been here for one of these days, because normally they take us off site somewhere,' Director of eLearning, Micah Wilkins tells Teacher.
'The noise sort of comes in waves - there's an hour of two that's really loud and you can feel the windows vibrating. It also depends on where in the school you are, obviously if you're close to the track it's a whole lot louder, but if you're tucked away in a staffroom it's not too bad. But it's [almost] impossible to hear yourself think when everything is rattling.'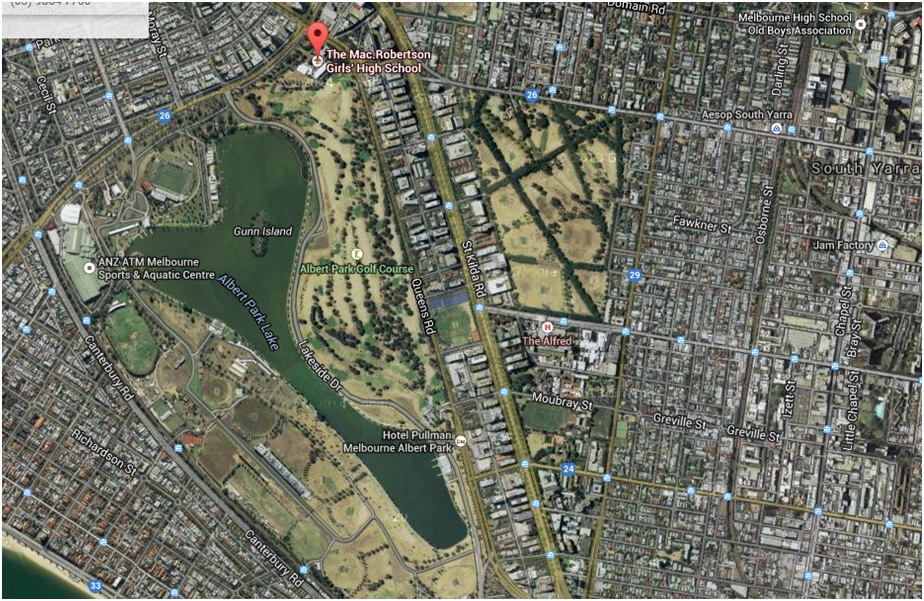 The Mac.Robertson Girls' High School is just a few hundred metres from the Melbourne Grand Prix track, which takes drivers around the perimeter of Albert Park Lake. (Image: Google Maps)
Teachers connected with the school's 950 students through a variety of methods, including Skype, Hangouts and Google Docs. Wilkins says the Digital Delivery Day was such a success that there are plans to hold another later in the year.
'We delivered all of our lessons through Google Classroom ... which is still a relatively new platform. The beautiful thing about it is it integrates a lot of the Google education apps, like Docs, Slides and Presentations, and all of those things. And we delivered it live - which was huge.
'We followed the same timetable as they would have done at school. So Period 1, which starts at 8.30am, if the student had Year 11 Biology then they were online [during that period] at the same time as the teacher and interacting in real time. Then the bell went for us at school, but of course it didn't for the students at home - so there was a bit of a slight adjustment on the students' part to click tabs and 'go to' the next class.'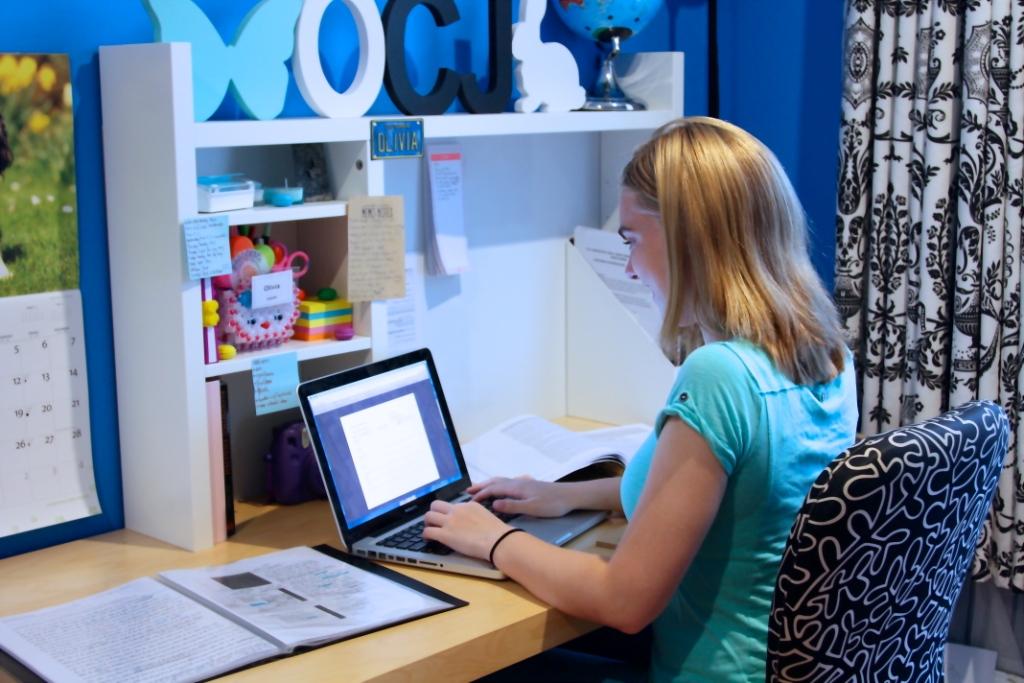 The school delivered all of the lessons through Google Classroom. Image: Supplied.
To help teachers prepare for the day, Wilkins made a series of instructional videos and uploaded them to the staff portal. 'Also linked to that were a number of articles on how to run effective classroom discussions, [and] links to online activities. We didn't want it to just be a random thing, we wanted it to be part of [the existing curriculum], but just to make it interactive and put it online.'
Wilkins says it was easier done with some subjects, but there were some great ideas. The staff came together at the end of the day for a 'show and tell' so each faculty could share what had happened with colleagues from other subject areas.
'PE were clever ... if [the student] had a prac they'd have to do that. PE staff videoed themselves doing a particular activity and shared that with the students [to explain what they wanted them to do]. The students either had to take a photo of themselves (one PE teacher said they needed to show they'd been sweating), or a 30 second video of themselves doing the stretch, or whatever the activity was.
'Some of the art teachers did some quite amazing things - one of them had been looking at portraits in class and got the students in their homes to collect up random objects and make a portrait, take a photo of it and upload it.
'Science teachers ... they were actually preparing for a [test] that they had, so they split up the topic and grouped the students to look at a specific part ... and had four or five Google Docs going. The beauty of that is it's all live and everyone can access and edit it at the same time - the teacher just had to have tabs open and could see all the students working, and had the little chat box on the right hand side of the page where they could respond to questions.
'I had a Year 10 Conspiracy Theories class, which is a new elective. I had to try and think about really breaking up my 70 minute lesson into distinct activities. There was eight minutes at the beginning where they were watching something, then they all had to come back onto a collaborative page and provide feedback on what they'd seen and respond to a couple of questions. Then they had to go off and read something, then work together - so it definitely made me rethink what we were doing.'
Wilkins and his eLearning committee visited Victoria's Nossal High School, which trialled its own Digital Delivery Day, last year. 'One of the things we learnt from the other school and one of the things we tried to do in preparation was almost go back to teaching rounds and lesson plans ... What is it you want students to get out of the lesson? What are the big questions? What are the resources you're using? And structuring it, down to the last minute.'
The school will be getting in touch with parents to collect their feedback, but students have already completed a survey.
'The student feedback is very positive. Some of them just enjoyed having a bit of a sleep in and being able to do all their work from bed! Others were commenting, and teachers said the same thing, that there were students in their class that are normally really quiet who don't put their hand up in class ... but online they were contributing masses of information, ideas and asking questions, which is really interesting.'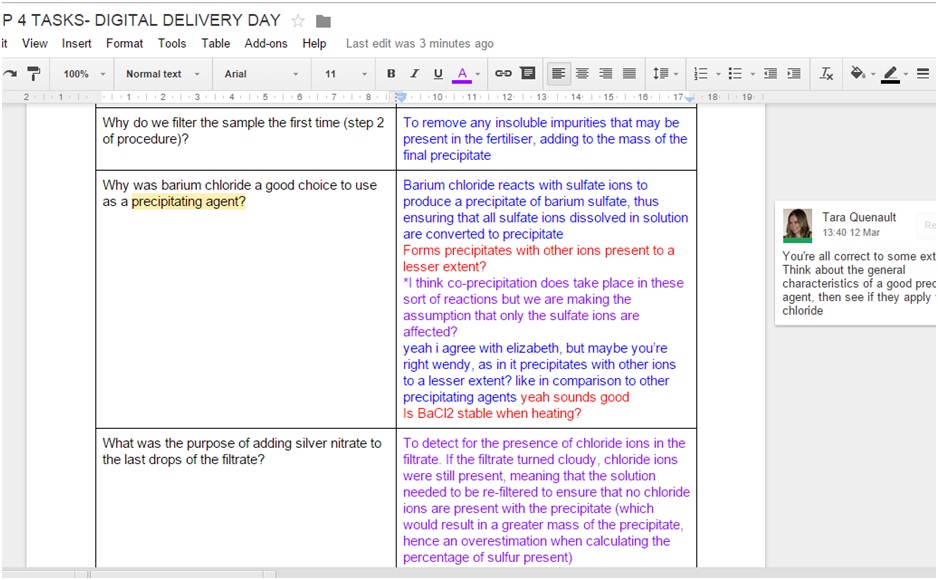 Students in some of the classes used Google Docs to work together on tasks and get teacher feedback in real time.
Mac.Robertson opened up its computer labs on the day, to give students an extra option. 'Twelve came in, but 10 of those wanted to spend lunchtime practising in their drama group ... 95 per cent of students [who have filled out the survey so far] said their home internet connection was easily fast enough to cope with the demands.'
Wilkins says the Digital Delivery Day was such a success that there's talk of staging another on the Monday before another iconic race - the Melbourne Cup, which takes place on the first Tuesday in November.
Is there a teaching or learning barrier at your school that technology could help you overcome?
If you're delivering lessons, or elements of the curriculum, online do you have a system in place for students to provide feedback?