For some, having a pet greeting you when you arrive home can turn a bad day around. They can bring joy and comfort and often feel like a member of the family.
While they can be hard work, owning a pet can enrich our lives. If you own a pet, it might be no surprise to know that evidence shows pets can improve our mental and physical health and wellbeing.
Dr Samantha Brown is a Clinical Psychologist and Lecturer at the University of Southern Queensland. She owns her own therapy dog, Audrey, who comes to class with her to offer support to students undergoing training for their Masters.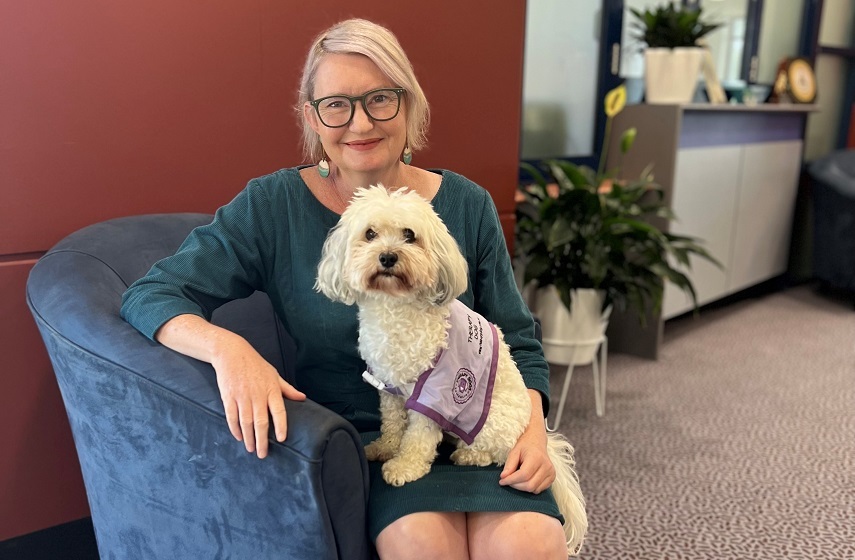 Dr Samantha Brown and her therapy dog, Audrey. Image supplied.

'Pets can improve our mood by decreasing feelings of depression, anxiety and anger, and by increasing our sense of hope and joy,' she tells Wellbeing by Teacher. 'Interacting with our pets offers an excellent opportunity for mindfulness by helping us to be focused on the present moment, and less focused on our worries.'
The positive impact on wellbeing
Dr Brown says there are many positive consequences to spending time with animals on our mental wellbeing.
'Pets can provide companionship and unconditional love when we might not have the chance to experience this with others. Animals don't judge and are always on our team, no matter what's happening in our lives. The physical comfort from being able to pat or hold our pets has been demonstrated to have a positive impact on our mental wellbeing,' she shares.
The benefits of pet ownership extend to our social and physical health. It's known that having low self-perceived social connection can have a negative impact on physical and mental health, but owning a dog, for example, may help you meet others living in your neighbourhood at the local dog park or beach.
Taking your dog for a walk at the park or beach is also an activity that is likely to encourage you to exercise regularly. Walking on a regular basis, even in short increments, benefits our physical health, particularly our cardiovascular health.
Which animal is best for you?
The benefits of pet ownership are not only afforded to those who own dogs. Deciding to have a pet is a serious commitment and comes with both financial and lifestyle considerations. So, if you decide a dog isn't right for you, it doesn't mean you won't be able to experience the benefits of pet ownership with a different animal.
'For mental wellbeing, it is all about the best fit for the owner,' Dr Brown shares. 'For some of us, a high energy exuberant dog might be the perfect pet, while for others, a calm contained cat might suit, while some might gain joy from having a more unusual pet like a turtle or parrot.
'If you are unable to have a pet, we know that any contact with animals has the potential for physical and emotional benefits. Increasingly, workplaces are supportive of pets attending because of the known impact on improving team morale and workplace wellbeing.'