The four nominees for the 2018 ARIA Music Teacher of the Year award have been announced and it's an inspiring line-up.
The nominees are: Scott Maxwell, from Grant High School in South Australia; Deb Skelton, from Caladenia Primary in Western Australia; Dean Harawira, from Nerang State High School in Queensland; and Becky Hall from the Royal Children's Hospital (RCH) Education Institute, Victoria.
Not-for-profit organisation The Song Room has partnered with ARIA for this award, which celebrates the work of Australian music teachers working in a variety of education settings. The award is voted for by members of the public (details of how to cast your vote are at the foot of this article).
Here, the four nominees share details of the education programs they're most proud of, their approach to teaching and the mentors and words of advice that have helped them in their career.
Can you tell us about a program or initiative you're particularly proud of?
Scott Maxwell: I'm particularly proud of devising completely original school musicals. Perusing through scores of professional musicals would always be so problematic, as the music would be either too difficult for high school students to learn in the timeframe, or the instrumentation wouldn't match our cohort. I am a big believer of student-led shows, without the need for adult players. I thought if I wrote my own musical score then I could ensure that every note, by every instrument, could be played by students, and every singing part would suit the vocal range of high school-aged students. So with close collaboration alongside the school's drama expert and script writer, Mike Bakker, we began working to develop our own unique, completely original musicals. This way we could ensure that not only the music be suited to the students, but the ideas and concepts reflected would be relevant to their world. We found that students took to this idea like wildfire. They were all going to be part of a 'world premiere'! Without seeing the show performed by others, they brought their own ideas to the characters. Watching these musicals come alive was nothing short of amazing.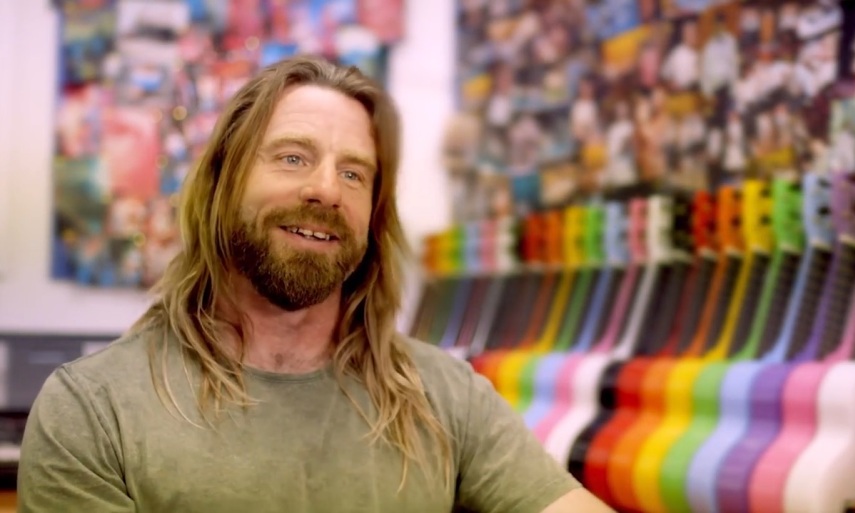 [Scott Maxwell. Image credit: ARIA]
Deb Skelton: One of the most amazing aspects of our Music program is students' enthusiastic participation in school assembly songs. The children engage with the songs and not only do they develop their singing skills, but they love to learn about the songs and the place music has in our society. Students have learnt not only to enjoy singing but also to sing in over 20 languages, including Noongar and Auslan. The inclusivity and community engagement that this fosters is wonderful! We have a student whose first language is Auslan, and by incorporating sign language into our assembly songs and calling on her expertise, her self-esteem and confidence has blossomed. It is an amazing sight and sound to have all the students signing and singing together. Many of the songs we have been learning for assemblies are in the local Noongar language, and alongside that we have been studying the history and culture of our Indigenous community. To increase engagement with the Noongar language, students have used Auslan to make connections between, and attain a deeper understanding of, English and Noongar. I have especially loved seeing the pride in the faces of our Noongar students when we all sing and sign in their language.
Dean Harawira: I'm particularly proud of our Drumline Program that I initiated in 2015 specifically targeting disengaged students. The program has taught students discipline, teamwork and the realisation that with hard work anything is possible. Ninety-nine per cent of our students had never played drums before we started this program and within eight months we fronted up at The National Drumline Eisteddfod held in Sydney and placed in the top three. This competition is dominated by private schools, so for our school to place in our very first year was a significant confidence builder for our students. The following year I asked our principal to update our equipment and we travelled to Melbourne in 2016, where we took out first place at the National Eisteddfod. This really did create a shift in attitude amongst our students where they really did believe anything was achievable. In 2017 and 2018 we placed second. What I'm most proud of is seeing the change in attitude of our students.
[Dean Harawira. Image credit: ARIA]
Becky Hall: One project I am particularly proud of is 'The Song Book'. This was a two-year project where students collaborated to write and record 15 original songs. This project provided our cohort of students, who are patients with serious health conditions, a context to participate in a large collaborative project and contribute as much or as little as they were able. Working with my colleague, fellow music teacher Ben Paddick, we taught our students to write lyrics, develop chord progressions, play instruments and multi-track record their songs – usually right at their bedside in RCH. I then developed a collaboration with the Australian Chamber Orchestra's (ACO) Inspire Quartet, who recorded string parts to four of the students' songs, here in the hospital. Our students were able to learn from, and collaborate with, these musicians and experience performing their songs with the ACO quartet here in hospital, to proud family and friends. Our whole teaching team joined this project by working with students to create artwork and video clips for each of the songs. The project culminated in a CD and SoundCloud upload and book of lyrics with artwork, titled 'The Song Book'.
How do you 'bring out the performer' in students who find it difficult?
Scott Maxwell: I believe that bringing out the performer in students comes down to two main factors: comfort and culture. Students need to consistently practice performing in safe environments when developing their skills. As students enter their teenage years, their peers' thoughts and reactions becoming increasingly important to their confidence. The rise of talent shows on mainstream media also suggest that they are constantly being judged. With extremely anxious students, they may begin by filming themselves practicing at home or with an instrument teacher. Maintaining a nurturing dialogue with these students as their skills develop is key to assisting them to feeling like they can share their music with others. Having a culture of performance assists in making performing 'cool' and not like it is something that only the elite among us are capable of. This means giving performance opportunities, and lots of them. The students start by performing for their class, and progress to other classes, to lunch times in school spaces, to community events, to specially developed 'gigs'. Our flagship performances might incorporate full sound systems, light shows, smoke machines and a stacked bill. Our last major gig featured students who were just beginning to perform, right through to our experienced performers.
Becky Hall: Our students at RCH miss significant amounts of school because of their health condition. The impact of these absences often means that they lack confidence, may be more withdrawn and less likely to take risks in their learning. Music education provides valuable opportunities for students to learn to collaborate with others and to express themselves in a deeper way than speaking or writing. It is vitally important to me that I provide a relaxed, fun and non-threatening environment in my classes. I want my students to feel that every time they take a risk to share an idea or try something they've never done before, that, is an achievement to be celebrated. Positive reinforcement is high on my agenda and I think it is important to focus on the attempt more than the outcome. One secondary student I worked with had never been brave enough to sing out loud in front of anyone. During her time in hospital we worked together on writing and recording a song. After some encouragement, lots of laughter and singing together, she gained the confidence to sing on her own in front of others. She has since gone on to become Music Captain at her regular school and frequently performs at school music nights.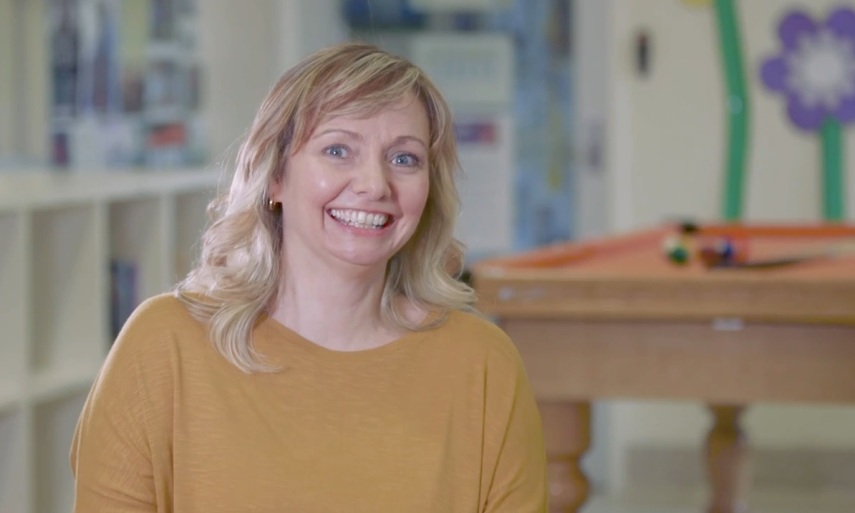 [Becky Hall. Image credit: ARIA]
What's the best piece of advice you've received from a mentor, colleague or PD session?
Dean Harawira: I'm from New Zealand and the best advice I've ever been given was from my grandfather: 'Do the mahi, get the treats'. In other words, there is no substitution for hard work. If you work hard at anything that you pursue in life, you will succeed. I've always tried to instil an ethic of hard work in my students, whether it be playing an instrument, singing or doing class work.
Deb Skelton: I have been so lucky to have many amazing mentors throughout my life, from my own primary school music teachers through to current colleagues. One bit of advice that has always stuck with me was from one of my lecturers at UWA, Associate Professor Helen Stowasser. During one of our sessions we were reflecting on our own music education and I commented how, when in primary school, I remembered thinking that 'ta' and 'ti-ti' was babyish and I wanted to call the rhythms by the proper names of 'crotchets' and 'quavers'. Helen told me to never forget that feeling! At the time I really didn't get it, but now I really do. It is so important to engage all students at their own level. If I had it explained to me as a primary school kid that 'ta' and 'ti-ti' was a way of sounding out the rhythms to help when reading and writing music it would have had so much more meaning to me. Rather than feeling 'held back' by babyish terms I was being given a tool to help me in my lifelong music journey! You cannot have a 'one-size-fits-all' approach to anything in life, and especially not in teaching. Every child must feel that they are important and worthwhile and that they, too, can achieve whatever they set their mind to achieve. It is our job as teachers to find the way that each child learns and help them with that achievement.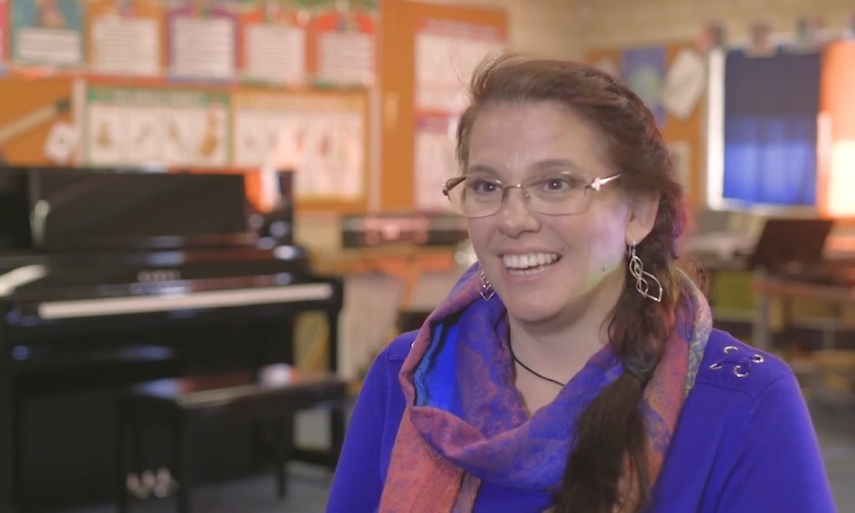 [Deb Skelton. Image credit: ARIA]
The public vote for this year's ARIA Music Teacher of the Year closes on November 21, 2018. Head to the ARIA website to watch a short video about each nominee and cast your vote.
To help bring out the performer in all students, Scott Maxwell prioritises creating a performance culture so performing is not seen by students as something only the 'elite' are capable of. How would you describe the performance culture in your school?
Deb Skelton teaches students to sing in Noongar and Auslan to foster inclusivity and community engagement. As a music teacher, what strategies do you use to build a sense of inclusivity in the classroom?