In Collaboration, feedback and a growth mindset Teacher Editor Jo Earp spoke to Associate Professor Jane Mitchell and Dr Sara Murray about a project that involved academics partnering with school leaders and staff to develop feedback strategies that promote a growth mindset in students. In this follow-up reader submission, Mitchell, Murray and Jenny Allen share further details of their work, including the strategies used in the school-based project and the impact on learning outcomes.
Teachers are encouraged to use the latest research in their teaching, but the translation of theory into classroom practice can be difficult. Educational psychology provides important theories, but often without any accompanying classroom strategies.
Partnerships between schools and universities can bridge this gap. When teachers and researchers work together there is potential to make strong connections between theory, research and practice.
La Salle Academy is a Year 7 to 12 school in Lithgow, New South Wales. In 2014, the school's staff identified student motivation and effort as a major area requiring improvement. The school embarked on a research-driven program of school improvement through a partnership, now in its third year, with the School of Teacher Education at Charles Sturt University (CSU). The program, Motivated Minds, drew on Carole Dweck's theory of mindset.
The theory of mindset
Carole Dweck's theory of mindset provides an insightful framework for understanding and increasing student motivation and learning.
Dweck (2006, 2010) argues that people have one of two kinds of 'mindset' about intelligence or ability. People with a 'fixed' mindset believe that intelligence is an innate and unchangeable entity, while people with a 'growth' mindset believe that intelligence can be developed through effort, perseverance and practice.
Although effort is at the heart of academic achievement, Australian society displays some ambivalence about academic effort (Murray and Mitchell, 2015). In some student cultures, it might be socially acceptable to do well at school, but only if this success appears to be achieved effortlessly.
The messages about effort can be subtle. For example, students who are seen as 'naturally talented' can be held in higher regard than students who are 'conscientious' or 'hard-working'.
Dweck's theory of mindset provides an explanation for our ambivalence. If we hold a fixed mindset, we separate effort from ability, and believe that ability should exist without effort. As a result, effort then becomes a poor second best.
There is now considerable evidence that mindsets can be changed and furthermore that a growth mindset in students is linked to higher school achievement. The key for schools and teachers is to create the conditions that promote a growth mindset, and better student learning.
In the Australian context, Geoff Masters (2013) has drawn on Dweck's ideas to press for changes to assessment practices in schools. Masters argues that standards-based models of assessment result in students being categorised as 'good learners' or 'poor learners'. Good learners always achieve standards and often do not get challenged or extended. Poor learners fail to reach standards and consistently get Ds and Es.
According to Masters, both of these categorisations promote a fixed mindset in which most students see no connection between effort and achievement. Masters makes the case that schools need to implement assessment practices that ensure students continually improve over time.
From theory to practice: implementing the Motivated Minds partnership
Introducing teachers to mindset theory and research: Motivated Minds at La Salle Academy began with two professional learning days led by CSU staff. The first workshop provided an in-depth look at Dweck's theories of mindset. Teachers then worked together to identify a whole-school focus for the program. Teachers chose feedback as the focus area. In the second workshop, each curriculum area designed a 'growth mindset' feedback strategy appropriate for one year group.
Growth mindset feedback projects: Teachers worked with CSU staff over the following two months to refine their projects. Each project was a form of action research, and included evaluation methods and milestone dates. Strategies were trialled and evaluated over three terms. CSU and La Salle staff continued to communicate frequently through both face to face meetings and phone meetings, as well as via email. They worked in partnership on monitoring the progress of the projects, collecting data, and addressing problems as they emerged.
An important feature of the program was its use of data. Teachers were surveyed regarding their teaching attitudes and practices, and students were surveyed about their mindset, academic motivation and effort. These data were used continually to design, modify and evaluate the teaching strategies.
Twelve innovative feedback strategies were developed, summarised in the table below. The projects proved to be highly successful in promoting student growth mindset, effort and outcomes.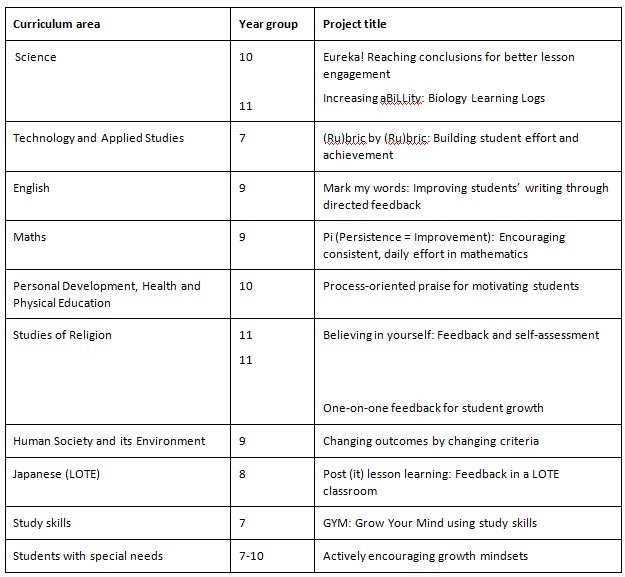 Disseminating research – professional learning for all
The first year culminated with a showcase day with a 'market stalls' theme, coordinated by CSU staff. Each project team staffed a stall and prepared a flyer that summarised their project. The showcase was attended by senior executive staff from the Bathurst Catholic Education Office, teachers from the local primary schools, and all teachers from La Salle Academy.
The day provided an important opportunity for professional learning and was a celebration of the program's success to date. CSU staff collated the projects into a teaching resource kit, which is now available for all teachers in the Bathurst Diocese.
Teachers' evaluation of Motivated Minds
Throughout the program, the teachers were interviewed about their views of Motivated Minds. The projects were not without challenges, including extra work for the teachers in data collection and provision of additional feedback for students.
Still, the evaluations were overwhelmingly positive. Teachers noted the great improvements in their students' effort and learning outcomes. In terms of their own professional learning, teachers appreciated the partnership with CSU staff; the ongoing nature of Motivated Minds (as opposed to 'one off' professional development events), and the useful theory underpinning it. The teachers also enjoyed the opportunities to work in professional learning communities.
The next stages
In 2015 a group of La Salle teachers developed two major initiatives for the whole school, to be implemented in 2016. These were peer mentoring of teachers in growth mindset teaching practices and the revision of the school's assessment policy to encompass continual measurement of student improvement.
While the latter sounds a basic assessment goal, in fact, most schools currently only systematically measure and record summative outcomes. The development of strategies for capturing and building upon student improvement will once again be challenging and, we hope, rewarding work.
The authors would like to thank the staff at La Salle Academy for their participation in the Motivated Minds program. We also acknowledge the leadership and support provided by John Emms (Principal, La Salle Academy) and Vince Connor (Catholic Education Office).
Stay tuned: Part 2 of this article, looks at one of the Motivated Minds strategies, focusing on Mathematics.
References
Dweck, C. (2006). Mindset. London: Robinson.
Dweck, C. (2010). Mind-sets and equitable education. Principal Leadership. January edition, 26-29.
Masters, G. (2013). "Towards a growth mindset in assessment". Retrieved from http://research.acer.edu.au/ar_misc/17
Murray, S., & Mitchell, J. (2015). Teaching strategies that encourage student effort in Year 8 and 9. In S. Groundwater-Smith and N. Mockler, Big Fish, Little Fish: Teaching and learning in the middle years. Cambridge University Press.
Are there opportunities for your school to develop a partnership with a local university?
When introducing a new teaching and learning strategy in your school do you consider: What are you hoping to achieve? What data will you collect? How will you assess the impact?