A lot has been said about the success of engaging Indigenous boys in education through sport, primarily Australian Football, but can the same work for girls?
The answer is yes, as proved by Donelle McInerney, a PE teacher at Newton Moore Senior High School in Bunbury, Western Australia, whose Indigenous Yorgas Sports Academy has increased girls' high school completion rates seven-fold.
Part of the Role Models and Leaders Australia program set up by champion basketball player Ricky Grace, the academy started six years ago with just seven girls, of whom one graduated. It now boasts more than 70 participants, and has an attendance rate of 90 per cent. Nearly all participants go on to traineeships, university or employment.
Academy students complete full-time mainstream learning at Newton Moore while participating in extra programs and courses from Year 9 onwards. The standout program, Living and Leading, operates in Years 9 and 10 and builds girls' confidence and leadership skills, while addressing how to overcome the problems that they face outside of school. Its classroom component takes up two periods a week.
'Our objectives for the program were to increase attendance, improve their fitness and activity levels, build their self-esteem, provide them with opportunities for leadership development and try to improve their community links, [and] their associations with outside bodies,' McInerney tells Teacher.
'So, for example, for a leadership certificate they do in Year 10, we based a lot of their competencies around sport. They planned, organised and ran the entire school athletic carnival, which hadn't been run for over 25 years at our school. That gave them a massive amount of confidence.
'And then they will be going to a City of Bunbury 'Let's Play' activity morning for kids aged one to five to show parents how to engage their children.
'The success of the program is measured by the increase in attendance rates, the decrease in behaviour issues, increase in higher results in school reports, and the increase in the number of girls being involved in school sporting teams and nominating for leadership roles in the school.'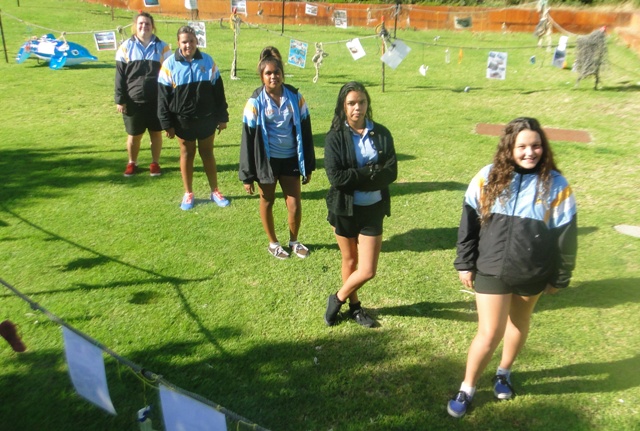 Students from the Indigenous Yorgas Sports Academy at Newton Moore Senior High School. [Image: supplied]
McInerney says the key has been to build trusting relationships with the girls, grow their confidence and show them the wealth of opportunities available beyond 'dropping out of school'.
'We did a massive project with the Bunbury Art Gallery where we sat down and spoke to the girls and videoed them about what was important in their lives.' She explains the project addressed problems such as family, relationship and social issues that are 'so real in young Aboriginal females lives today', adding it was 'pretty confronting'.
'We put in strategies with Mission Australia, Relationships Australia, South West Medical Service, drug and alcohol service, local police – they all came in and talked to the girls about respect, values, how they should be treated ...
'[It was] to allow them to know there are other people out there who can help them, that [there's no shame in telling people and asking for help]. And, all of those girls in the program are still at school – none of them have dropped out.'
McInerney developed and implemented the program herself and runs it with the help of two Indigenous aides. Community support is also crucial to its success.
'I get some outside assistance, funding wise, and support from community groups to assist me in delivery of the program,' she says. 'And we also partner up with local feeder primary schools.
'This year I have been successful in obtaining grants for the Living and Leading programs of approximately $5000 to deliver workshops, sports coaching and fun-filled activities.
'I find that as I talk to more people about it, there is just massive support out there in the community. I have got a lot of ideas for the future.'
Do you have a special program dedicated to increasing the engagement of Indigenous students? The Teacher team would love to hear about it! Tell us your story in the comments below or email us at teacheredior@acer.edu.au