An initiative to increase the number of Aboriginal and Torres Strait Islander (ATSI) teachers in Australian schools should have its funding extended for another four years so that a more targeted approach can be developed in the future, according to an evaluation panel.
Its final report into the More Aboriginal and Torres Strait Islander Teachers Initiative (MATSITI) concludes that many of the strategies implemented to lift recruitment and retention need much more time to 'realise their full potential'.
'The Evaluation Panel found that the engagement of [ATSI] people in the teaching profession is an essential contributor to great educational success for children and young people and their families and communities.' It makes 14 recommendations, including additional funding for 2016-2019 and a 'what works' style campaign to share successes.
Workforce data confirm ATSI peoples are significantly under-represented in schools – comprising 1.2 per cent of the teaching population in comparison to just over 5 per cent of the student cohort.
Running from 2011-2015, the $7 million MATSITI project was funded by the Australian Government and managed by the University of South Australia. The evaluation says a key performance indicator was 'to demonstrate an increase in the number of [ATSI] teachers in Australian schools and to be able to attribute any increase to the strategies and programs promoted by the project'.
The panel concludes that, while this appears to have happened, capturing accurate data remains an issue – one challenge being that the question 'Are you an Aboriginal or Torres Strait Islander person?' is not always asked when recruiting.
According to the report, the number of teachers identifying as ATSI increased from 2661 to 3100 between 2012 and 2015, including 697 who joined the workforce after 2012; and 14 per cent of Indigenous teachers and executives from the 2012 data collection (233) were promoted by 2015, including 40 to the role of Principal. Latest data show 83 per cent of Indigenous teachers are classroom teachers, 7 per cent are Deputy Principals (or equivalent) and 3 per cent are Principals.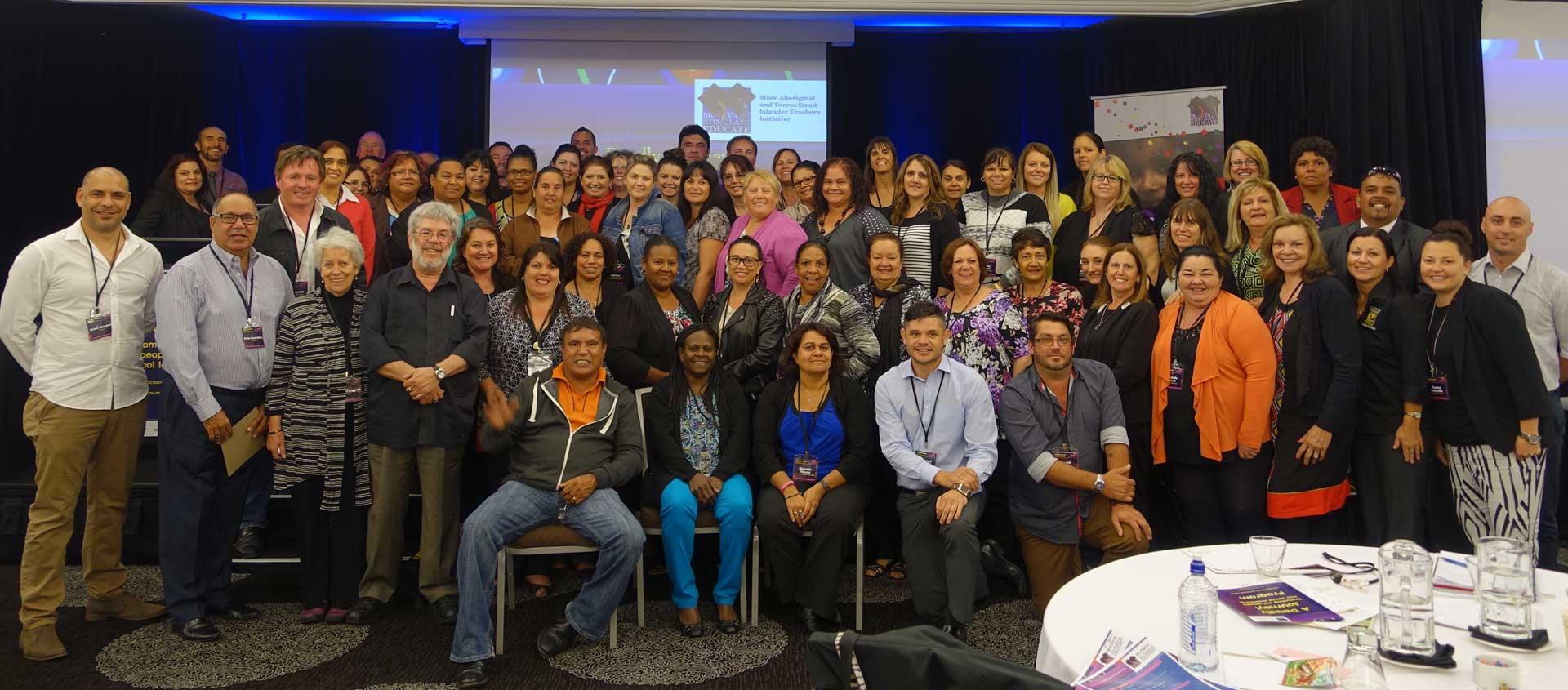 Indigenous teachers and school leaders at a MATSITI forum [Image: MATSITI].
The evaluation highlights the successes and challenges experienced by the 57 individual projects carried out by MATSITI partners. These covered a range of strategies, including campaigns to promote teaching careers to ATSI peoples, mentoring schemes for pre-service and beginner teachers and leadership development programs.
Partner projects promoting careers in teaching included Tellin' the stories of teachers and teaching – a digital resource developed by Flinders University featuring video stories of Indigenous student teachers, classroom teachers, lecturers and education leaders.
Strategies to increase leadership opportunities and provide mentoring in this area included the New South Wales education department's Rural School Leadership Program targeting early career ATSI teachers and Principals Australia Institute's Dare to Lead program, supported by the Australian Council for Educational Research.
The evaluation report highlighted the inclusion of ATSI people in leading projects, and connections to school systems, universities, governments and communities as factors contributing to their success. '... the evidence and lessons learned over the past four years should be capitalised upon for a more informed and targeted focus in future,' it concludes.
MATSITI Director, Professor Peter Buckskin told Teacher the evaluation endorsed 'a central pillar of Aboriginal and Torres Strait Islander education policy since the 1970s – the benefits of more of our people teaching and leading in Australian schools and universities,' while acknowledging that a continued, sustained effort is needed.
'You can't be what you can't see,' he said. 'More Aboriginal and Torres Strait Islander teachers in schools will encourage more Indigenous students to consider teaching as a career of choice, and provide a richer cultural learning experiences for all students.'
Stay tuned: In the coming months, Teacher will be sharing stories of some of the projects implemented in the first four years of MATSITI.
For more information about MATSITI and individual projects, and to access the evaluation report, click on the link.