A three-year-old Cavalier King Charles Spaniel named Ruben is enriching the experience of school for many students at Quakers Hill High School in Sydney's west.
His owner, Special Education Teacher Margie Beange, has trained Ruben to become a fully qualified School Facility Dog, so he now comes to school four days a week to work and interact with students.
On any given day, Ruben arrives at school early and spends this time visiting the senior executives, administration officers and other staff in their offices.
'Ruben's presence at the school and just his interactions with the staff have increased staff morale off the scale,' Beange shares. 'And I have many, many reports from staff regarding how wonderful it is to have him and how he makes their day. And "Oh I needed to see Ruben". It's amazing how much this little dog can do.'
Ruben then visits the playground and greets the students who are arriving at school. Throughout the day Ruben will spend most of his time in the school support unit, which accommodates around 28 students with a range of special needs.
In the support unit, Ruben interacts with all the students in very different ways. 'Ruben goes around and sees all the kids, he automatically can focus on who needs him the most, as in the anxiety levels,' Beange shares.
'It works on, we're giving off pheromones all the time so he will approach one of the students who he has picked up needs some assistance and, depending on who the student is, he will engage them in play or will lay across their feet while they're sitting down. Or he will go and nudge them, it just depends, it's different.
'Some of the students aren't going to be cheered up by running around the room chasing Ruben, and so they're the ones he'll be doing something more passive with such as laying across the feet or sitting next to them for a pat or pawing at them gently.'
Compiling the evidence
Beange completed research on assistance animals in 2011 as part of her Master of Education specialising in Special Education at the University of Sydney.
'My focus was on their effect on students with disability and it was largely proven the many benefits they could have, including things like lowering anxiety [and] making kids feel more self-confident in reading programs for those who are poor readers.
'Also, contact with the dog had other benefits for the students, including a sense of responsibility and ownership. By the student learning how to give the dogs commands and having success with the command, it helped with their self-regulation and it was also useful with things like speech therapy because in order to give the dog a command, the student had to speak clearly and so forth.'
Beange then approached her principal with all the evidence she had compiled – her research, a field study, a feasibility study, the Disability Discrimination Act, and other documentation – and was granted permission to source a dog suitable for the task.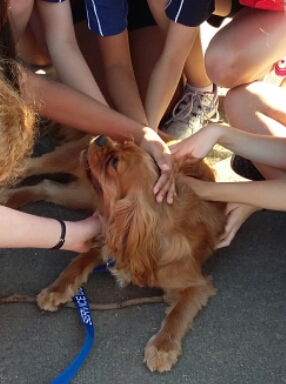 The educator also identified the problems she was hoping to address and the opportunities an assistance dog would provide these students. For students who experience stress, anxiety or mental health issues, or have low levels of engagement in lessons, or for the students in the support unit with Autism Spectrum Disorder (ASD) or intellectual disabilities – the opportunities for support from a therapy dog were abundant.
'The kids with ASD tend to not really interact socially very well but it was easier for them to form a relationship with the dog and that then impacted on their ability to form relationships with their peers,' Beange says. 'A sense of companionship, opportunities for giving and receiving affection, also getting some exercise.
'Again, our students tend to have very low muscle tone and be more inclined to sit in front of a computer or other devices, rather than get out in the sunshine and get some exercise. There is a responsibility of being able to look after the dog and opportunity for success with things like commanding the dog and having it obey just basic commands. And learning to walk the dog on the lead and so forth, it was also a pleasant distraction from everyday concerns.'
Training Ruben
A great deal of training went into preparing Ruben for the task at hand. Beange brought him into school from three months of age to practice socialisation and familiarisation, as well as basic obedience training.
Ruben was a therapy dog to begin with, but after completing 160 hours of additional training, he completed a Public Access Test with a New South Wales Trainer and Assessor, gained a NSW Travel Permit and became a fully qualified School Facility Dog.
This extra training involved going through shopping centres, crossing roads, catching public transport and being in other public venues like restaurants. To pass these assessments, any dogs must have good hygiene, be registered with the council, be of sound temperament and show no aggression or fear whatsoever. Having passed with flying colours, Ruben is now able to go on excursions and work experience placements with the students at school.
'That has great benefits for them because once they're out of their familiar environment, kids, especially kids with autism, they become very, very anxious and then their behaviour can get out of hand and meltdowns and so forth. So that's been really successful, getting the kids travelling and going to work experience and so forth,' Beange says.
Impact on the school community
Beange says Ruben's work has had an extremely positive impact on the school community and everyone in it.
'It's brought people closer together … he's encouraged people to talk and smile. He's been described by many as a great asset to the school for everyone here.'
Beange says the school has seen an improvement in student engagement and general levels of wellbeing and happiness – in both the support unit and the mainstream classes. But Ruben's impact has been felt most of all by the students with particularly challenging personal circumstances.
'When the staff have tried absolutely everything, there was nothing adult humans could do for some of these kids, often because it's adult humans who are likely to have caused them their problems. But they're able to engage with Ruben; he's done some remarkable things for some very troubled teens here at school. So generally he's been a wonderful success.'
In 2019, Ruben will continue his work in a new school, as Beange has been granted a transfer to Great Lakes College in Tuncurry. She says that Ruben has been welcomed to the new school with open arms. 'He's going off now to impact another school community and fortunately they were really happy to have him because it's relatively new to have a dog in school, obviously some people would have reservations.'
Have you considered using a therapy dog in your school setting? What would be some of the perceived benefits of using a therapy dog with your students? What are some of the risks?
Do you currently have a therapy dog working in your school setting? In what ways has the dog helped to enrich the learning students are doing in their lessons? What impact has the dog had on the overall wellbeing of students and staff?