'The best teachers are those who show you where to look, but don't tell you what to see.'- Alexandra K. Trenfor
In science, sometimes the processes and specimens are too slow, too fast, too small or too far away to be seen. A good science teacher makes these phenomena visible to students through models, animations, and equipment that extends the senses.
Microscopes are an essential piece of equipment to extend the sense of sight. Students can use them to observe biological and forensic specimens.
A digital USB microscope allows you to display images on a projector screen, so all students can see the same image simultaneously. This is excellent for demonstration purposes, as you can point out specific features for students to look for when they are making their own observations.
I have been using a Dino-lite handheld digital microscope over the past few years. The basic model has 20 to 50 and 200 times magnification, which is sufficient for most purposes, including freshwater invertebrates and plant and animal cells. If you are hoping to observe blood cells, however, you may require one with a higher resolution – other models available magnify up to 400 times.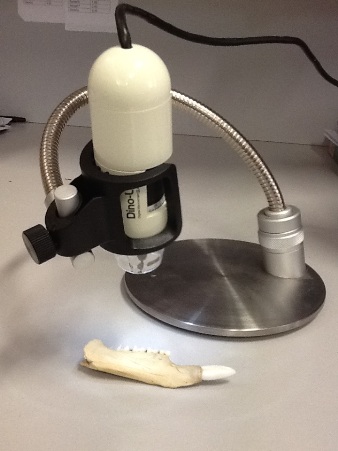 The Dino-lite microscope in the basic model. [Image: supplied]
A great feature of the very portable microscope is that it can take photographs to compare different specimens or the same specimens over time (for example, for seed germination). This microscope also has the ability to record a series of time-lapse images, which allows students to observe first-hand, for example, how plants grow towards light and how eggs hatch. This requires the microscope to be mounted on a stand, which is purchased as an accessory.
With the stand, this device can also be used as a document camera, displaying dissections, bookwork or other scientific demonstrations to the screen, via your computer.
The Dino-Lite is easy to operate with intuitive software and is compatible with both Windows and Macintosh computers.
For less than $200, we at Hawkesdale P-12 College have found the Dino-Lite and stand a really useful piece of equipment in our school science laboratory.
The views in this article are those of the author. Teacher magazine does not endorse any particular supplier.
The Dino-Lite basic is available for $139 excluding GST or $152.90 inclusive of GST. Click the link for more information.
Are you interested in being a Teacher reviewer? Visit our community involvement page for more information.