I love my technology. The anywhere, anytime nature of mobile technology means I'm on my phone, iPad or laptop more often than I care to admit. I'm now so used to pulling out my personal devices wherever I am, that I sometimes find myself with sore back, neck and shoulders when I neglect my posture.
When it comes to computer setup, office workers get advice from occupational therapists and physiotherapists, but what is happening with our kids in classrooms? While the needs in our learning spaces are not quite the same as workspaces, the basic tenants of ergonomics prevail: when you are sitting, make sure that you are well supported in a good posture!
Poor posture - curved back without a laptop riser. [Image: Supplied]
I'm an advocate of technology in education; for me 1:1 isn't enough. However, while welcoming personal technology to our learning spaces, we need to look more closely at the physical aspects of how to use technology safely and welcome some accessories into our learning spaces that support long-term student physical wellbeing.
Laptop stands or risers are one solution, when used in conjunction with an external keyboard and mouse. Available, in many shapes and sizes, laptop risers all are designed to set the screen at the right position to avoid shoulder, neck and eye strain.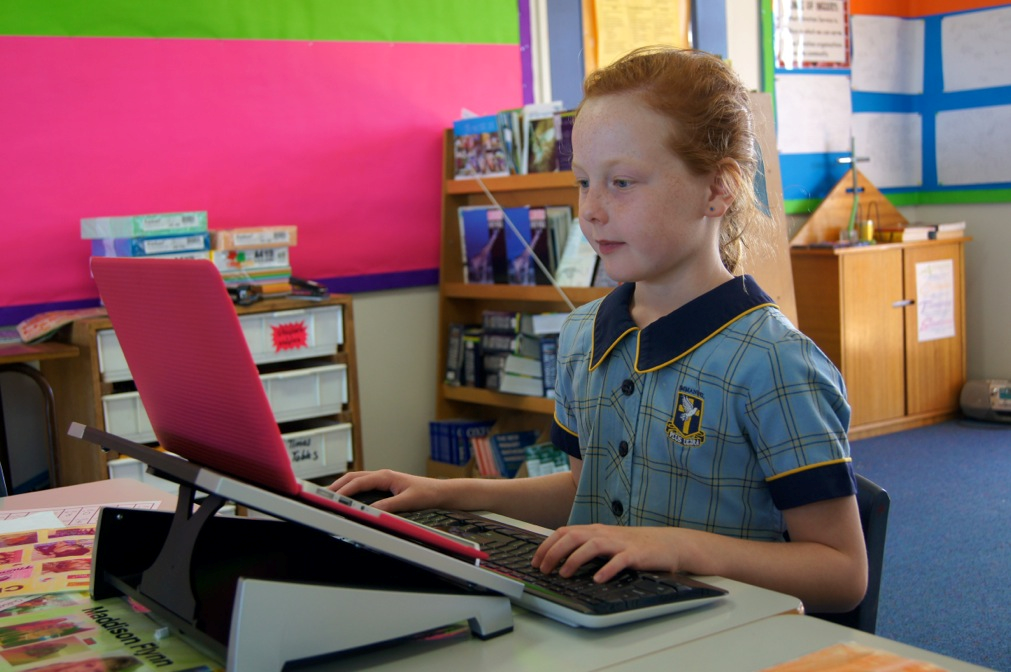 Good posture with Fellowes Laptop Stand, keyboard and mouse. [Image: Supplied]
While the $7 laptop stand from IKEA will appeal to the classroom teacher with limited space and budget, its lack of adjustability may not meet everyone's needs. Teachers will like how easy it is to stack and store these basic stands as a classroom staple. It's simply not practical for high school students to add a laptop riser to their already overburdened backpacks, however teachers can consider adding some standing stations and adjustable height laptop risers into the mix so students have options at school.
I particularly like the Fellowes Laptop Stand ($49 at Officeworks), which is portable, flexible, suits student lightweight laptops and tablets and can be adjusted to suit both sitting and standing positions. While I'm not ready to add this item to the booklist due to its bulky nature, I would welcome this accessory to my workspace.
Best options? Sit less, stand and move more, limit 'screen time' and keep an ideal posture that is well supported while sitting! I'd recommend teachers consider adding keyboards, mouse devices and laptop risers as well as a few standing stations to their learning spaces.
The views in this article are those of the author. Teacher does not endorse any particular supplier.
Have you incorporated any accessories into your classroom that aim to aid in the safe use of technology?
How have they made a difference to the wellbeing of your students?