Written by a teacher for teachers, Teach Like a Pirate is an easy-reading, well connected series of pedagogical stories, provocations and strategies designed to encourage critical self-reflection and development of own practice.
One of the things I believe is most appealing about this book is its relevance across a range of subjects and stages of schooling – it is up to you as the pedagogue to adopt or adapt according to the needs of your students and broader teaching and learning environment.
The book invites educators to take pedagogical risks in creating an engaging and empowering classroom for both you as the teacher and your students.
I discovered this book via Dave Burgess, an #AussieEd Twitter chat and a related hashtag (#tlap) as I resumed my 15-year teaching career after having completed three years in a bureaucratic curriculum development role.
Curiosity got the better of me: 'Who is Dave Burgess?', 'What is #tlap?', 'Why would I want to talk about it?'
Well #tlap was Teach like a Pirate, Dave Burgess was the author, and there was plenty to talk about.
While I was regarded by many as an expert and innovative educator, I felt as if I was in a pedagogical swamp – getting stuck in similar routines and sinking into predictable practice. I was in need of inspiration.
Teach like a Pirate was the perfect tool to re-energise and reinvigorate my classroom practice; and a rainforest emerged out of the swamp!
The book is divided in to three sections: an exploration of what it means to be a 'pirate' teacher (no prizes for realising that 'p' stands for passion); an investigation of 'hooks' (intended to become part of your treasure chest); and a reflective conclusion beginning with the thought-provoker, 'Do you want to be great?'.
Within my teaching of Geography, key messages from Teach like a Pirate have encouraged me to actively and purposefully set about creating an atmosphere of anticipation, excitement and intensity as students enter my classroom, particularly for a double session.
This has been achieved through embracing a range of hooks at appropriate times, such as music, props, hobbies and interests, student voice and immersion days. I have also been experimenting with a variety of technological tools enabling students to be the experts.
As a result of reading Teach like a Pirate, I now ask myself two questions as part of my planning and preparation for every class: 'Would students attend my classes if they didn't have to?' and 'Can I sell tickets to this lesson?'
These are similar, connected questions but they require deep and honest contemplation. At faculty planning days, I have shared excerpts of this text and asked colleagues the above questions as a catalyst for considering what they might do differently in their practice.
So for any educator, regardless of experience or subject and stage of schooling taught, if you or your colleagues are in need of some new ideas, I encourage you to beg, borrow or buy a copy of Teach like a Pirate; engage with the critical reflection, allow yourself to be challenged and then embrace this transformational pedagogical system.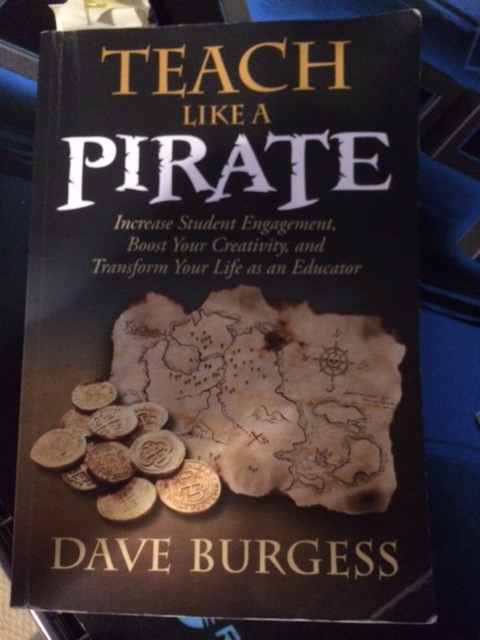 Image: Susan Caldis.
Do you have a text that you have found useful?
How have you incorporated what you have learnt in your classroom?
Share your experiences by tweeting @teacheracer using the hashtag #TeacherMag.