Having an explicit improvement agenda includes focusing the whole school's attention on teaching and learning priorities according to your students' needs. Core priorities such as improving literacy and numeracy outcomes involve all staff. In our latest reader submission, former Epping Secondary College art teacher Kerry Kaskamanidis shares how she responded to a whole-school focus on literacy by building a partnership with a local art museum.
I recall sitting in the staff room for another round of Performance and Development Planning (PDP) and SMART goals, my head filled with the daily world of creative chaos that is the art room. I looked at the clean, ordered PowerPoint presentation focusing on the broader school goals of literacy and numeracy and wondered how I could implement something new and worthwhile within the semester time constraints most art teachers work with. I'd already had several PDP rounds of focusing on art elements and principles and I wanted to do something meaningful and fresh.
Visual Thinking Strategies
While researching Arts Literacy, I came across a program in the United States called Visual Thinking Strategies (VTS). The learning outcomes sounded promising, the simplicity of the program was alluring, and it also ticked the literacy box.
VTS is an inquiry-based teaching method created by cognitive psychologist Abigail House and museum educator Philip Yenawine. The strategy is supportive of critical and creative thinking, visual literacy, communication, and collaboration skills. It creates a democratic and safe space for students to share their ideas about the meaning of artworks using three basic questions:
What do you think is going on in this picture?
'What do you see that makes you say that?'
'What more can you find?'
Although this may sound simplistic, the facilitation requires training and is very different to the usual class discussion about the meanings of artworks.
After a bit of reading and a quick web search, I was excited to find a VTS PD offered at Melbourne's Heide Museum of Modern Art (MOMA). I booked in, did the PD and then trialled the strategy back in my classroom.
One of the things that I love about VTS discussions is that students can't get it wrong. They take turns guessing meaning attributions and backing their ideas with evidence that they observe in the image. This then opens opportunities for students to extend on the ideas of others, or express alternate meaning attributions. The teacher paraphrases what they hear and gestures towards the part of the image the student is speaking about. As students catch on that the teacher is responding neutrally, they feel safer to offer up ideas.
Working in partnership
My students loved VTS and were highly engaged during the sessions, so I decided to send their excellent results back to the Heide Education Team to say thank you. Heide MOMA then invited me to apply for the Heide Schools Partnership Program, which involved securing funding grants from the CASS (Contributing to Australian Scholarship and Science) Foundation.
The grants were approved and enabled us to implement a program of VTS PDs for all Epping Secondary College (ESC) English and Art staff, buses and gallery entry for two annual excursions to Heide MOMA for both Years 7 and 8, and artist workshop participation and involvement in VTS sessions in the Heide MOMA galleries. With 24 home groups across Years 7 and 8, and program delivery across the two Key Learning Areas of English and Art, it was a big undertaking, but one that was well worth it.
Students particularly loved our excursions to Heide MOMA, seeing original artworks from the collection, viewing new exhibitions by contemporary artists, and participating in the workshops run by various artists.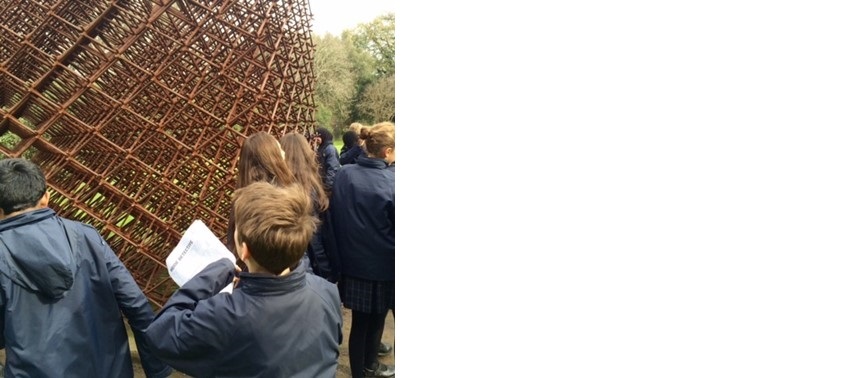 [Students on a visit to Heide MOMA. Image: Supplied]

The Heide education staff and volunteers were wonderful and welcoming and ran VTS sessions within the gallery spaces. Students were able to take their classroom experience of VTS and apply it with confidence in gallery contexts.
Then Principal, Helene Alamidis was a great support in launching the program at ESC and even attended some of the excursions. She says: 'The Heide Schools Partnership Program was a wonderful experience for the students as it focused on developing literacy skills across the curriculum in both Art and English.
'Students were highly engaged with this program both within the classroom and in the Heide galleries, where they had the opportunity to respond to original artworks firsthand. The students also enjoyed meeting practicing artists and creating artwork in the Heide education studio. It was a unique and enriching experience that actually broadened their life experiences as well as impacting on their literacy skills.'
Improving literacy outcomes and social skills
Pre-tests were conducted asking students to create a written response to the three VTS questions in relation to a preselected image. The pre-test was conducted at the start of each semester and a post-test was conducted on completion of the VTS course at the end of each semester. The post-test used identical questions and image as the pre-test.
Post-VTS test data from 270 students across 12 Year 7 groups show a marked difference in the quantity of written response and evidence given for ideas – in fact, there were exciting outcomes across the board. VTS specifically supported the Victorian Curriculum 'Personal and Social' capability and 'Critical and Creative Thinking'. See tables below for the outcomes.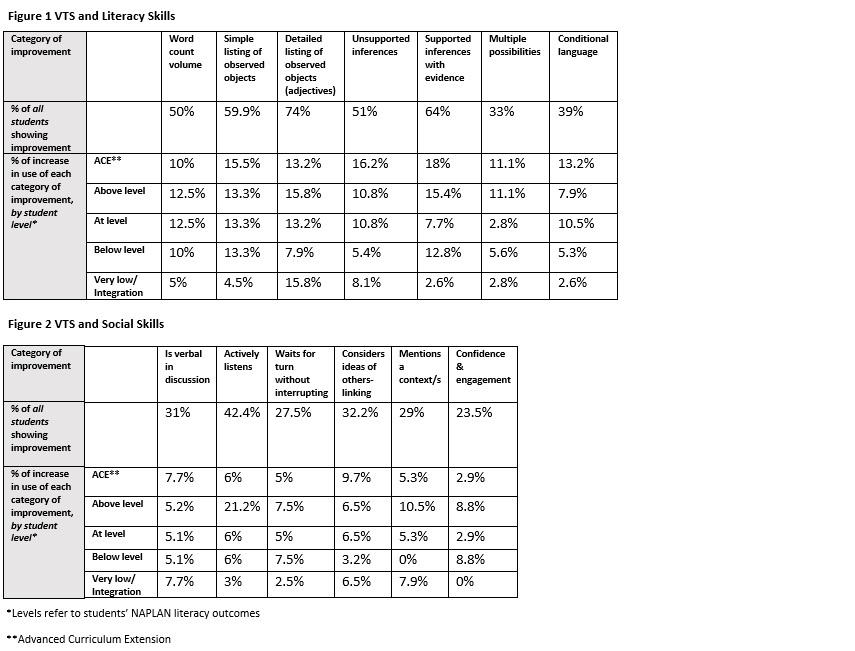 Figure 1 and Figure 2 show the percentage of all students who showed an improvement across a range of outcomes. The percentages below these figures show the amount of improvement in each outcome for students with different literacy levels.

Reflecting on the experience, Mel Hartigan, Heide MOMA Learning and Public Program Coordinator, says: 'Heide's partnership with Epping Secondary School students within the framework of our Connect and Create programs was a truly rewarding experience for our staff and volunteer guides. It was invigorating to see the students interact with the artworks, stories and Heide's landscape and spaces for the first time and help them find ways to express their responses to these experiences.'
Perhaps one of the most rewarding aspects for me was hearing students become curious and excited about art. The enhancement of their literacy skills was the 'cherry on the cake' and satisfied the requirements of my PDP beautifully. To finish, I include a quote from a Year 7 student. I think her enthusiasm speaks for itself.
The Heide Museum of Modern art was cool. The main thing I liked was Heide III which was Natasha Johns-Messenger's art exhibition. She is called a site artist. Her mirrors were confusing, so confusing that I got lost in the mirror maze and I ended up apologising to myself. I was so excited when I got to meet Natasha and she taught us how it's not our eyes that see, it's our brain that uses our eyes to see. I also loved the statue about Sweeny and how a vision flowed through my head of Sweeny playing in the trees. I rated the day 5 out of 5.
As a leader, what are your school improvement priorities for this year? Are all staff aware of these whole-school targets and the role they can play in meeting them?
As a teacher, think about the work you are doing in your own subject area. How can this feed into whole-school priorities?