Many education institutions – both schools and early learning centres – are beginning to think 'vertically' to overcome density and population pressures in urban school areas.
South Melbourne Primary School, the first high-rise state school in Victoria, opened its doors at the beginning of the 2018 school year to over 160 students.
Richard Leonard, Director at Hayball, the architecture firm behind the innovative new facility, says the South Melbourne Primary School project is a real reference point for vertical schools in Australia.
'We're starting to think more about the smart cities and I think we have to talk about vertical schools in the context of that thinking about smart cities,' Leonard says.
'We're now seeing cities really attempting to provide a more holistic lifestyle, a stronger emphasis on the human capital and social capital, ICT infrastructure and being more sustainable. I think that's really the context for the inner city school and how you've got to conceive and design for them.'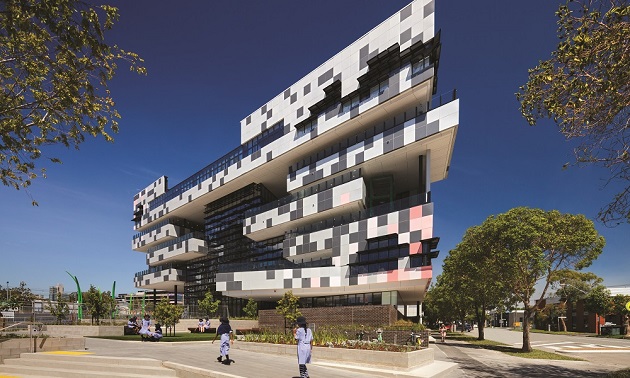 South Melbourne Primary School is located on a compact inner urban site. Image credit: Dianna Snape
South Melbourne Primary School is located on a compact inner urban site of just over half a hectare. The six-level building will eventually house over 525 primary school students, 44 early learning students, and a number of community services and facilities.
'We have to imagine these schools much more as community facilities and integrated with their communities as South Melbourne is, it's a really good example… Because I think we lose the opportunity if we only think of shifting the school model from the flat pancake suburban model into a vertical model,' Leonard says.
Reimagining the school environment
As recipient of the 2016 World Architecture Festival Awards: Future Project of the Year award, South Melbourne Primary School has really reimagined how and what a school needs to be.
The school integrates educational facilities with a range of community amenities and services on site. The City of Port Phillip contributed to the Early Learning Centre, two community meeting rooms and a community kitchen which also forms part of the school's canteen. The school also boasts a full-size, indoor basketball and netball court that has been contributed in part by Sport and Recreation Victoria.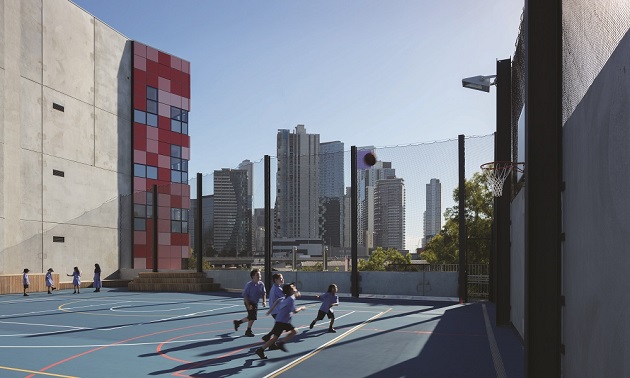 South Melbourne Primary School has an outdoor sports area so students can play ball sports. Image credit: Dianna Snape
In a shift from traditional classrooms and teaching models, Leonard says South Melbourne Primary School is designed around 'learning communities' of around 150 students that facilitate both age-based and stage-based learning groups.
When it comes out outdoor spaces, Leonard says that ensuring there was sufficient outdoor play areas was integral to the overall design. Above the indoor gym there is an outdoor sports area where children can continue to play typical ball games, as well as a climbing play structure.
Hayball also engaged in discussions with the Department of Education and argued very strongly for external learning spaces throughout every level of the building. They saw this as a necessary compensatory gesture to being in the inner city.
'We didn't argue it as play space,' Leonard says. 'It really isn't play space but it was allowing kids to move from their learning communities, straight into external areas, as you would in a normal suburban facility.'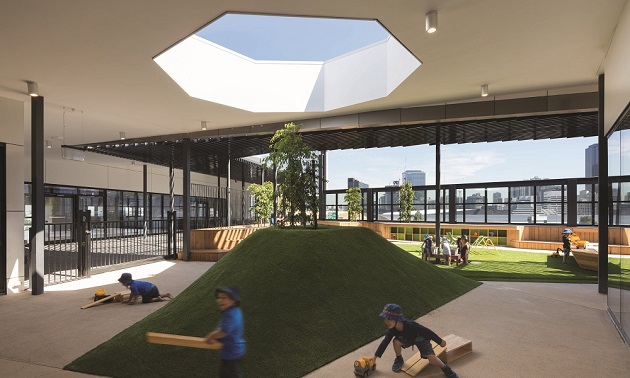 The vertical play centre ensures kids are not missing out on being active with their friends. Image credit: Dianna Snape
Movement through the spaces
One of the major considerations when designing South Melbourne Primary was the circulation or flow of children as they move between the learning spaces.
'In the South Melbourne Primary School, that was one of the really early design considerations and again it's one of the discussions we had to have with the Department of Education,' Leonard says.
In response, a staircase was built that acts as a vertical piazza – it can be used as a meeting space, a teaching area or auditorium seating.
'It's not just a stair to get up and down between levels, it was really an active part of the learning environment,' Leonard says.
'…It's sort of a zig zag stairs that actually pulls the students from one side of the building through the other as they move up the building. It was purposefully designed to actually mix the students and allow them as they move up and down the building to see and almost be part of what is happening in the other learning communities.'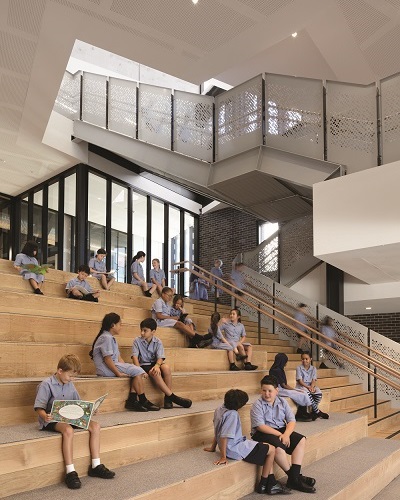 The staircase is a vertical piazza that acts as a meeting space and a teaching space. Image credit: Dianna Snape
Primary and secondary schools – what are the differences?
Hayball was also appointed architect of the new Richmond High School, which comprises a four-storey academic precinct known as the Griffiths Street Campus and an adjacent Gleadell Street Campus which, when opened in 2019, will comprise of general purpose teaching spaces and community facilities.
The first cohort of Year 7 students began in Term 1, 2018, and are taught at the Gleadell Street Campus. The Griffiths​ Street Campus will open in Term 1, 2019 for the second cohort of Year 7 students and students moving into Year 8.
'I think one of the important things in both South Melbourne and Richmond has been the deep engagement with an educator as part of the planning process,' Leonard shares.
'In this case it's been Dr Julia Atkin and we've actually been working with Julia for nearly a decade now but these are the most recent schools we've been working with Julia on. She's been really engaged by the Department of Education to help inform and shape the education brief, really with that deep understanding of the contemporary education model and where we need to rethink the education brief in terms of dense, inner urban schools.'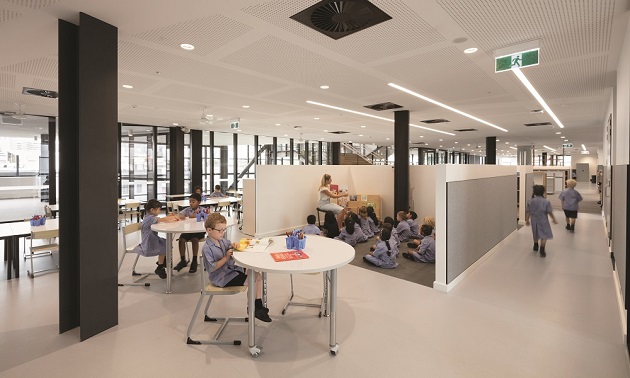 At South Melbourne Primary School, spaces are arranged around learning communities. Image credit: Dianna Snape
When it comes to designing a primary or secondary school, Leonard says a lot of the fundamentals are identical, particularly in the development of learning communities rather than classrooms.
'If you look at the South Melbourne model compared to the Richmond model, you'll see [the similarities] emerging in how the actual school, the teaching and learning spaces are configured,' he says.
While the provision of specialist spaces may be slightly different between primary and secondary, Leonard says there are many consistencies in the way both schools promote the cross-disciplinary aspects of teaching and learning.