What do you know about the opportunities the Australian space industry provides for STEM education and future career paths?
In 2020, Dr Megan Clark AC, Head of the Australian Space Agency said that by 2030, the Agency aims to 'triple the size of the domestic space economy and create another 20,000 jobs' and that 'space plays an important part in improving the lives of Australians, positively impacting on the economy and supporting the development of Science, Technology, Engineering and Mathematics (STEM) capabilities'.
Last year, Dr Scott Sleap was announced as the recipient of The Park Family Churchill Fellowship, recognised for his commitment to expanding STEM education in Australian schools, particularly in regional, rural and remote areas. Through this Fellowship, he'll work to inspire more young people to consider careers in space and continue to grow Australia's future STEM workforce.
Dr Sleap is a New South Wales Department of Education STEM Curriculum Support Advisor (7-10), where he leads the STEM Industry School Partnership (SISP) Program. He is also a Conjoint Senior Lecturer at the University of Newcastle, Executive Board Member at the Hunter Science and Innovation Hub and National Inspire Community of Practice Represenative at the Australian Space Agency.
'The space industry will be worth $1 trillion by 2040 and Australia has the opportunity to be a key player, but we need to ensure we have the workforce,' Dr Sleap tells Teacher. 'I've been involved in workforce development for a long time with the purpose of building the space workforce of the future.'
'The perfect vehicle for engaging students' interest in STEM'
The last time Teacher caught up with Dr Sleap was in 2019, after he had been named winner of the 2018 Prime Minister's Prize for Excellence in Science Teaching in Secondary Schools. Since then, the SISP Program he leads has grown to now include 134 schools, 265 Industry Partners, over 20,000 teachers and over 115,000 students.
Dr Sleap has also been the Director of another successful program, the ME Program, which is an aerospace education, outreach and workforce development program in the Hunter region of New South Wales. His work on this program also led to the establishment of the new Bachelor of Aerospace Systems Engineering course at the University of Newcastle.
Dr Sleap's work includes the iSTEM course he developed in 2011. Since its development, over 13,000 students in NSW have completed the 100- or 200-hour versions of the course. In 2022, it was one of 7 new NSW Department approved electives that was introduced.
'iSTEM has been taught in around a third of NSW high schools and has had a transformative effect on students' perception and desire to undertake STEM education and careers,' Dr Sleap says.
Dr Sleap says the Aerospace and Design for Space electives for iSTEM are 2 of the most popular. 'It became apparent that aerospace is a fantastic way to engage students more generally in STEM. Space in particular is non gendered, with interest equally amongst boys and girls. Therefore, space appeared to be the perfect vehicle for engaging students' interest in STEM.'
An international study tour
Through its Fellowships, the Winston Churchill Trust recognises Australians from a variety of fields and gives them the opportunity to expand their knowledge and skills through overseas travel, so they can bring their knowledge back home.
Dr Sleap's Fellowship project involves travelling to the US for 7 weeks on a study tour to visit Texas, Florida, Washington DC, New York, San Francisco, Colorado and Hawaii. Teacher caught up with Dr Sleap right before the study tour, which has now just concluded.
The trip included meetings at the Whitehouse and visits to multiple NASA sites, Google and other industries. Dr Sleap also presented at the Space Exploration Educators Conference at NASA's Houston Space Centre to share the work being done in Australia.
Dr Scott Sleap at the Whitehouse. Image supplied.

'At the end of the study tour, I will be producing a publicly available report that will help guide the Australian space STEM education, outreach and workforce development,' Dr Sleap shares.
'What I will learn will assist to advise policy, strategy, and implementation of world class STEM education and outreach programs in NSW schools and in Australia. The work will be used by the Australian Space Agency in the implementation of their Inspire Pillar of the space strategy and will help inform the upcoming NSW Government's Space and Defence strategy in the area of workforce development.'
A career in STEM
The future career opportunities available in this area go beyond the 20,000 outlined for the domestic space industry. For example, Dr Sleap says there will be at least 1.2 million more jobs over the next decade in associated STEM industries. As the space domain is multidisciplinary, he adds, many of the skills required for working in the space industry include non-technical skills, like problem solving, creativity and collaboration.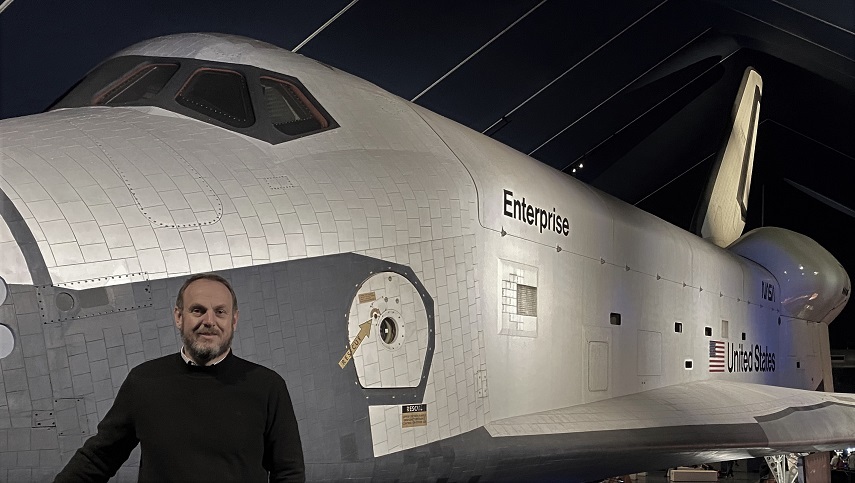 Dr Sleap in front of NASA's Space Shuttle Enterprise. Image supplied.
'The interesting aspect of the future space workforce is that virtually any job that you do on earth will also be in needed in space. So, if you are a plumber, electrician, or technician you might be part of the next generation of "Space Tradies".
'Space is a domain, not a profession. As such, many people will be able to work in the space industry as part of their role, for example a lawyer who specialises in space law, or a doctor who works as a space physician on a mission.'
Dr Scott Sleap says 'aerospace is a fantastic way to engage students more generally in STEM. Space in particular is non gendered, with interest equally amongst boys and girls'.
At your school, is there a gender balance in STEM enrolments? Do students have the opportunity to learn about aerospace? How could you introduce this to future lessons?