With the aim of getting students interested in STEM careers, the team at a Victorian museum enlisted the help of teenagers when creating their exhibition, Beyond Perception: Seeing the Unseen. It opened at Scienceworks this year and is filled with immersive experiences, presenting real-world STEM content to visitors with a particular focus on what's invisible in Science. Experience Developer David Perkins ensured there were strong Victorian curriculum links, spanning from Year 7 to Year 12. In today's Q&A we hear from Perkins who explains the whole process in detail, as well as Tanya Kovacevic, a student who was consulted on how to make the exhibition as appealing and engaging for teenagers as possible.
How long does it typically take, from start to finish, to prepare an exhibition like this? What's the process? What do you need to consider?
David Perkins: There was a team of people working for about two-and-a-half years, but in that time they developed two permanent exhibitions – Ground Up, and Beyond Perception, and one winter exhibition called Test Lab. There is a lot that goes into the development – generally there are three stages: concept development, developed design, and production. During concept development, a team of people does research and evaluation to come up with an idea of what they want to make. Then developed design is a lot of 2D and 3D design, content research, digital media production, etcetera. And then, when they move into production, they get carpenters and electricians, and so on, in to build the walls, wire it all up, paint everything, lay the carpeting, hang the signage, organise lighting etcetera. There's a lot that goes into it, it's a really big endeavour that has to be safe for the public to use, and easy to maintain and clean, as well as interesting to visit.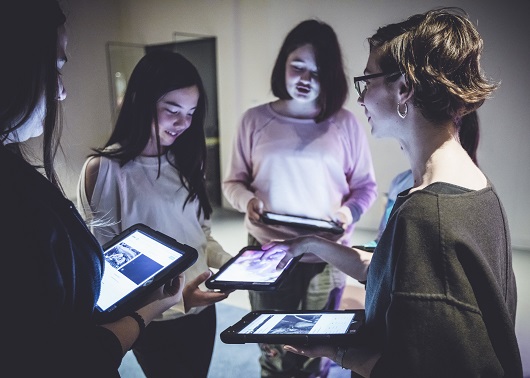 Image: Rob Zugaro/Museums Victoria.
What links are made to the curriculum? Are these links at purely a state level or do you aim to connect to the national curriculum, too?
DP: We worked closely with our education team at Scienceworks to figure out which curriculum links we wanted to make. We really wanted this exhibition to inspire 12-15 year olds to think about Science and Technology as a career they might pursue in school and beyond. And the most likely way that age group will visit the museum is with their school. So it was really important to have strong links with the Victorian Curriculum to help drive that visitation.
There were a few specific outcomes we worked into the Beyond Perception interpretation. Most of the programs focus on lines of enquiry and science as a human endeavour. We wanted the school groups to really explore the science stories from local universities and research institutions, and find all of their great work. The topics covered in each area of the exhibition include: light and sound, gravitational waves, particle accelerators, microscopic worlds and aerodynamics.
Curriculum links include: Physical Science (Year 7-8); Chemical Science (Year 7-10); Science Inquiry skills (Year 7-10); Earth and Space Science and Earth and Chemical Science (Year 9-10); Music and Design technologies (Year 9-10); Science as a human endeavour (Year 7-10) and VCE Physics Units 1-4.
How often do you revisit the exhibition's features to adapt aspects in order to keep up-to-date with a changing education landscape and changing job prospects for students?
DP: There's an operations team that look after the daily upkeep of the exhibition – fixing broken bits, maintaining the technology, keeping everything running smoothly. And then we have a process for revisiting the exhibition a few times through its lifetime to update any content or stories that might have changed. For example, there's an area in the exhibition about gravitational waves. Because the first detections of gravitational waves happened in 2015, we're fairly certain that field of science is going to grow and grow over the life of the exhibition, so we can change and update the section to reflect that. I think that's a critical part of the story we wanted to convey, that science isn't finished; there are still discoveries to be made and work to be done by the scientists of tomorrow.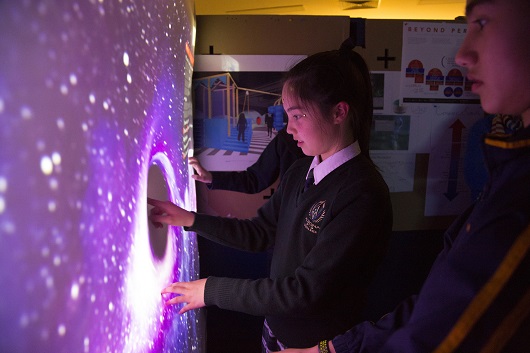 Image: Rob Zugaro/Museums Victoria.
---
Throughout this process, Scienceworks enlisted the help of JBoard: a group of teenage consultants aged between 12 and 15 years old. Feedback was sought during monthly meetings over a nearly two-year period in order to make Beyond Perception as appealing and engaging for teenagers as possible. Here, a member of JBoard, Tanya Kovacevic, describes how this experience enhanced her understanding of the STEM industry.
What was your role in the development of the Beyond Perception exhibition? What feedback did the developers seek from you?
Tanya Kovacevic: As I was a part of JBoard, I participated in trialling prototypes and providing feedback. The main feedback the developers wanted from us was if we thought it would appeal to other teenagers, and how they could make it more appealing. There was no holding back if we thought something just wasn't going to work; these things would get a 'just don't' rating on our scale. It was great to see that our opinions were greatly appreciated.
What did you learn about STEM from the exhibition?
TK: I learnt that STEM doesn't solely consist of working in labs. It can be doing fun things like working on exhibitions and educating others. I also learnt a lot about the invisible aspects of Science, which is what Beyond Perception is about. I hadn't previously explored that part of Science, and it showed me how different branches of Science can interlink and still be awesome.
It's a different way of learning, which is what I think is the best thing about it. It's very interactive, so you're not sitting in class and copying information from a PowerPoint presentation. You get to have so much fun while learning these things, but in a way that's entirely different to how it's done in class. Also, being made in conjunction with teenagers lets other students my age see what careers STEM can lead to, particularly as 'exhibition designer' is one of the last careers we associate with Science and Mathematics.
I never even dreamed of being a part of something like Beyond Perception. I was able to be a part of something that would last for years on end, which was made to teach me and my fellow teenagers, while also having so much fun. It revealed a new side of STEM, and it's something I always tell people my age about to get them interested.
Think about a Science unit you're due to teach in the coming months. Will you be able to offer students an immersive experience which links to the curriculum outcomes?
Student Tanya Kovacevic says her understanding of what a STEM career is has developed by participating in this project. In what ways could you help students understand the broad range of STEM career paths that exist?