The 2017 WISE (World Innovation Summit for Education) Awards were announced overnight. This year's winners include a mentoring project supporting girls' education in Tanzania and an accelerated learning program helping out of school children make the transition back into mainstream education.
The six winners were chosen from a shortlist of 15 finalists. To qualify for the annual awards, projects have to 'show success and innovation, demonstrating a transformative impact on individuals, communities and society'. They also need to be financially stable, scalable and replicable.
Here are details of this year's winning projects.
Lights to Learn (Latin America)
The Organization of Ibero-American States for Education, Science and Culture (OEI) says: 'Around 60,000 schools have been listed as deprived of electricity in Latin American countries where the project was implemented. They are located in rural communities historically left behind in technological advances.'
This public-private sector project has come up with a solution based on five components: installing photovoltaic solar systems to provide electricity; offering internet and IT equipment to schools; training teachers; community development; and training community members who use the equipment to ensure future sustainability of the program.
The model has already been implemented in 556 schools in 11 Latin America countries and the next step is to extend the project to other continents. The short film Bienvenidos was inspired by the project and has won a slew of international film festival awards. It's now being used to spread the word and raise awareness of the resource issues facing schools. http://www.lucesparaaprender.org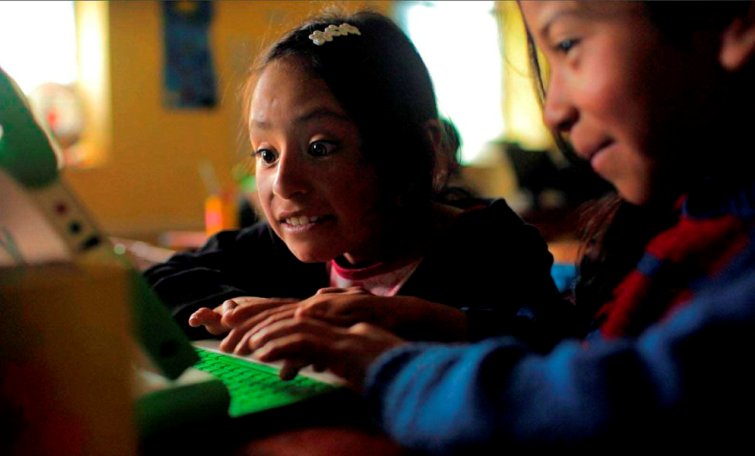 [The Lights to Learn project operates across Latin America. Image: OEI]
PhET Interactive Simulations (global)
Focused on primary to university level science and mathematics education, PhET provides free, research-based game-like simulations for teaching and learning, and accompanying teacher resources.
The project team – at the University of Colorado Boulder, USA – says nations around the globe face the same challenge of how to educate the next generation of STEM (Science, Technology, Engineering and Mathematics) experts. PhET aims to tackle that challenge.
The resources are interactive, animated and encourage learning through exploration and discovery while making real-world connections. Each simulation has learning goals based on common student difficulties. They are available online and offline in 89 languages
The project was started in 2002 by Nobel Prize-winning physicist Carl Wieman. Today, the simulations are accessed more than 80 million times per year. PhET is now working on making the resources available to students with disabilities and published its first accessible simulation earlier this year. https://phet.colorado.edu
The Learner Guide Program (Tanzania)
This project involves young female school graduates who are members of Camfed's alumnae network return to their local schools, in rural areas, to act as role models and mentors for marginalised girls. It operates in 230 schools, reaching more than 100 000 secondary school students.
Camfed says girls' access to school and learning opportunities in Tanzania are hampered by complex barriers. 'Many are single or double orphans, who shoulder the burden of household and agricultural chores, care for relatives, and often worry about their next meal. Secondary school represents a long geographical as well as psychological distance for girls …' It adds a lack of female teachers and a reluctance of qualified educators to work in remote schools means there are few female role models.
The Learner Guides, who make an 18-month commitment to the program, can access interest-free loans to start businesses, networks and resources, and a qualification to set them on their way to formal teacher training. http://www.camfed.org
The Speed Schools (global)
This Luminos Fund project delivers an accelerated learning and community support program for out of school children age nine to 14, helping them transition back to local government schools.
There are three stages. Firstly, a 10-month accelerated learning program which covers Grades 1-3 and prepares for the transition to Grade 4. The focus is on student-led activities, peer learning and play-based learning. Teachers carry out regular assessments to check core learning competencies. The next step is community mobilisation – parent engagement groups are set up to provide long-term support. Finally, teachers and leaders in partner schools receive pedagogical training to help them support Speed School graduates.
More than 90 per cent of children who enrol in the program transition back to school and, according to a UK evaluation, 75 per cent are still in school four years down the track. The project team adds early evaluation reports suggest Speed School graduates outperform their classmates once they enter the government school system.
So far, the project has benefited 100 000 children in four African countries. This year, there are 650 Speed Schools providing education to 16 250 children across Liberia and Ethiopia. http://www.luminosfund.org/
Ubongo Edutainment (Tanzania)
Ubongo is delivering content to support children's learning and development to schools, families and communities across Africa via several platforms – including radio, TV, and smartphones – in Kiswahili, English and French. It was developed to tackle high rates of teacher absenteeism and a severe shortage of teachers and resources, particularly in pre-primary and primary education.
The Akili and Me program helps three- to six-year-olds develop numeracy, pre-literacy, language and social-emotional skills. Ubongo Kids is an animated TV show focused on foundational skills in STEM subject and a growth mindset approach.
The Ubongo team says a US research study found Tanzanian children aged three to six who watch Akili and Me for a month outperform their peers by 24 per cent in counting, 13 per cent in English as a Second Language and nine per cent in fine motor skills, even when accounting for age, socioeconomic status and prior knowledge. http://www.ubongo.co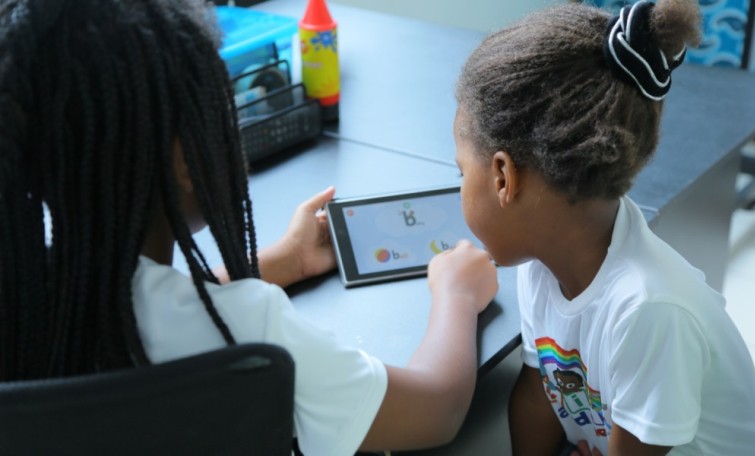 [Tanzanian students using Akilis Alphabet. Image: Ubongo Learning]
The final winner is working outside the K-12 education sector:
42 (France, USA)
This is a free computer training program offering an alternative study pathway for 18- to 30-year-olds. Students tackle projects in groups – a method aimed at fostering creativity, adaptability, innovation and collaboration – and get 'experience points' (similar to video games) rather than grades. http://www.42.fr/
Stay tuned: Tomorrow we'll take a look at the other nine finalists.
The six winners each receive (US) $20 000. All of the finalists will be celebrated at the eighth World Innovation Summit for Education in Doha, Qatar, 14-16 November, 2017. To find out more visit www.wise-qatar.org