Each year the WISE (World Innovation Summit for Education) Awards give a shout out to projects that have succeeded in addressing educational challenges.
The current crop of 15 finalists have benefited a combined total of more than seven million people across the globe – from teachers and students in rural China to refugees in Burundi.
Here's a look, in no particular order, at the six winners for 2016.
JUMP Math (Canada, USA)
This is an evidence-based method of teaching maths targeting students in Grades 1-8. The focus is on promoting the idea that all students possess the ability to be good at maths.
The program, based on guided discovery, includes feedback, scaffolding, work examples and continuous assessment with opportunities to practice and consolidate concepts. JUMP says another important aspect is supporting and building the confidence of teachers with limited expertise in the subject. 'Teacher resources are fundamental … they include carefully constructed lessons plans that enable all teachers, including the many primary school teachers who are not experts in math, to instil in students a deep and transferable mastery of key concepts.'
The impact of the program on student outcomes has been evaluated. In a randomised controlled trial, children taught using JUMP Math progressed at twice the rate of students in the control group who were taught using a widely-used maths program in Canada.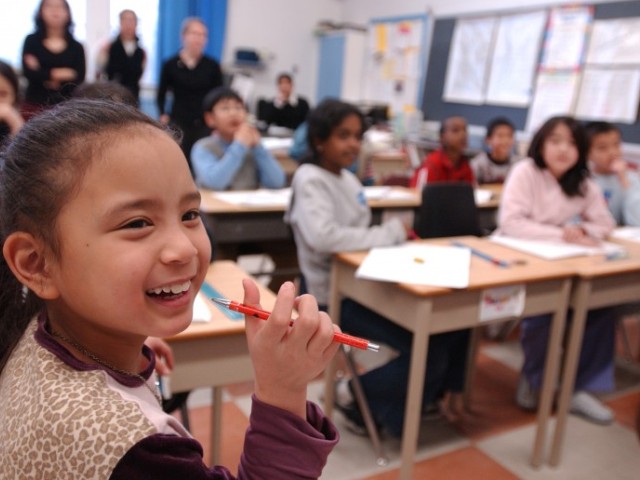 Image supplied by JUMP Math.
Education for Growth and Value Creation in Lebanon (Lebanon)
The focus is on providing training and job opportunities for youngsters in rural villages, particularly in areas such as tourism and services, to counter migration to cities. Delivered by Promotion et Développement Social (PRODES) for the last 15 years, training programs are tailored and take in skills such as languages, computer literacy, hygiene and hospitality. There's also an entrepreneurship program for micro-business owners.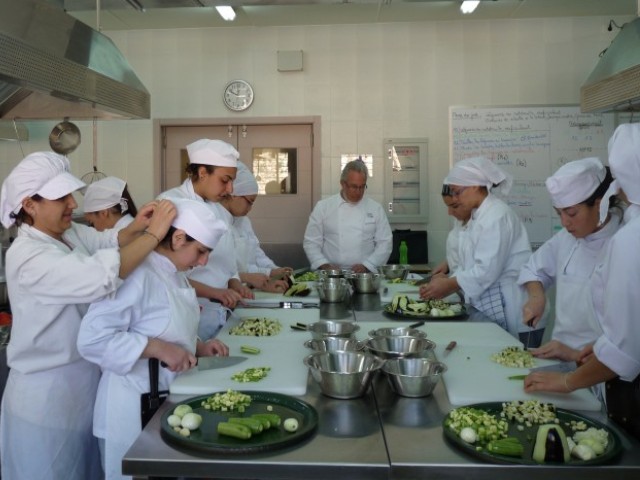 Image supplied by Education for Growth and Value Creation in Lebanon.
Geekie: Personalized Learning for All (Brazil)
This is impact on a large scale – five million K-12 students in Brazil have accessed the Geekie learning platform over the last 18 months. What's more, students who use it score on average 30 per cent higher grades over a two-month period than those who don't.
The country has a poor record in the OECD's PISA (Programme for International Student Assessment) testing for 15-year-olds, ranking in the mid- to high-50s out of 65 countries in mathematics, science and reading. Geekie says 'More than 67 per cent of the students are low performers in mathematics, meaning that they can hardly extract relevant information from a single source or use basic algorithms, formulae, procedures or conventions to solve problems involving whole numbers.'
To combat the problem, Geekie uses big data and tech that 'learns' about the learner to create a customised study program. The platform has three elements: an assessment tool called Geekie Test that identifies gaps in learning and gives real-time feedback, the Geekie Lab adaptive learning platform, and a B2C (business to customer) version called Geekie Games. It says around 82 per cent of users are students from public schools.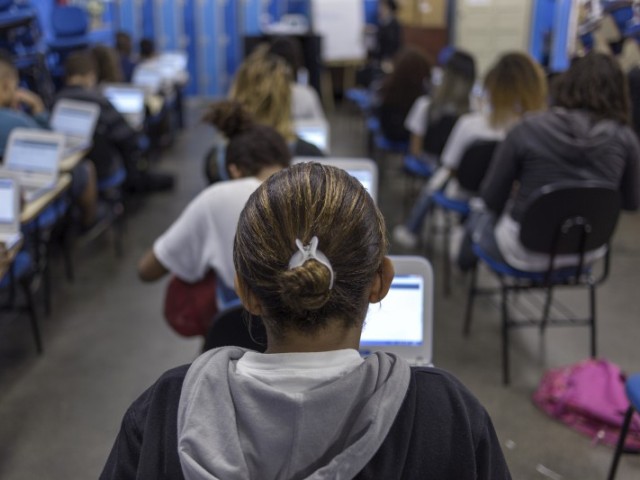 Image supplied by Geekie. Photo credit: Renato Stockler, Na Lata.
Ideas Box (Australia, Burundi, Ethiopia, France, Greece, Jordan, USA)
Libraries Without Borders (LWB) created Ideas Box three years ago to give students, teachers and members of the community caught up in humanitarian emergencies access to mobile education and information.
It takes the form of a portable media centre powered by its own energy source – big enough to house 70 people at a time and 400 per day. Resources include computers and tablets with internet connection (and access to educational content such as Khan Academy and Coursera), games, books and e-readers, arts and craft equipment, puppets and stage facilities, and a cinema.
LWB says the United Nations states education is a key driver for development, but teachers and students often can't access the right tools and learning environment. 'An overwhelming majority of children in vulnerable communities don't attend schools or are thrown into overcrowded classrooms with no materials and teachers who have too little training and resources to build their courses on.
'This is especially critical in emergency contexts. Refugees and [internally displaced people] fleeing war and natural disasters face tremendous challenges in continuing their education. Yet it is essential that they are able to learn, grow, [and] attend schools, as they will be the agents who rebuild their countries after the crisis.'
It's not just supporting teachers and students – out of school students and adults have also benefited from the centres, which have also been set up in refugee camps in Burundi and Ethiopia.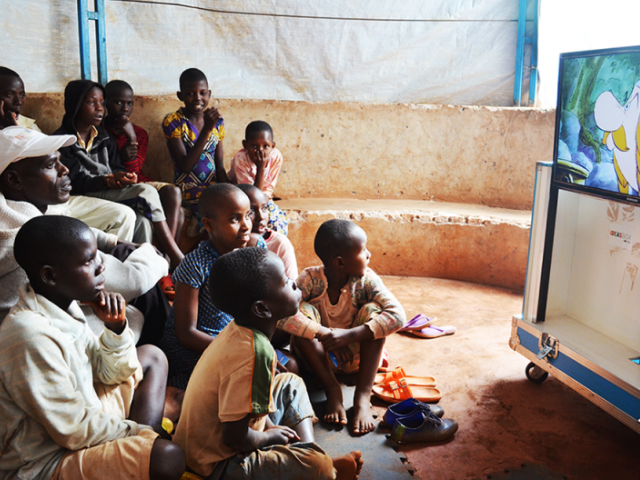 Image supplied by Ideas Box.
Little Ripples: Culturally Inspired Pre-School (Chad)
Little Ripples (LR) is an early childhood development program operating in the Goz Amer camp in Chad set up help refugees fleeing conflict in South Sudan. Teachers undergo training in LR's play-based curriculum promoting social and emotional learning – which includes activities, songs and stories – then adapt it for their local context and needs.
The curriculum is co-developed and led by refugees and iACT, which runs the project, employs refugee women as teachers and leaders and gives them ongoing support. The organisation says 'The curriculum teaches literacy and numeracy, but more importantly, it is built on play-based and social-emotional learning, empathy development, positive behavior management, peace building, and mindfulness.'
Following the success of this project, iACT is creating a Little Ripples Classroom-to-School program to connect US preschools, Kindergartens and primary schools with Little Ripples. It also wants to replicate the LR model in other refugee camps around the world.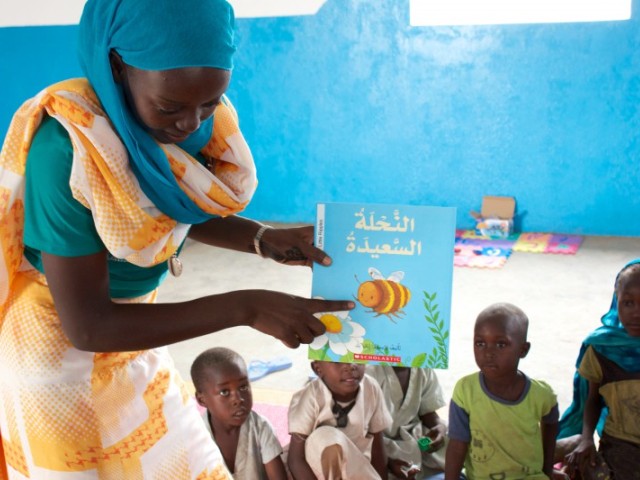 Image supplied by Little Ripples.
Tara Akshar Literacy Program (India, Sri Lanka, UK)
Development Alternatives says there are around half a billion illiterate women in the world and around two-thirds of these are in 600 000 villages in India. In response to this challenge it has created a 30-day computerised literacy and numeracy program for adults targeting women living in rural India.
The program is based around 30 teaching techniques. One example is using animated cartoons to help letter recognition – by viewing daily cartoon episodes most learners end up learning the 50-plus letters of the Hindi alphabet in around two weeks. All the teaching is followed by a quiz. There are also videos, audio lessons and offline resources like card games and flash cards in case the electricity cuts out.
Commenting on the need of such programs, Development Alternatives says 'In the most practical terms, an illiterate person cannot ethically sign a contract, cannot get vocational training, cannot help their children with their schooling and cannot communicate with family members in other towns and villages except by phone. They are at very high risk of exploitation and abuse …'
It says children in a family where the mother has been through the program as more likely to go to and stay in school.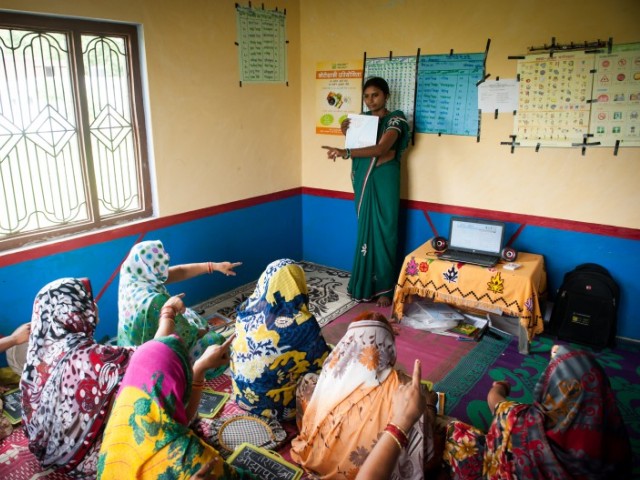 Image supplied by Tara Akshar Literacy Program.
The six winners will each receive US$20 000. To find out more about all of the finalists, visit the WISE Awards 2016 webpage. Submissions for the 2017 awards open later this year.
Is your school faced with an issue which affects the delivery of education? How could you overcome some of the challenges?
Share your experiences with the Teacher community by posting a comment below, emailing the team via teacher@acer.edu.au or tweeting @teacherACER, using the hashtag #TeacherMag.