Mac.Robertson Girls' High School once again held its Digital Delivery Day this month to combat the sound of roaring engines coming from the Melbourne Grand Prix racetrack. Here are four other examples of how schools and communities around the world have tackled issues affecting the delivery of education.
Overcoming extreme weather
Issue: Monsoon floods
Location: Bangladesh
Solution: Solar-powered floating schools
The four month monsoon season in Bangladesh brings with it heavy rainfall - making it impossible for thousands of children in flood-prone areas to attend school.
The challenge was how to overcome this seasonal barrier to education. What if students didn't have to travel to school, but instead the school came to them? So, non-profit organisation Shidhulai Swanirvar Sangstha developed a fleet of solar-powered floating schools.
The boats, which house a classroom for 30 students complete with solar lighting, a connected laptop and library, pick up youngsters and parents from their villages. They dock at another point on the river to deliver lessons for children and training sessions for their parents covering topics such as agriculture and finance.
The initiative won a WISE (World Innovation Summit for Education) award in 2012. Raosonara Parvin, a teacher on the floating school, told WISE the solution is creating new opportunities for children. 'Before, they hardly ever went to school. Now they do, and their mothers are enthusiastic about their children finally having access to education.'
A school spread over 1.3 million square kilometres
Issue: Remoteness
Location: Australia
Solution: Schools of the Air
If your students live in remote areas, how do they make it to class every day? One way is through distance education - and in Australia that includes Schools of the Air.
The Alice Springs School of the Air is funded by the Northern Territory Education Department and delivers lessons to isolated students in the Northern Territory, South Australia and Western Australia. It only has 125 students enrolled, but they're spread over an area of 1.3 million square kilometres - that's roughly twice the size of France.
When it was first set up in 1951 the lessons were broadcast over the radio. Of course, satellite technology has made it much easier. Now teachers can connect with students, individually and in groups, via webcams and video in real-time.
A low-cost, sustainable building solution
Issues: School funding and waste management
Location: Latin America
Solution: Building schools using bricks made from plastic bottles
In the face of limited education facilities and a lack of non-biodegradable waste recycling in poverty-hit communities, Hug It Forward is building Bottle Schools.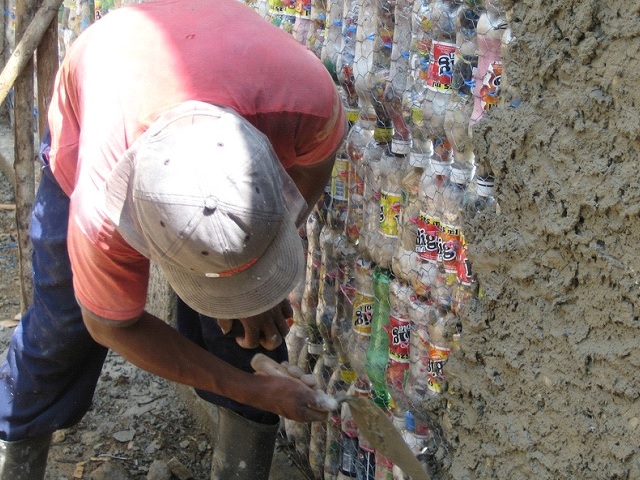 Image: Hug It Forward
They're made out of traditional iron-reinforced concrete beams and columns, but the cinderblocks in the walls are replaced with 'eco-bricks' - plastic bottles stuffed with inorganic waste material such as chip packets - that are sandwiched in between chicken wire and covered in cement.
All the waste used in the project (it takes about 6500 filled bottles to build a two classroom school) is collected from the local community, and surrounding areas.
The non-profit organisation built its first bottle school in October 2009 - a two classroom elementary school in Granados, El Salvador. Since then, another 69 have been built at an average cost per classroom of (USD) $6500. Hug It Forward says that's 30 to 100 per cent cheaper than traditional cinderblock construction.
Going underground to combat noise
Issue: Noise from a local airport
Location: USA
Solution: Build the school underground
One of the underground schools built in Forth Worth, Texas, is Washington Heights Elementary School - right next to Meacham Airport.
In the late 1970s the local community wanted to find a solution to the constant noise disturbance of jet engines, which reportedly shook the classroom walls. Taking the school underground solved the noise problem and, thanks to the natural insulation, also helped with heating and cooling costs.
There are elements of the school that are above ground - the reception area, gym and a few portable buildings - but the rest is out of sight. Although the unusual construction has its benefits, there are no classroom windows, and leaks from rainwater have become a problem.
A change in flight paths and modern sound proofing methods means Washington Heights Elementary is about to see the light - a new school is being built above ground and is due to open later this year.
Is your school faced with an issue which affects the delivery of education?
How have you overcome the challenge?
Share your experiences with the Teacher community by tweeting @teacheracer, using the hashtag #TeacherMag.