The views in this article are those of the authors. Teacher does not endorse any particular supplier or product.
Two South Australian educators give their verdict on My name is Bertie Poshkza, written by Karyn Prior, which follows the adventures of a young boy who goes on a journey to find a new brain.
Kevin Clancy, former educator and Editor of TOPICS, the Journal of the Australian Catholic Primary Principals' Association
'Bertie Poshkza has a troublesome brain. In fact, he has a very troublesome brain.
He is 11 years and four months old - and he hates his brain!
Bertie understands what sorts of behaviours are expected of him when he is at school, in class or with other people. But his brain is not onside and it lets him down on a regular basis. It makes him do things that disrupt his fellow classmates and annoy his teacher.
He cannot sit still. He fidgets. He makes big messes of things. His brain is off somewhere when he should be listening, or working, or cooperating. His brain explodes with energy at the most inappropriate times. And that's what gets him into trouble.
Bertie decides that to solve this problem he has to get a new brain, a more intelligent brain, a brain that will do what Bertie tells it to do when he tells it.
And so the adventure of Bertie Poshkza begins.
Without telling his parents, he catches the bus into the city with the intention of heading to the Medical School Museum to find a new brain. Where else would you go?
Needless to say all does not go quite as Bertie envisaged. And that meant trouble. Again! Still!
He does meet a policeman, as well as a girl who is hearing impaired, and learns something about other people and something about himself.
Bertie Poshkza is self-published at the moment, and targets children to give them a better understanding of other children, why they are like they are, why they act as they do and how they can be helped by a sympathetic response.
Bertie Poshkza is really a novelette as it is only 72 pages long, and is set in Adelaide. Children will love reading it and it could be used as a starter for class discussion on what it means to be different.
The author of Bertie Poshkza is Karyn Prior, who has spent time working alongside children who, for one reason or another, have experienced frustration and isolation because of their behaviour. She has recognised their unique nature and how often they are labelled as 'naughty' or 'uncontrollable' when really they needed understanding. '
This is an edited extract of a review that originally appeared in TOPICS, the journal of the Australian Catholic Primary Principals' Association. Republished with kind permission.
Dave Edwards, Principal, Our Lady of Mount Carmel Primary School, South Australia
'This short novel shares with us the very special story of a young boy called Bertie.
It is a very different story to anything I have read before, as the things that make Bertie unique are very different to the attributes of the central characters in books that fill my shelves, and those in our school library.
Bertie goes about things, his choices, conversations, decision making and his exploring, in a bit of a different way. He shares with us how he sees the world, which is very different to the view most of us have. Through Bertie's great sense of humour, his resilience, his wonderful love of words and his adventure, we get to experience a different view of the world and way to engage with it.
Bertie is just like those children in our communities who walk to the beat of a different drum. Through the clever construct of the text, we are provided with a great insight into the amazing talents and uniqueness of Bertie; gifts that in our day-to-day life we may not become aware of.
The story of Bertie enables primary children to gain a better insight and understanding of how others engage with their world differently to them. For some, it may offer awareness that there are other kids just like them.
For adults, it provides an insight into a different way that some children engage with our world.
As an educator is reminds me of why I need to take the time to engage with each child as an individual, as well as why I love to work with children who walk to the beat of a different drum.
As a novel to read by yourself, something to share as a class, a discussion starter for staff conversation about connectedness, as well as many other possibilities, this novel ticks the boxes in a big way. I encourage you to get a copy and dip into the world that is Bertie's.'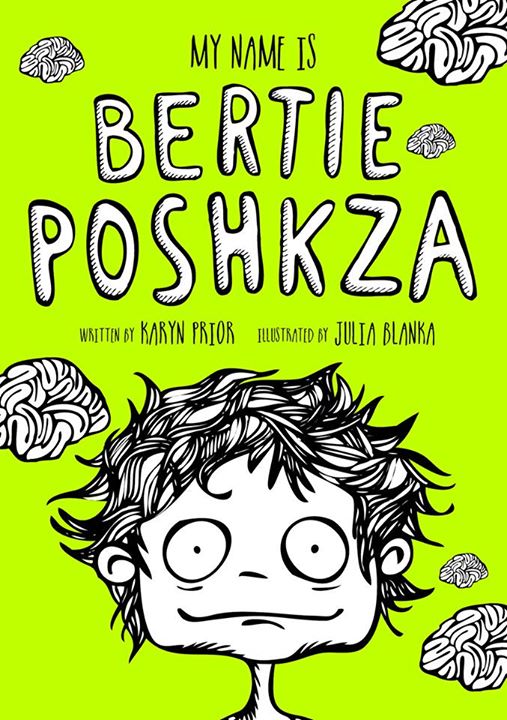 Image: Supplied by Karyn Prior.
Reference
Prior, K. (2015). My name is Bertie Poshkza. Diamond Words Publishing Pty Ltd: South Australia.
The views in this article are those of the authors. Teacher does not endorse any particular supplier or product.
What are you reading in class this term? Share your book reviews and recommendations with the Teacher community by emailing teachereditor@acer.edu.au
My name is Bertie Poshkza can be obtained from www.bertieposhkza.com or from the Melbourne ACER Bookshop. Author Karyn Prior has been writing fiction for over 10 years and is the Executive Officer to ACPPA and also to the South Australian Catholic Primary Principals' Association.