Bringing new technology like virtual reality (VR) into a primary school classroom can be daunting. Karl Easton, a Digital Technology teacher, who works exclusively as a relief from face-to-face teacher at Kellyville Ridge Public School in Sydney's northwest, introduced himself to virtual reality in 2018 and has implemented a number of learning activities since.
'I came across VR about two years ago now with the STEM share kits [from stem.T4L NSW],' Easton tells Teacher. 'I'd never had experience with VR previously.'
The key to getting started with VR is to introduce yourself to it as early as possible, Easton says. 'A lot of people, their eyes do glaze over when you mention technology and they feel lost and I can understand that. Whereas I live and breathe it every day,' he shares, advising that the school holidays, particularly at the end of the year, are a great time to familiarise yourself with the equipment in a stem share kit for the first time.
'The other thing that is available to you if you're not sure where to go or where to start is they do have ambassadors. Each region of Sydney, or actually NSW, has its own, what we call "stem share ambassadors". So these teachers, they're all primary school or secondary school teachers … they're trained heavily on all these kits. So you can book them to come out to the school and give you, or give your staff, a little mini training session.'
Community connections through VR
Easton had success with a classroom project recently implemented with Stage 2 students.
'I thought "what can we do with VR? How can we connect it to what they were working with at the time?" and the unit of work they were doing was a history unit called Community Remembrance,' he shares.
'Community and remembrance for us in the northwest focused around some of the historical homes in the area and they happened to be … in the spotlight, due to the opening of the north-west rail link which happened in June 2019,' he explains.
Running with this idea, Easton used the 360-degree camera that came with the STEM share kit to take photos outside the historical homes in the area. Then, he went online and found some historical photos of the same area the home was in. He then let students, in pairs, choose a couple of 360-degree images and instructed them to overlay the photos and add trigger points. In this context, a trigger point is a white spot on certain points of the image. With a button on the side of your VR headset, you can aim and click on the white button to have additional information pop up.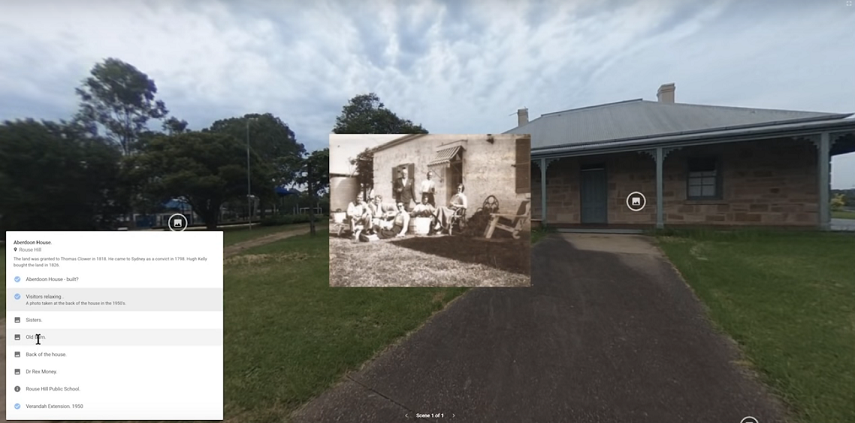 An example of trigger points on images of historical homes. Image supplied.
After this the images were placed into Google Tour Creator. This created a 360-degree VR tour that combines the photos of the historical homes and the historical areas. Finally, these tours are uploaded to Poly. Both of these programs, Easton says, are free to use. Then, these tours can be accessed through a VR set, so the students could find themselves in a 19th Century environment.
Another successful activity Easton led was one that facilitated engagement with local community members, which he says could be emulated by many educators across the country. Easton took his students down to a local nursing home along with a VR headset so the students could assist the nursing home residents with experiencing VR for the first time.
Reaching further with VR activities
Literacy formed a part of this community and remembrance VR unit, Easton explains, as students were required to write a description of each picture within Google Tour Creator. This is just one example though – Easton says, adding that VR, and digital technology in general, can connect to many key learning areas.
'The beautiful part of digital technology is that it can be a tool to teach maths. It can be a literacy tool … I'm about to do something with the gifted and talented group where we're doing digital technology with music,' he says.
He adds that many students didn't realise the options available in VR that extended beyond gaming, and that using technology, and VR, has also helped him reach students in a different way.
'That's the beauty of some of the technology that we have available to us as teachers these days – it's just the tool, really, that just lets you communicate to the kids.'
Karl Easton asked himself: What can we do with VR? How can we connect it to what they were working with at the time?
Consider these questions. How could integrating the use of VR – or another form of digital technology – be used to complement a unit of work you have coming up? Could this assist you in reaching students in a different way, and keeping them engaged?