Traditional teaching is back in the spotlight with Canberra releasing a review of the National Curriculum that recommends a greater focus on literacy and numeracy in early years.
But, there's one school in Western Australia that is way ahead of the curve.
Ellenbrook Independent Primary School, located in a working class suburb of Perth, was doing it tough until about six years ago, drastically underperforming in NAPLAN tests.
Its leadership team knew an overhaul was needed and introduced structured phonics and grammar tuition, and upgraded maths lessons in line with successful practices here and overseas.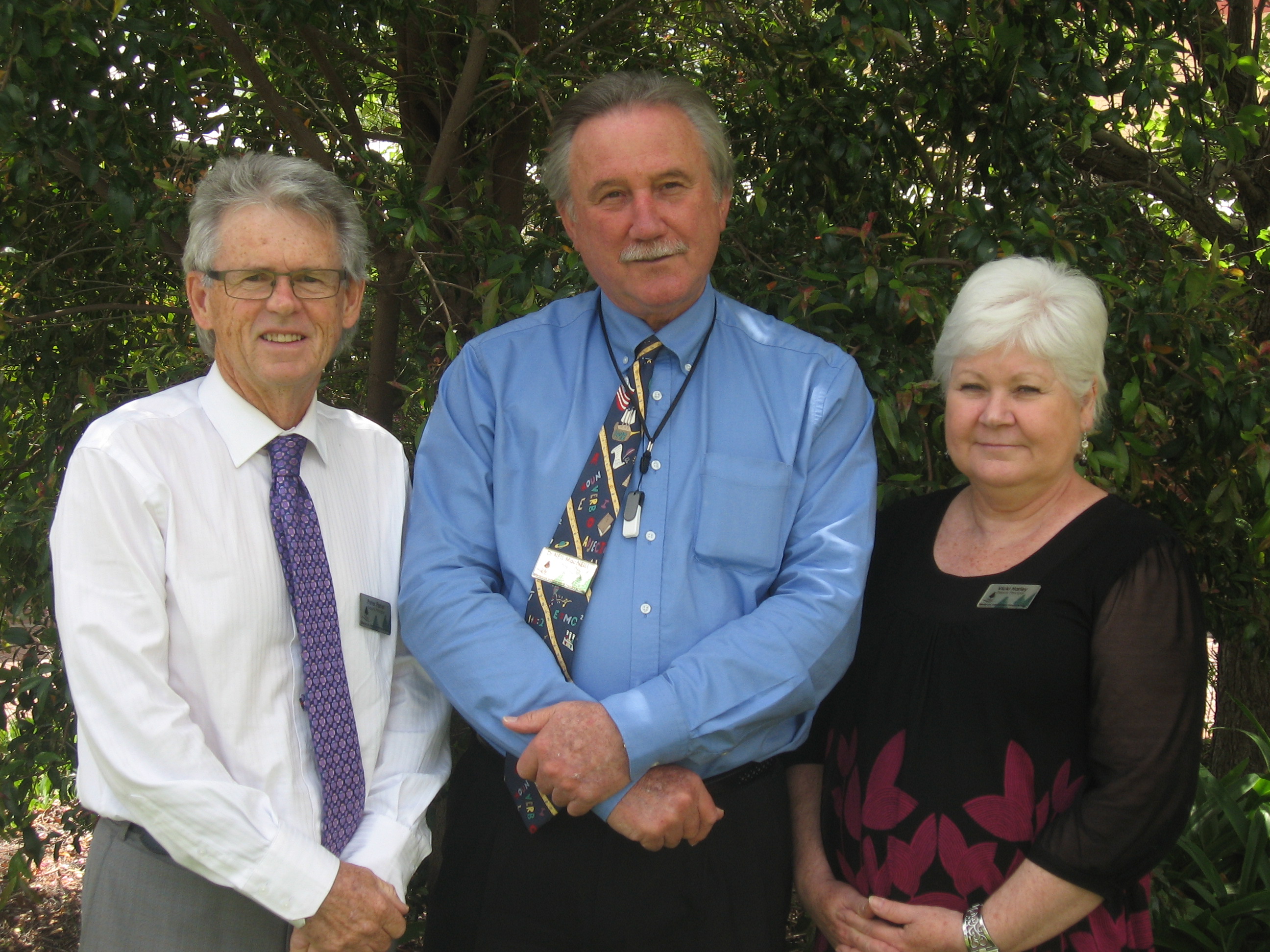 From left to right: Peter Fisher, Dr Neil MacNeill and Vicki Harley.
The resultant turnaround in results was so swift and marked that a report from independent think-tank The Grattan Institute, named it as one of four schools in Australia that proved rapid transformation was possible.
Much of the praise fell on the shoulders of principal Dr Neil MacNeill, the man who steered Ellenbrook through the challenge.
However, he is quick to spread the kudos, and downplays any talk of the 'power of one', insisting a collaborative approach was crucial to Ellenbrook's success.
It was, he says, an approach that listened to teachers as well as instructed them, and set achievable early targets for quick results because 'success breeds success'.
Nevertheless, guiding the changes needed a firm pair of hands to tackle some entrenched views on the best ways to teach early years literacy and numeracy.
Ellenbrook was a poster school for outcomes-based education in the first decade of the century, lauded by many for its approach.
'We were very good at OBE (outcomes-based education),' MacNeill says. 'We had hundreds of school administrators coming through the school looking at what we were doing in the classrooms. But our NAPLAN results were really awful and causing concern.
'So, from a moral sense, we asked "what can we do better?" We realised that a constructivist approach to pedagogy wasn't delivering the goods that our kids needed.
'It really came down to literacy and numeracy - the fundamentals of primary education.
'Whole-language reading, LCWC (Look, Cover, Write, Check) spelling, the negotiated curriculum, which was accompanied by the denigration of rote learning and the demotion of teachers' roles [to the guide on the side] all added up to failure in essential learning.
'The middle-class strategies favoured in alternative schools sadly failed the kids who most needed educational support to break the poverty-failure cycle, and this failure was a slap in the face for our devoted staff who were driven to improve students' life opportunities.'
MacNeill and his team, who include deputy principals Vicki Harley and Peter Fisher, picked phonemic awareness as their starting point.
Under OBE, every teacher did their own spelling programs, which weren't implemented at a whole of school level and were difficult to track. Fisher says teachers were supposed to embed phonics learning throughout the day, however some did and some didn't – and the kids suffered for it.
The system was 'anarchic', according to MacNeill.
When the team looked for alternatives, they were impressed by research from Clackmannanshire in Scotland (Johnston and Watson, 2005), an area with a similar socioeconomic background to Ellenbrook's, that showed synthetic phonics worked. They adopted the Jolly Phonics and Jolly Grammar programs.
'The challenge set for our teachers in pre-primary (Foundation) was to ensure that students could read [the Oxford Word List] and write before they finished that year,' MacNeill adds.
Fisher says rather than asking teachers what changes they would like to make, firm leadership was needed at this point to say these are the changes you need to make.
'Neil arranged for me to take the early childhood teachers to [Dianella Heights Primary], where phonics was being taught using the Jolly program. We observed the teacher doing this exceptionally well,' Fisher explains.
'We met and discussed what we had seen and [our teachers] were impressed because the students in that school were at a higher level with phonics than our students.
'Then we asked, "What are you going to do on Monday to [get] this process going?" Previous to that we had bought the resources. So they were well resourced, and they had the program to follow.
'They still weren't all completely on board, but within about a month ... they all said, "I wouldn't go back to teaching it any other way".'
The results speak for themselves. Ellenbrook's students in Years 3 and 5 went from being underdogs in 2008 to outperform the state on almost every metric of literacy by 2010. By 2013 the turnaround was complete.
Similar results were achieved when MacNeill and his team turned their attention to numeracy. MacNeill says he fell back on a rule of thumb for change that he has employed throughout his 38 years as a school principal.
'It has to improve students' learning and, if possible, make the teachers' job easier.
'Therefore, we introduced maths texts that taught our teachers what a year's work looked like, and tried to align this with strong programs in New South Wales.
'Unfortunately, we found that publishers were giving WA texts that were a year below the level students in New South Wales were using. [This] was because all the publishers decided pre-primary in WA was only informal education, and didn't count. So, [WA], Queensland, South Australia and the Northern Territory, all got a book that was one year easier than New South Wales.
'What we did was ask the parents in Year 6, for example, to buy the WA Year 7 book. And that worked well in that it raised the standard two years in one year, which caused a bit of pain.'
The pain was more than compensated for by the vast gain in numeracy scores.
MacNeill also incorporated Singapore's maths curriculum after a Singaporean parent said his daughter would move from a gifted class at Ellenbrook to a remedial class when she returned to Singapore.
'Fortunately an international version of Singapore maths became available this year, and the instructional strategies made it appear suitable for our students,' MacNeill says. 'The ACARA curriculum is a baseline, and we will try to work above that level.'
When asked if his approach could work in all schools, MacNeill says The Grattan Institute's report, Turning around schools: It can be done, 'shows that there are some broad steps that can be applied in most schools.'
The four schools studied in the report succeeded by following the same five steps: 'strong leadership that raises expectations, effective teaching with teachers learning from each other, development and measurement of student learning, a positive school culture, and engagement of parents and the local community,' he explains.
'The finessing bits come from knowing the environment and the people. And the processes are never linear,' MacNeill adds.
Fisher stresses that extra federal funding was also crucial to Ellenbrook's turnaround.
'Before we started in this, some funding came through. Because we were low with our achievements we gained some of that, and that allowed us to buy the resources initially that we [needed to] actually start putting the programs in to place,' he says.
'Resourcing is a major component,' Harley agrees – that, and teamwork.
'As a team you pull out what you think [is] going to work and you have to all be on the same page – it has to be everybody doing it.'
As a school leader, do you have a strategic plan in place for literacy and numeracy?
Do you have the resources in place to successfully carry out the strategies?
As an educator, how do you share effective practices with colleagues?
Related Teacher content: 2015 – Let's share the knowledge