To be fit for purpose well into the future, learning spaces within schools will need to be flexible.
Two schools in Victoria, Australia, have recently undergone refurbishments to develop new, flexible facilities, and have both been recognised at the 2022 Learning Environments Australasia Awards.
At Dandenong South Primary School in Melbourne, the outdated library has been redeveloped into a new Discover Centre which combines a contemporary library and STEM centre. Ringwood Secondary College, also in Melbourne, was recognised for their new Senior School building, named Yanna Mudjirr.
Dandenong South Primary School's Discovery Centre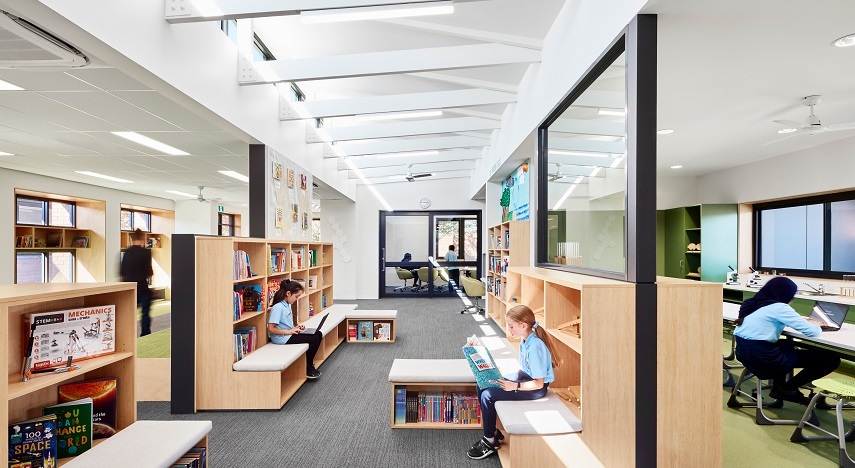 [Areas in the Discovery Centre are zoned to accommodate for multiple uses. Image: Rhiannon Slatter]
The transformation from Dandenong South Primary School's old library to a new multipurpose Discovery Centre is providing students with new learning opportunities they are embracing. 'It's designed to foster students' critical and design thinking, creativity, collaboration and problem-solving skills through rich experiences with technology, engineering, mathematics, and science,' Principal Leonie Fitzgerald says, adding that students are participating in coding-related lunchtime programs, robotics lessons, experiments in chemical sciences, and engaging with digital simulations.
The project was funded by money raised by the school community, and the finished building has multiple zones designed to facilitate both collaboration and individual work. A fireplace encourages students to gather for storytelling. There is also a wet area in the building, which can be used as a kitchen, and for Art and Science activities.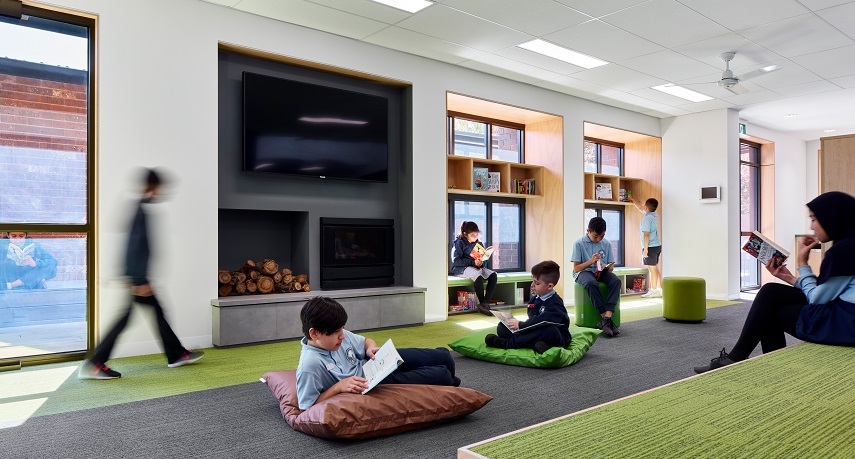 [The fireplace offers space for reading. Image: Rhiannon Slatter]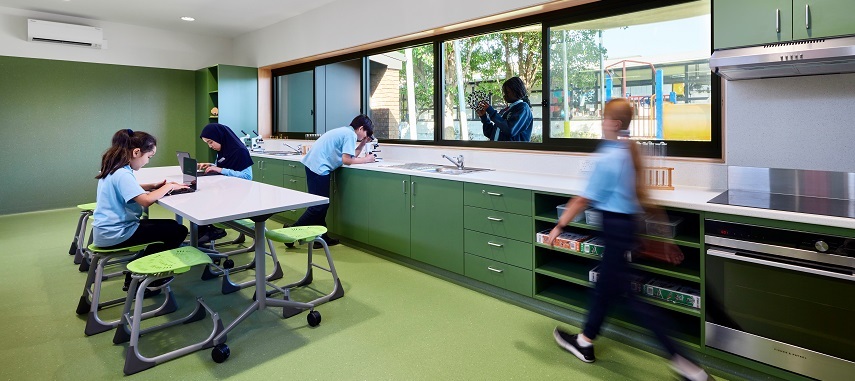 [The wet area in the Discovery Centre. Image: Rhiannon Slatter]
Connections to the environment, and a focus on sustainability, were important elements of the design and build of the Discovery Centre.
'Adaptive reuse of an outdated building is a sustainable design approach, and we retained as many existing features as possible. That includes beams, light fittings, ceiling fans and roof trusses, which we restored as a feature of the space,' ClarkeHopkinsClarke Architects Project Leader Steve Green says.
The colour green is also a clear focal point, as is the decision to house plants inside on a 'green wall' in order to filter air. 'The vertical green wall and [its] connectivity to outdoor areas is proving to be excellent for enhancing student engagement and wellbeing, and it complements our scientific learning about plants and biodiversity,' Fitzgerald says.
Yanna Mudjirr at Ringwood Secondary School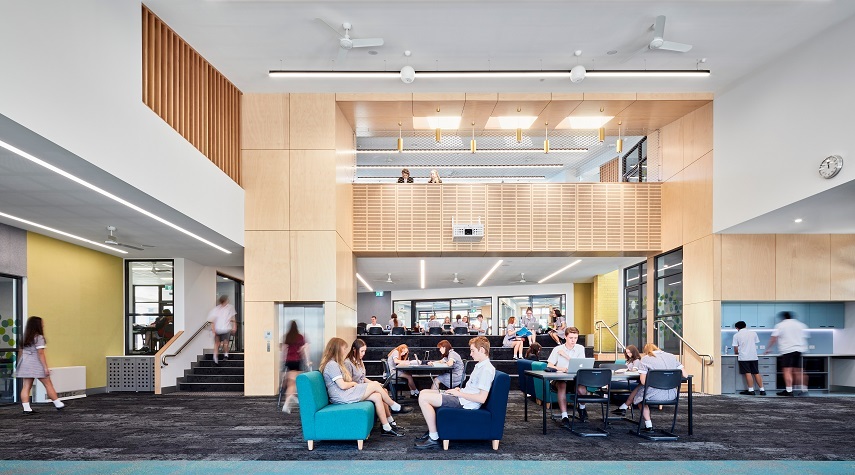 [Yanna Mudjirr has multiple levels. Image: Rhiannon Slatter]
A contemporary split-level learning hub for senior students has been built to suit the needs of Ringwood Secondary School well into the future.
Flexibility of the space was key to the overall design. On the ground level, learning spaces are separated by sliding glass doors, and a bridge on the upper level connects Yanna Mudjirr to the Ringwood Training Centre to simplify the sharing of facilities and the transition for students between VCE and VET (Vocational Education and Training).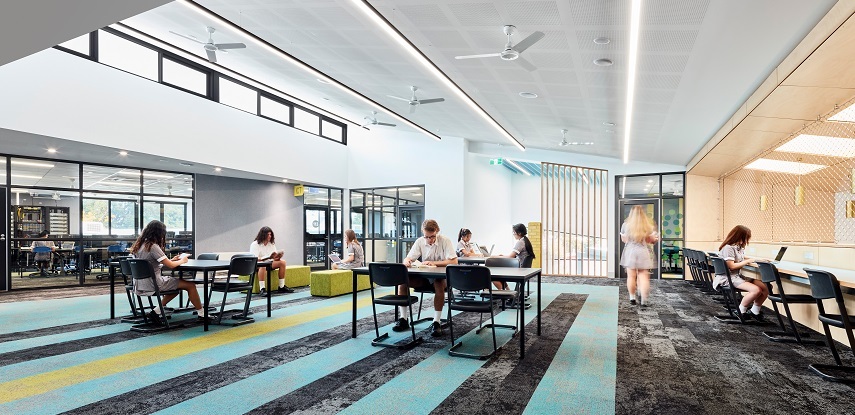 [The learning spaces are separated by sliding glass doors. Image: Rhiannon Slatter]
'Students chose an Indigenous name for the building, which was endorsed by the Wurundjeri Woi wurrung Cultural Heritage Aboriginal Corporation,' recently retired Principal Michael Phillips says. 'Yanna Mudjirr means stepping stones. This reflects a core purpose of learning in the building and relates especially well to transitions and pathways for students.'
The design allows for spaces to be opened up for co-teaching, small-group learning, and events. Sections of the building can also be opened up to facilitate learning outside.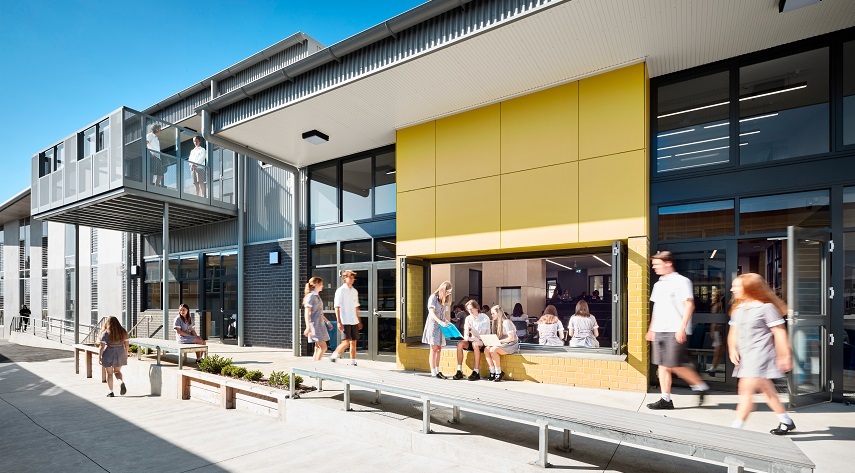 [Students gathering in outdoor learning spaces. Image: Rhiannon Slatter]
'Teachers and students now operate beyond the static, outdated one-space and one-teacher model. We continue to go deeper, open the classroom doors, and look forward to future possibilities enhanced by a fit for purpose built environment,' Phillips says.