The Australian Institute of Landscape Architects (AILA) announced the winners of its 2020 NSW Landscape Architecture Awards this month, highlighting the importance of landscape on play and learning.
The annual awards celebrate projects of all sizes across regional and metropolitan New South Wales, and acknowledge the impact landscape architecture has on spaces and communities. It also recognises projects that stand out for their innovative approaches and push the boundaries of design.
AILA NSW Awards Jury Chair Sara Padgett Kjaersgaard says landscape architects are fundamental to the health and wellbeing of communities, which is reflected through the awards. 'The awarded projects are stimulating, nurturing and provide multi-generational opportunities between youth and families. While several projects display exploration and play, others deliver high quality recreation opportunities for youth. This is of critical importance at a time of increasing population growth, rising levels of youth obesity and a decreasing connection to nature.'
The awards acknowledged 33 projects over 14 categories for their innovative approaches and design. In today's article we look at the school winners from the education and health category.
Homebush West Public School by CONTEXT Landscape Architecture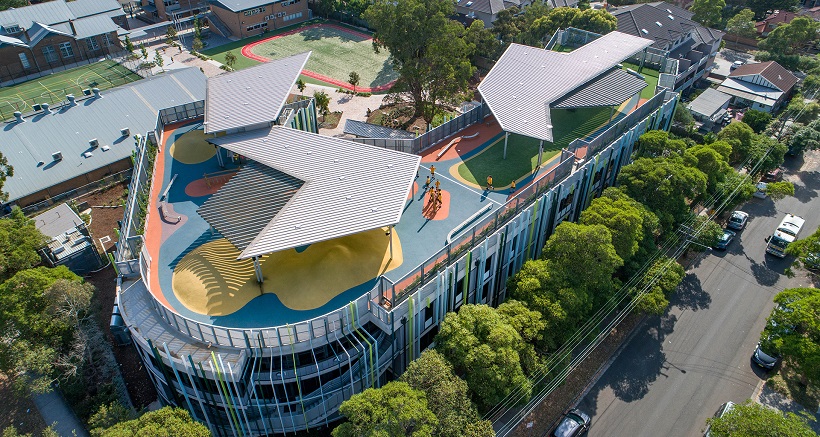 Image credit: Mike Chorley
The aim of this project was to create a future-focused and best practice learning environment for the community of Homebush West Public School. It was a collaborative project between CONTEXT, the school community and the NSW Department of Education. The architects were tasked with creating an environment where students would feel comfortable, stimulated and connected to nature and the surrounding community.
All Hallows Catholic Primary School by TYRRELLSTUDIO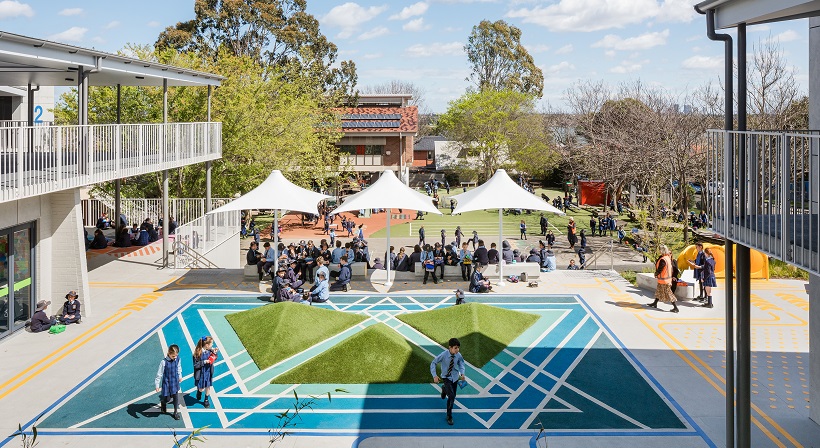 Image credit: Katherine Lu
All Hallows Catholic Primary School in Five Dock engaged TYRRELLSTUDIO to demonstrate the value of smart design on educational spaces. The landscaping created safe entry into the school, a sense of connection between spaces, play zones for students to interact with each other and a collection of diverse smaller spaces for quiet activities. The design aimed to make small spaces feel larger, richer and safer, and to create spaces that encouraged creative and social learning.
Cairnsfoot Special Needs School by The Landscape Studio of NBRS ARCHITECTURE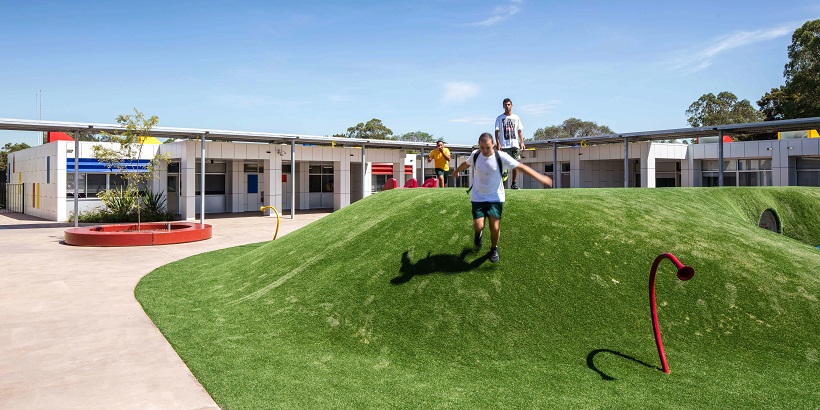 Image credit: Alex Mayes
Learning through play is an integral part of a child's development, and the design of this space aims to foster that. Facilities include achievable balance beams, a climbing hill with tunnel through, an in-ground trampoline and pedestrian crossings with signage that create connections to the real world. The team behind the project says the landscape design of Cairnsfoot Special Needs School balances the two key principles of 'shelter' and 'challenge'. Integrating these ideas into play helps students develop their confidence and skills over time.
PLC, Sydney – Hamilton Building by The Landscape Studio of NBRS ARCHITECTURE
Image credit: Alex Mayes
The vision for PLC Sydney was to create an immersive learning environment that inspires students to pursue STEM subjects, or conservation and the protection of the natural environment. The landscape design includes a turtle pond, 'bee hotel' and vegetable gardens, which provide space for students to develop their interest in science.
Therry Courtyard - St Ignatius Riverview by Arcadia Landscape Architecture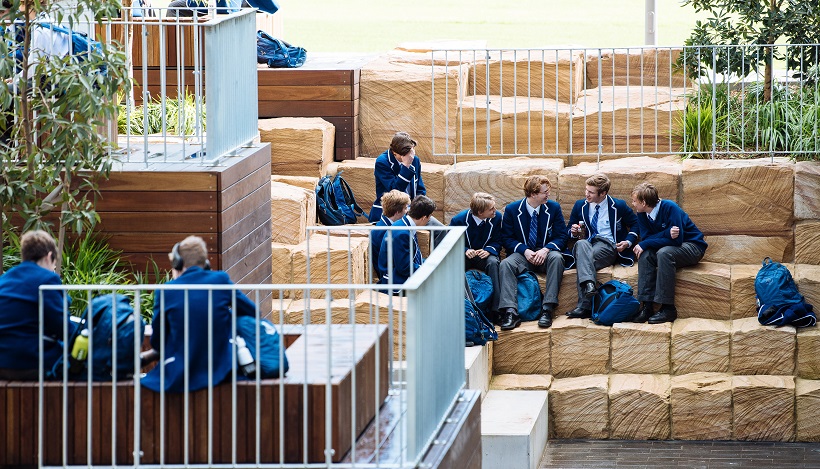 Image credit: Paul McMillan
St Ignatius' new Therry Courtyard has been designed to deliver a collaborative environment for staff and students, and to help bring lessons to life. The success of the new space stems from the use of biophilic design – a concept used to increase occupant connectivity to the natural environment and space and place conditions – to provide a connection to the natural surrounds. The aim is to strengthen the capacity for creativity, focus and wellbeing for the students.
Other winners in the education and health category included: Jannawi Pavillion by ecodesign & Group GSA, Early Start Discovery Space by Taylor Brammer Landscape Architects Pty Ltd, and Cardinal Freeman Village by AJ+C Architects.