St Paul's College's new campus in Melbourne is transforming the education of students with additional needs. The college educates students with intellectual, physical, profound multiple and sensory disabilities, complex medical needs and students with Autism Spectrum Disorders. With this school context, a purpose-built environment was essential.
The school worked with architecture firm ClarkeHopkinsClarke to meet their many priorities, such as ensuring learning spaces were as multi-functional and flexible as possible. The principal at St Paul's College, Tim Hemphill, and ClarkeHopkinsClarke Education Partner, Simon Le Nepveu, say they also wanted to integrate the inside and outside areas of the campus.
'Purposeful organic textures, colours and forms create warm, soft, acoustically sensitive environments in indoor and outdoor spaces,' Principal Tim Hemphill says. 'The design has provided an amazing learning environment for our students and teachers. It facilitates collaborative planning and sharing of skills, knowledge and experience and helps our partnerships with mainstream schools for dual enrolment students by creating a warm, inviting environment for meetings and professional learning.'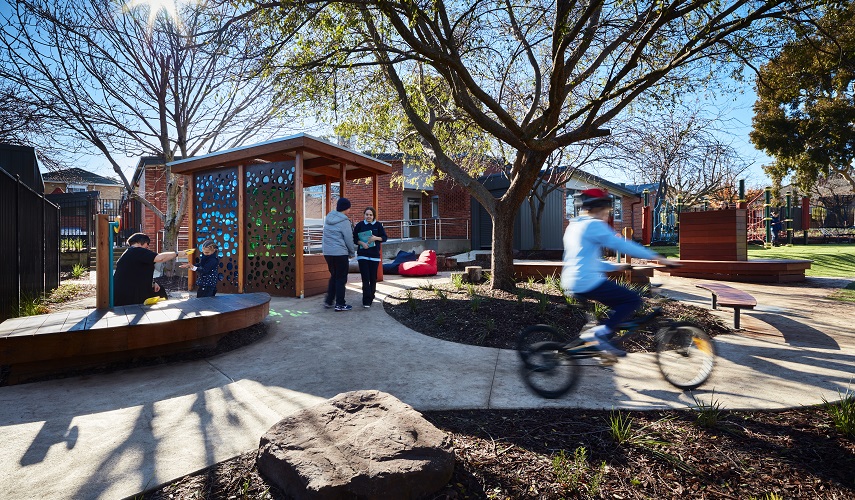 Playground area. Image: Rhiannon Slatter
The design team used curves and cut-outs to help integrate indoor and outdoor space. 'Externally that's reflected in curved paths and ramps, curved forms in landscaping and playgrounds, curved seating and cocooned spaces screened with playful cut-out forms,' Le Nepveu says.
'Internally – those nurturing curves and playful cut-outs are in joinery, ramps, furnishings and glazing. Extensive glazing creates great sightlines throughout and reinforces that connection between inside and outside.'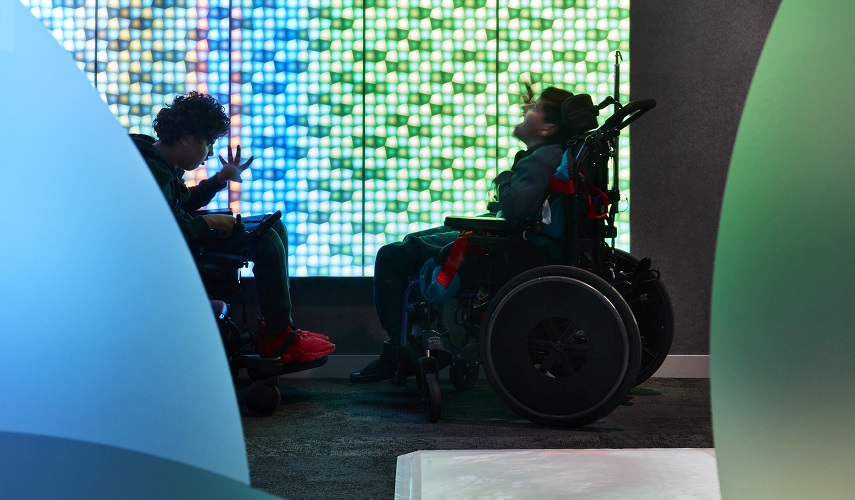 The LUMES wall. Image: Rhiannon Slatter
St Paul's College also has a new sensory room. The space features a LUMES wall, which is a digital wallpaper developed by a local media design studio. The LED light-emitting canvas can react to movement, time, weather, vibration, audio, and skeletal or facial recognition.
'For students and staff who love this stimulation the space has become a favourite retreat,' Le Nepveu says. The floor in the sensory room also features a 'magic carpet' which students can lie or play games on.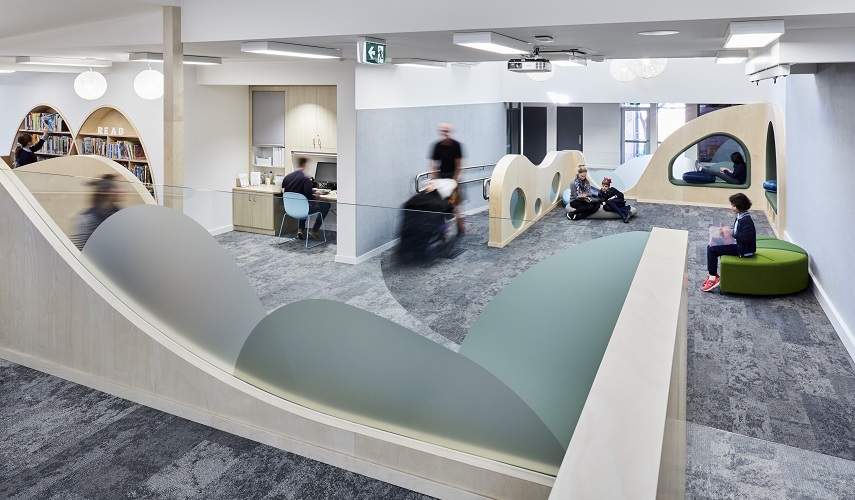 Multipurpose space. Image: Rhiannon Slatter
The design of the school's multipurpose room opens up the internalised main building. It also features multiple shared spaces including staff retreats, the sensory room, and a multifunctional space for activities such as planning meetings and assemblies.
The multipurpose space also spans across two levels, which Le Nepveu says did present some accessibility challenges. To overcome this, ramps were used as a design feature. Acoustic panelling and movable furniture were also used in this area so small group learning can take place.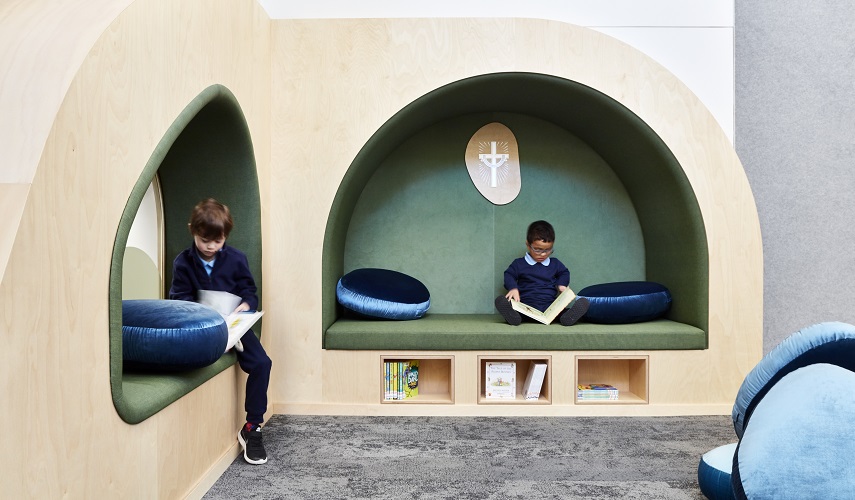 Reading nooks. Image: Rhiannon Slatter
Nurturing nooks and flexible spaces are especially important to a high-needs cohort, Le Nepveu and Hemphill say. Students' wellbeing and behaviour changes regularly and staff need multiple options for helping them regulate their moods and emotions, take restorative breaks, and create an optimum environment for learning. Hemphill says the design achieves a balance of specialist and mainstream elements.
'It places cocooning and challenging features alongside state-of-the art sensory and disability-specific assistive technologies,' Hemphill shares. 'What we're most proud of is the message our new campus sends students and families when they arrive each day: you are highly valued and deserve the best environment possible in which to spend each school day.'
Tim Hemphill and Simon Le Nepveu say staff at St Paul's College need multiple options to help students with additional needs regulate moods and emotions and take breaks.
As an educator, how do you offer students with additional needs the space to regulate their moods and emotions and take restorative breaks? How do the existing learning spaces in your school enhance or hinder this process?