When the students at Harbord Public School walk into their classrooms and take their seats, those seats could take many different forms and positions in the room.
They could be large, round ottomans, individual ottomans, giant cushions or a stool on wheels, or a wobble balance stool. They could be 'Gen-ga' block cushions, or a couch, or a daybed by the window. The students could opt for traditional school chairs, or they could choose a half hemisphere mound to sit or lean against.
'This furniture is all out in the common area as well so we can move them in between the classroom and the common area as needed,' Assistant Principal and Year 5 teacher Amber Fuller says.
At the beginning of the 2017 school year, the New South Wales school opened its brand new three-storey innovative learning environment to teachers and students.
'There are 18 classrooms in total, with six classrooms on each level, as well as a two-storey library, and currently Year 3, 5 and 6 are the grades that are in the building,' Fuller explains.
'So on each floor there are six, home base classrooms, as well as two practical activity spaces or wet areas that are designed for art and science, and also a large common area that runs across the middle of each floor. Each floor has a colour theme – orange, yellow or green – and the classrooms have ample space for an average size class but then of course we can open up the glass doors and use the common area outside each classroom as well. So each classroom is separated by glass sliding doors that can be opened to create large teaching spaces.'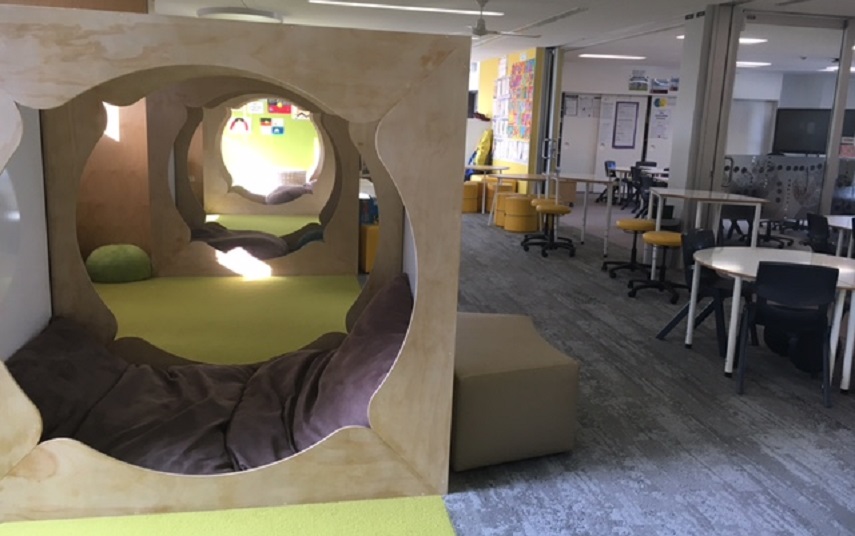 When the students first arrived for the new school year, they were thrilled with their new learning environment. 'Of course it was very exciting at first and they all came in full of energy, but we began straight away by encouraging the students to respect the new furniture and to choose carefully and sensibly about where they work best and what places are best for them to work in,' Fuller shares. 'Term 1 was quite busy with teachers adjusting and getting used to where everything went and how everything works, but we've all settled in pretty well.'
When designing this new building, flexibility was key, so every classroom can be modified to suit the lesson taking place. Now well into Term 4, the students and teachers are continuing to work out how to best use the space to its full potential.
'The teachers and students regularly change how the classroom and common areas are set up, which is great, because the flexible nature of the furniture, being able to move it around to different types of seating to suit the lesson, is really good for a nice change,' Fuller says. 'So the students really enjoy that, and [they] are very good at resetting too – so, each afternoon we put all the furniture back where it started that morning so we can find everything again. Students like being able to choose where they can sit to work and the ability to go and work in small groups in other areas of the common spaces.'
Fuller says that as the year has progressed, the teachers have become much more confident using the space and the furniture in innovative and creative ways. 'We weren't sure how strict or regimented we would need to be with using the common areas or timetabling in those spaces, but it's worked really well. If the teachers just have good communication, it's led to using the spaces quite flexibly and being able to change our minds and adapt the lesson and share the spaces just as when needed really.
'Overall, I think staff really enjoy teaching in the new building and it will only get easier the more we are given opportunity to teach like this. I'm not sure I could go back to a traditional classroom now!'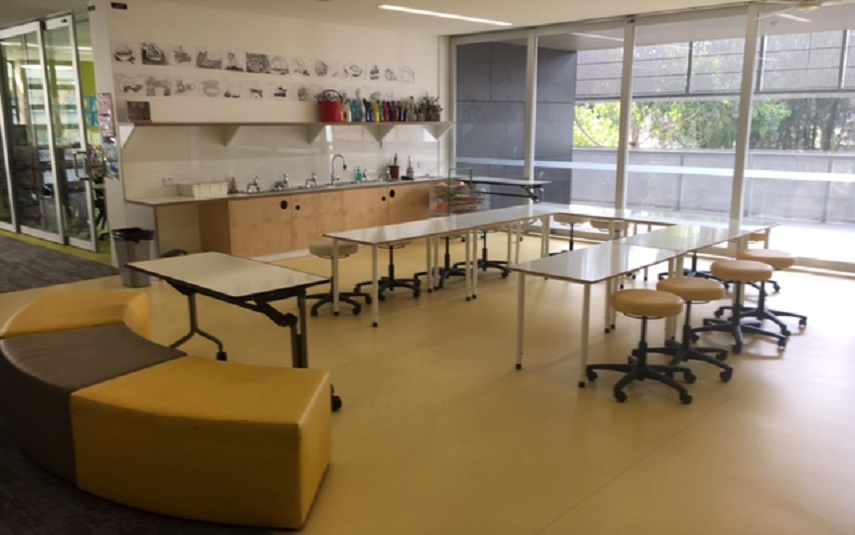 Given everything is made to be flexible and moved around, the teachers have also had to get used to a new storage system in their classrooms. 'There's no teacher desk as such, just a table for a computer and just to put our things on. There is one large storage cupboard in the classroom with sliding doors that double as our whiteboard surface for us to write on and there's also a common grade storage room on each floor.
'So, when we moved in the teachers were a little concerned about the amount of storage space but it's actually worked out really well. We're learning to minimise a little bit and keep all of our stuff in the whiteboard cupboard.'
The new building has also allowed the teachers to adapt the way they deliver their lessons. 'Teachers have the ability to team teach much more easily now because those glass doors can be opened up or classes can gather together in the common spaces and conduct lessons together, which is really good,' Fuller says.
'Not having a teacher's desk as such means that teachers are up and walking amongst the students more. And the furniture is so comfy for us too, that we can mingle with the students more easily than say in a traditional classroom where there's a desk and a chair for each student. So, that makes it a lot easier for us to interact with them.'
According to Fuller, the types of lessons that take place have changed a little too. 'Having laptops and iPads have allowed for some really good and creative open-ended tasks and having the wet areas or the practical spaces right outside our classrooms has meant that lessons can easily flow between the home base and the wet area to allow for differentiation or for different tasks to happen at the same time.
'The access to technology has been really good and also having all the grade resources in one space on one floor, classrooms aren't spread across the school …'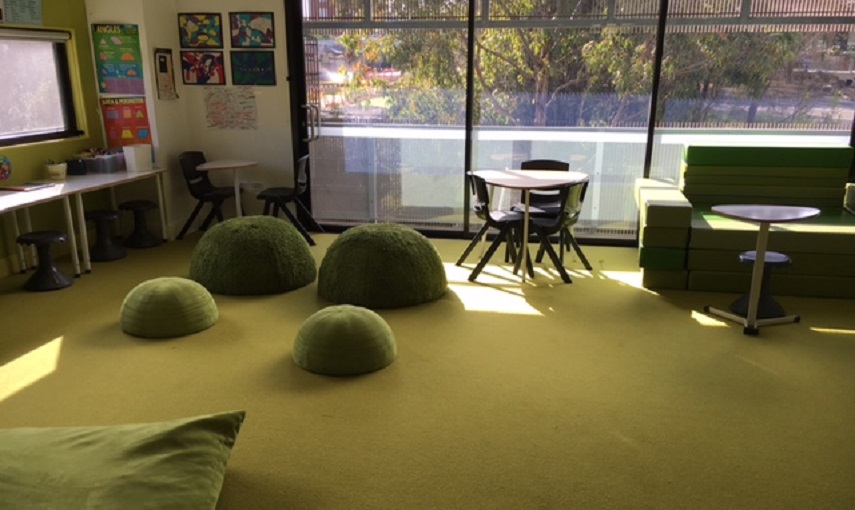 Fuller adds the sharing of resources has become a whole lot easier, for students and teachers. 'We do have things like shared stationary now, so instead of the students having their own storage tub or their own pencil cases, its shared resources. So, getting the students to be really respectful of the class items is important, as I mentioned about when they first came in, we were trying to get them to really respect the furniture and understand how they work best in this space.'
And, while the teachers have always had high expectations of the students when it comes to behaviour, the new classrooms allow the students to be more autonomous with their own learning. 'I think we give them more autonomy now and mostly they do meet our high expectations and students have really thrived in this environment because the teachers have been willing to allow students that choice and freedom of where and how to work,' Fuller shares.
The new learning space has also allowed staff to collaborate with each other on a professional and social level. 'I think the team aspect among the teachers has been a really positive change,' Fuller says. 'We're all able to chat before and after school and have our grade meetings in the common areas and I guess it just feels a bit more natural – that social side for the teachers has been really nice. I find it easier to keep in touch with the teachers in my team and what they're doing because we're working so closely in the same space together.'
A key feature of the new building at Harbord Public School is its flexibility. In your own classroom, do you move or rearrange furniture according to the lesson you're working on? How does this impact the way students engage in these lessons?
Amber Fuller says the new classroom environment allows students to be more autonomous. Do you allow your students the freedom to choose their own seating or position in the classroom? How does this work? What are your challenges?