Giving students the opportunity to participate in real-world learning can increase engagement and have a positive impact on outcomes.
At Apollo Bay P-12 College, the music program overseen by music teacher Matt Orchard, gives students the opportunity to work with state-of-the-art facilities. The College, with fewer than 300 students across P-12, is the only school in the regional Victorian community of Apollo Bay. It's situated on the Great Ocean Road, around 3 hours away from Melbourne.
'The rich environment attracts a community with a strong commitment to a healthy, active lifestyle with a keen interest in the Arts. This is reflected in our educational programs and our college motto, "Unique Environment, Extraordinary Opportunities",' Orchard tells Teacher.
Since 2000, Orchard has taught music at the school. Last year, he was named winner of the 2022 Telstra ARIA Music Teacher Award. The annual award is presented by ARIA in partnership with Telstra and is supported by The Song Room. It recognises an outstanding music teacher in Australia and the recipient is decided from votes cast by the general public for 4 shortlisted nominees. In 2022, Orchard's fellow nominees were: Kath Dunn from Wollondilly Public School in New South Wales; Jane Nicholas from Willandra Primary School in Western Australia; and David Collins-White from Haberfield Public School in New South Wales.
'I'd just like to thank Telstra and ARIA and The Song Room for shining a light on the fact that music and music education plays a crucial role in improving the mental health and wellbeing of kids right across the country in school,' Orchard said in his acceptance speech at the award ceremony.
Previous winners of the award are Sarah Donnelley from New South Wales, Antonio Chiappetta from New South Wales, Scott Maxwell from South Australia, and Renee McCarthy from South Australia.
A working musician and educator
'My first exposure to Apollo Bay P-12 College was in 1991 when I did some teaching rounds there,' Orchard tells Teacher. 'After graduating, I decided I wasn't interested in teaching and flitted around with various jobs including a stint in disability services and working in a prison, all the while clocking up gigs here and there.
'One night, many years later, I was playing a gig at The Apollo Bay Hotel when, Dick Lythgo, the principal at the time, approached me with a proposal to come up to school and help out with some music classes. Pretty soon after that I got the job as a Classroom Music Teacher in 2000. Since then, I've been combining teaching and musical work and have played close to 4000 solo/duo/band gigs in the last 25 years.'
State-of-the-art facilities
When Orchard arrived at Apollo Bay P-12 College, music lessons were conducted in rundown portables. 'The school had a major upgrade in the mid-2000s, and we now operate in a room with 2 fully equipped band spaces, 3 tutorial rooms and a fully-fledged recording studio,' Orchard shares. 'We are in the unique position where we can be recording a band within minutes of a class beginning.'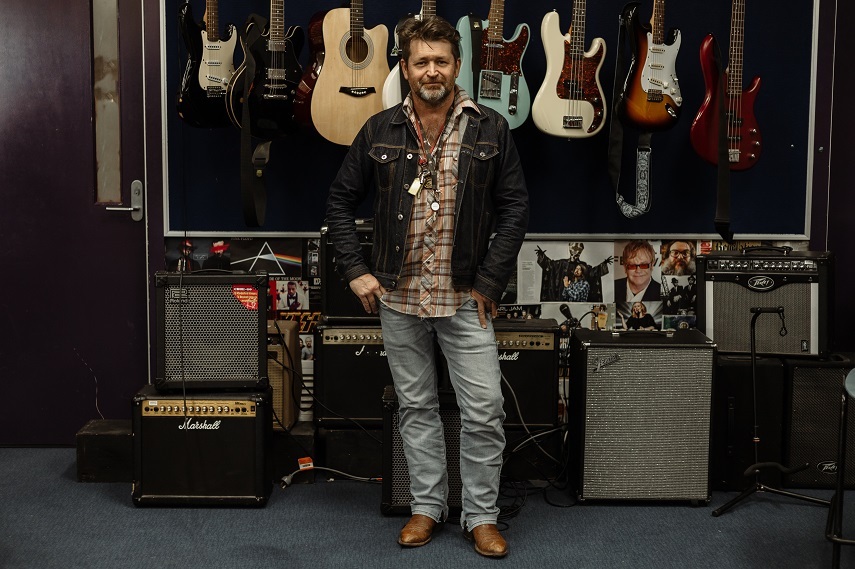 Matt Orchard in the Apollo Bay P-12 College music space. Image: Harmony Rose.

The facilities at the school also allow students in Years 10, 11 and 12 to have the opportunity to complete the VET Certificate III in Music Performance or Sound Production, which Orchard explains could set them up for a career in the music industry after they leave school.
Engaging students
'I guess the program is exciting for kids because we're working in a cool environment which is less formal than a normal classroom, learning things that can be a direct line to a pathway in the performing arts.
'It's fun for me also, to walk in and be surrounded by electric guitars, drums, basses, keyboards and hundreds of rock posters of our heroes.'
As a live musician himself, Orchard says giving students opportunities to perform is crucial for their learning journey. 'You can spend months rehearsing but the learning grows exponentially once you're gigging. There's simply no substitute and it's a whole lot of fun,' he says.
Think about the subject(s) you teach. What strategies do you have for staying closely connected to the relevant industry? How do these connections impact your teaching?