In our latest reader submission, US high school teacher Dr Keith Mason explains how integrating school musicals into your curriculum planning can provide opportunities for linked and themed learning activities in multiple subject areas.
School musicals offer so much to enhance student learning across the curriculum. They serve as stimuli for creativity in addition to subject matter concept practice, curriculum standards, visual arts integration, writing, researching, technology, and school spirit. They can teach students about storytelling, social emotional learning, tolerance, diversity, STEAM and popular culture.
I fell in love at a young age with the film musicals The Sound of Music and My Fair Lady by being exposed to their soundtrack albums. When I saw The Sound of Music in a New York cinema as a child, I sat mesmerised for nearly three hours watching them act out the songs that I loved so much. My parents brought me to see Broadway musicals on a regular basis as well. To this day, I enjoy stage, film and TV musicals because of my early exposure to them.
Making connections across subjects
As a veteran educator, I have connected my love of musicals to student learning. I first began making a curricular connection when the film musical Evita was released. I enriched a unit about Argentina by using Evita with my students of Spanish. Students saw the film at a local cinema and undertook readings, research and assignments that bridged musical cinema with Spanish. Students learned about mid-20th Century Argentina through readings and also wrote analyses of songs from the Evita score.
Shortly after learning about my interest in musicals, our high school musical directors invited me to integrate eight musicals into the curriculum at a New Jersey high school. We staged Carousel, Bye Bye Birdie, The Boys from Syracuse, The Music Man, Hello, Dolly!, Anything Goes, Into the Woods and The Boy Friend. Each musical invited themes, songs, characters and settings to help shape learning activities in the classroom.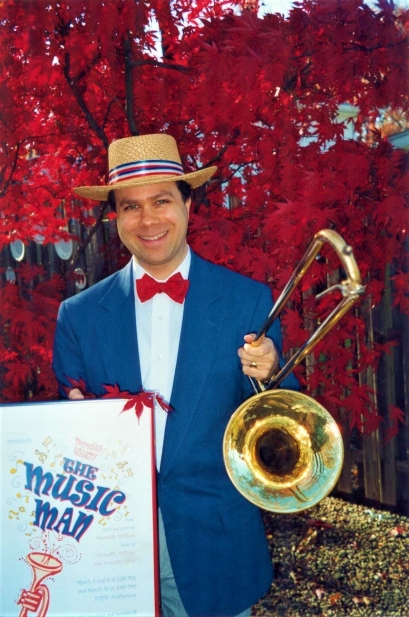 Dr Keith Mason in a publicity photo for a school production of The Music Man. Image supplied.
The initial integration began with Carousel and was done through experimentation by me and a teacher of French. As the subsequent shows were staged each spring, we included more subjects and additional colleagues joined in with lessons and projects. These classroom-based assignments were highlighted in a curriculum display that was exhibited in either our front lobby or cafeteria to coincide with musical performances. The exhibitions enabled classroom work to be publicly and proudly displayed.
I accomplished my musical integrations at the high school level, yet similar ideas can be used in younger grades. I began trying out lessons and projects in my Spanish and Italian courses, and also served as a coordinator for the school, providing faculty with study guides for each musical, while serving as a liaison for faculty who voluntarily did musical-related assignments. I thoroughly researched each musical so that I could devise possible assignments and projects as well as thematic art displays.
The main goal was to have students connect the school musical with subject areas by supporting curriculum standards. This was part of a competition sponsored by the Paper Mill Playhouse, The State Theatre of New Jersey, USA. The Rising Star Awards sponsored up to 100 high schools and included a category – Educational Impact – for educators who linked state standards to their school musicals. We received the Educational Impact award eight times. Study guides that I authored were a big part of the award submission materials. Colleagues in Sciences, Language Arts, Visual Arts, Home Economics, Social Studies and Foreign Languages participated in various integrations.
As a foreign language teacher, I had my students of Spanish and Italian complete projects inspired by our school musicals staged each spring. This included show programs, cast photos with song concepts, creating trading cards, calendars, story books, quilts, a Little Red Riding Hood cloak tied to Into the Woods, and commemorative stamps with target language text.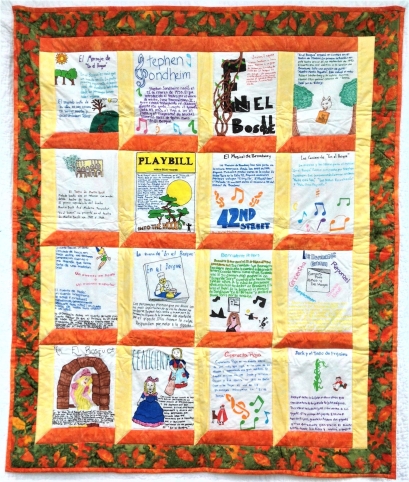 A quilt project completed by a high school Spanish class tied to the school musical Into the Woods. Image supplied.
The final projects were always in the target language and were displayed in the front lobby or cafeteria to correspond with performances. Foreign language projects and assignments that I designed supported our school and state curriculum guidelines by highlighting concepts, songs and themes in our school musicals.
Examples of activities and links
After the first few years, other teachers became involved, doing lessons and projects in their various subjects. These included: Biology; Chemistry; Physics; English as a Second Language; Foods Class; Video Production; Language Arts; World Languages; and, Social Studies.
Lessons about botany of plant life, the chemistry of fragrances, acoustics of musical instruments, song lyrics analysis, foods of a musical's era, musicals that teach history, video projects, and fairy tales in other languages were undertaken for a few years. Students of Biology studied botanical aspects of flowers, revered by the Victorians, because of the setting of Hello, Dolly! Students of Physics studied the acoustics of musical instruments, and students of Chemistry analysed floral fragrances through experiments because of the Victorian reverence for perfumes, again inspired by Hello, Dolly! Students in Food Class prepared desserts popular during the time periods of The Music Man and Hello, Dolly! History classes studied period musicals, creating collages that illustrated how various musicals teach history. These included Annie Get Your Gun, Fiddler on the Roof, Of Thee I Sing, Oklahoma!, Pippin and 1776.
English as a Second Language and Language Arts students analysed song lyrics for 'You're the Top' from Anything Goes. Video Production students created promotional commercials to advertise a few of our school musicals through interviews of cast and musical directors that our cable television manager aired on our local access station. Visual Arts students created murals, silhouettes, class projects and displays for all eight musicals. Included were art deco posters for The Boy Friend, a Mediterranean mural for The Boy Friend, a Mediterranean village for The Boys from Syracuse and an amusement park mural for Carousel. A downtown display of stores and artwork featured fictitious Sweet Apple, Ohio, USA for Bye Bye Birdie and a ship mural with cast members in portholes highlighted the ship theme of Anything Goes.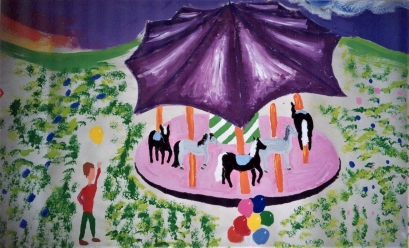 A scene from a tempera mural completed by Visual Arts students for a Carousel lobby display. Image supplied.
In both my classrooms and those of my colleagues, students showed interest, creativity and engagement. Attendance at our school musicals also increased because of students' classroom involvement with concepts and songs in these musicals. The integration of musicals was career changing. I've also shared this approach with other educators, inspiring them to utilise school musicals at their own schools.
Musicals, especially those staged in schools, can enhance classroom learning instead of being limited solely to the staged performances. This encourages curriculum integration and involves more of the student population, not just the cast and crew.
I believe that my work integrating musicals had a positive effect by creating interest in the student population and faculty, support for faculty and students involved in staging our school musicals and other schools who learned of my behind-the-scenes participation connecting musicals to classroom learning.
Keith Mason says, instead of being limited to staging performances, school musicals can enhance classroom learning in other subjects. What music or arts events and performances in your school staging this year? How could you work with colleagues to integrate some of these themes and learning opportunities?