Hit film Inside Out provided the inspiration for Team Kalianna in this year's Australian STEM Video Game Challenge, so it's fitting that the whole process – from initial idea to winning game – brought plenty of joy to the talented group of students and their teacher mentor.
The Year 9s from Kalianna School Bendigo took the honours in one of the Year 9-12 age categories for Gizma's Adventure, which was built using the free coding platform Scratch. The theme of the challenge, coordinated by the Australian Council for Educational Research (ACER), was 'reaction'.
In their winning entry, Gizma the robot journeys into a world where characters are reacting to different emotions, and learns by helping them along the way. This is the first time students from the specialist school, in Bendigo North, Victoria, have entered the annual competition.
'We'd actually been referring to Inside Out [during] some of our sessions on emotional intelligence and resilience, and I think that might have planted the seed,' Year 9 classroom teacher and team mentor Seamus Curtain-Magee explains.
'We workshopped the story together, we discussed the idea of reaction and the different things it could be and the students just ran with it from there really. The story is something they came up with, the idea of an android trying to work out what emotions were and how they affect people.
'The idea is the game starts as an android awakens and it moves through a world with different characters in it who are all displaying emotions. The emotions that are taken are the five from Inside Out – there's anger, fear, disgust, sadness all in there and then joy at the end, when the android is trying to impress its creator. So, it's thinking it's a disappointment and a failure and it works through the world, helping people resolve some of their emotional issues and helping them manage or cope with negative emotions in different ways, comes back to its creator, tells it what it's done and has a sense of achievement and happiness at the end of the whole thing.'
Team members Jacob Turner, Dylan Kalms-Taylor, Caleb Jeanes and Chloe Godfrey joined students from the other five winning teams at the PAX Australia gaming convention, where they were presented with their prizes and certificates by Stephanie 'Hex' Bendixsen – presenter of Seven's screenPLAY and former presenter of ABC's Good Game.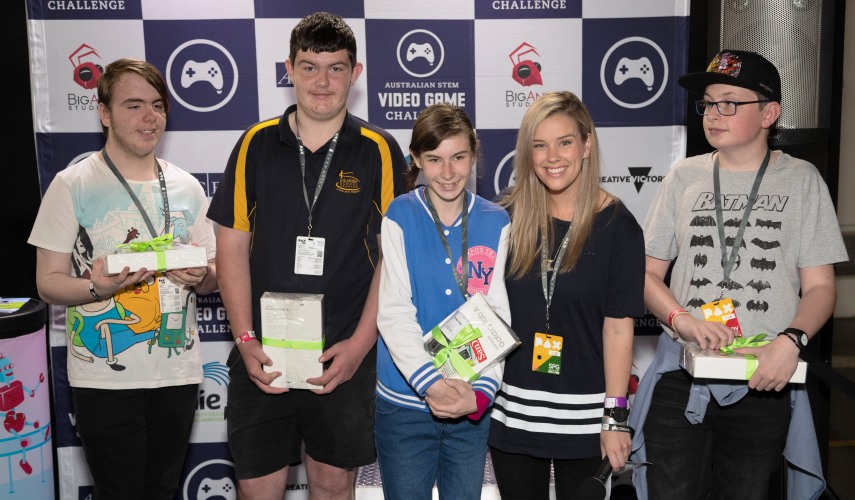 [From left to right: Caleb Jeanes, Dylan Kalms-Taylor, Chloe Godfrey, Hex and Jacob Turner.]
The Australian STEM Video Game Challenge invites students in Years 5-12 to design and build an original video game. Some schools run the competition as an extracurricular activity but Curtain-Magee says it was a great fit with the project-based learning being used in class.
'I started doing some work on coding so they had the basics at the beginning of the year, and then I called for volunteers to join this [challenge] team. We have a team teaching model at Kalianna, which meant that I was able to focus on working with the group that were designing the game.'
The educator says the initial coding lessons were done using Code Studio, which was a solid introduction to Scratch. 'It's a similar sort of block-based programming. The other restriction we had is that our school is switching over to Chromebooks and some of the other programs like GameMaker don't have an online editor, whereas Scratch exists as an online editor – so it was just the right choice for us for the hardware we had as well.'
He adds one of the great things about Scratch is the plethora of support resources that exist online and the team found an extensive tutorial on building and scripting a platform character that moves around the screen. However, Curtain-Magee is keen to point out the learning experience was about much more than coding.
'There's lots of learning that goes on with a project like this: in relation to working together and sharing their ideas; following timelines and being personally accountable for their contribution, if you like, to the game; there was work in creativity design and storytelling that went into it as well; the design element of it, the artwork element of it especially took a lot of work – that was all the work of one of the kids and he did such an amazing job …'
Kalianna School runs from Prep to Year 12 and has a strong focus on building emotional resilience. 'We have a program that was introduced to us via a speech pathologist at school called The Zones of Regulation, which relates very closely to the sorts of emotional language the kids are taught at school and that they use when they're discussing working through these issues and regulating emotion and managing it. That really had an awful lot to do with Gizma's Adventure.'
Curtain-Magee also learnt plenty from the experience, including how coding can be used in the classroom to help students develop a range of skills. 'You think about it in terms of the obvious maths stuff, logical thinking and following instructions … but the kids were learning things about sequencing a narrative, about language, they were learning things about physics – that was in there as well. And the feedback is instant. There's a lot of powerful learning that can take place using these sorts of tools.'
You can play Gizma's Adventure here.