Gardens are fast becoming the norm in most schools. They are a popular practical tool used by educators to teach about environmental responsibility and sustainability, as well as healthy lifestyles, food and nutrition.
But as one Northern Territory preschool has demonstrated, a school garden can also be used to connect students to their wider, multicultural community.
Research has shown that having strong school-community partnerships and valuing diverse cultural backgrounds can enhance student learning outcomes.
Nakara Preschool, located in Darwin's northern suburbs, has a diverse population, with 77 children with multicultural backgrounds including Indigenous and Torres Strait Islander, Indonesian, African, Greek, English and European.
Combining practical and classroom-based learning modules, the pre-school has implemented a nationally recognised program called Our Sustainable Healthy Preschool. Via this program, it uses its garden to ensure students from all backgrounds remain connected to learning.
'We grow plants, herbs and vegetables from several cultures, and we are also starting to grow bush tucker and edible native plants,' teacher Lisa Hughes explains.
Nakara Pre-school subscribes to the Principles, Practices and Learning Outcomes of the National Early Years Learning Framework, which includes a process of identifying students' interests, strengths and needs through family communication, and an emphasis on active learning through play. The preschool further connects this framework to student backgrounds via their own learning.
'One of the first things we did with our garden was teach the children about seeds,' Hughes explains.
'We asked the children and their families to bring in seeds from home for planting. A lot of the diverse produce (such as African spinach and native Rosella) we have growing in our garden comes from these seeds.'
Cultural connectedness is also a part of the preschool's healthy eating teachings, including using the garden produce for cooking once it's ready for harvest.
'We ask the children what their favourite foods are, and we will then cook these so everyone can enjoy recipes they may not necessarily eat in their own homes,' Hughes says.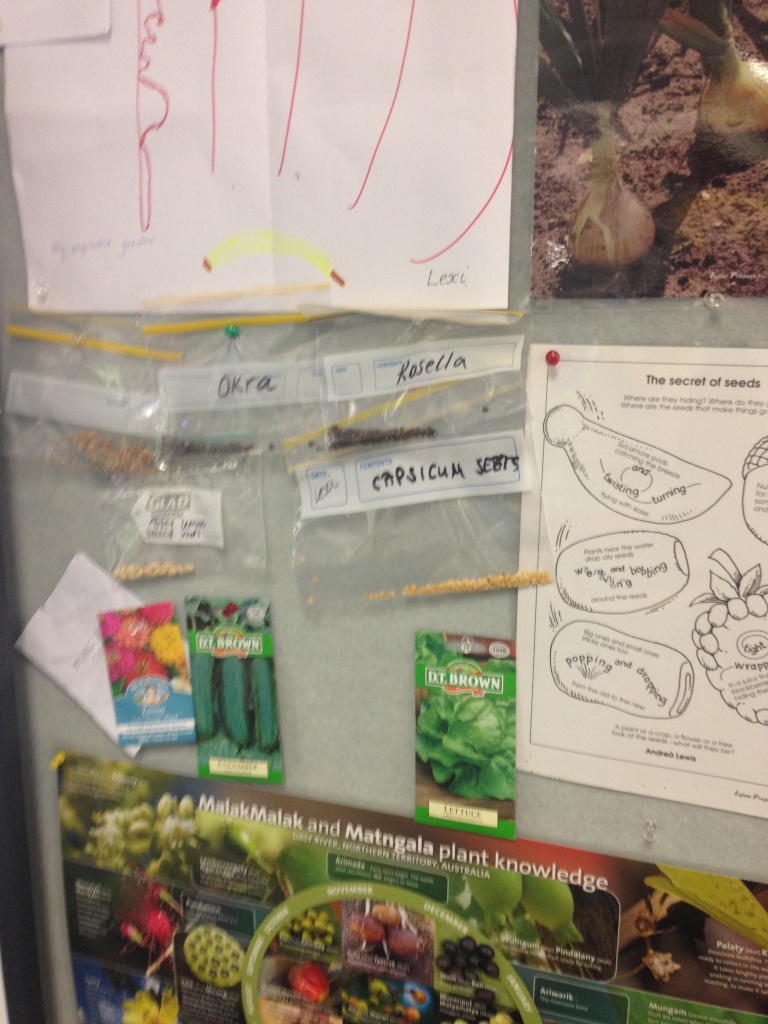 Nakara Preschool's seed wall displays seeds the students and their families have brought in from home. Image: Kasey Brunt.
'We also have a lot of parents or family members bringing in their children or grandchildren's favourite foods, and we find that the children are very interested in learning about the foods that their classmates like to eat.'
The Nakara preschoolers have been involved in most aspects of their garden, which was established in 2014.
'We took a class trip to Bunnings, so they could pick out seeds and plants,' Hughes recalls.
'Before this we researched and covered topics including what a garden needs – such as fertiliser and tools, and what plants grow well for a garden of our size and climate.
'We also allowed the children to be imaginative and creative. Some of them wanted to build a fairy garden and plant flowers, so we accommodated this.'
The garden has also helped the preschool extend teachings in other areas outside of cultural and community connectedness. 'There is also a focus on developing environmentally friendly and sustainable practices at a preschool age,' Head Teacher Shontelle Heard explains. 'The ethos of this project is that developing these sustainable practices at pre-school age ensures students continue environmentally sustainable practices through to adulthood.'
Other teaching and learning focuses include healthy eating and keeping physically fit. And, as Hughes explains, success comes from having a garden that fits in with the individual school. 'A garden needs to be sustainable, and it needs to fit each school's unique space. Start small, learn with the children and families linking to multicultural perspectives, and make sure that you can maintain the garden you are growing and that it is not too big.
'The opportunities for children to learn in a garden are endless (and you can) spark their interest by learning about seeds, and how plants grow, and [by] providing the children with fun challenges.
'Encourage children to use language to describe and explain ideas, and make their ideas visible.'
Nakara Preschool safe garden tips
Have an organisation such as Kidsafe come in and check your space for potential hazards;
Make sure all your plants are 'kid safe' and non-poisonous. Seek advice from a local gardening club or expert if unsure;
Ensure children wear safe clothing while gardening - this includes gloves, closed-in shoes and hats;
Teach the children to identify what equipment they can use – for example, some spades and other gardening equipment should only be used by an adult;
Undertake gardening tasks in small groups of four to five children at a time, with an adult present;
Use pictures to teach children garden rules - for example, have photos of children wearing correct clothing, what tools they can use, and when a plant is ready for harvest;
Smell but don't touch: encourage children to smell and look at the plants, to stop them from picking plants that aren't ready;
Teach and show children how much water is enough;
Spark the preschoolers' interest by drawing pictures of your garden goals - for example, what vegetables should look like when they are ready for harvest.
Nakara Preschool was awarded a $10,000 Medibank Community Grant in May 2015. The grant will go towards supporting educators in running a sustainable and healthy preschool.
Do you have a school garden?
How have you ensured that the garden reflects your students' and school's culture and space?
Is your garden designed to encourage creativity and to spark the imagination?