A teacher's impact on their students can last a lifetime, especially when it comes to preparing them for life after school and future careers.
Each year, the Prime Minister's Prizes for Excellence in Science Teaching recognise the critical role primary and secondary school educators play in inspiring and encouraging students to take up an interest and consider careers in science, technology, engineering and mathematics (STEM).
The latest winners of the Prime Minister's Prizes for Science – which comprise of 7 prizes and $750,000 in prize money for scientists, innovators and educators – were announced last night.
This year, the winners of the 2 teaching prizes are Judith Stutchbury from Queensland and Donna Buckley from Western Australia who each take home $50,000 in prize money. Here, we take a look at the work they've been doing in their school settings that has them recognised at a national level.
Judith Stutchbury – Kalkie State School, Queensland
Judith Stutchbury. Image: Supplied
Taking home the 2023 Prize for Excellence in Science Teaching in Primary Schools is Judith Stutchbury from Kalkie State School in Bunbury, Queensland. With the school being situated only 8 kilometres away from the Great Barrier Reef's Mon Repos Beach, it's no surprise to hear the experienced Senior Teacher has a strong focus on educating students about environmental issues.
'It is a very important beach because it has the greatest number of loggerhead sea turtles nesting in the South Pacific region, which is critical to its survival as an endangered species,' she says.
Stutchbury was nominated for the prize by her principal, Malinda Findlay. 'Mrs Stutchbury ensures all students are encouraged to love science and feel empowered that they can act and that the small things make a difference. Mrs Stutchbury is inclusive in her teaching, introducing Indigenous and international language greetings and words, and stories and understandings, including student presentations to the Mayor of Bundaberg.'
Stutchbury is also recognised for many initiatives she's led. She has convened a 'Reef Together' event which saw 20 teachers and 200 students brought together to learn about the science of the Great Barrier Reef and hear from experts, and a 'Science Together' convention attended by 400 students, teachers and community members for National Science Week. Her work has also included writing a book, Hatch Saves the Reef, which encourages students to learn about marine turtles and the impact of climate change.
'It's very important for us to look after the planet, and if we can inspire the young children today to educate their families and want to look after the environment, then it should stay with them for life,' Stutchbury says.
Donna Buckley – John Curtin College of the Arts, Western Australia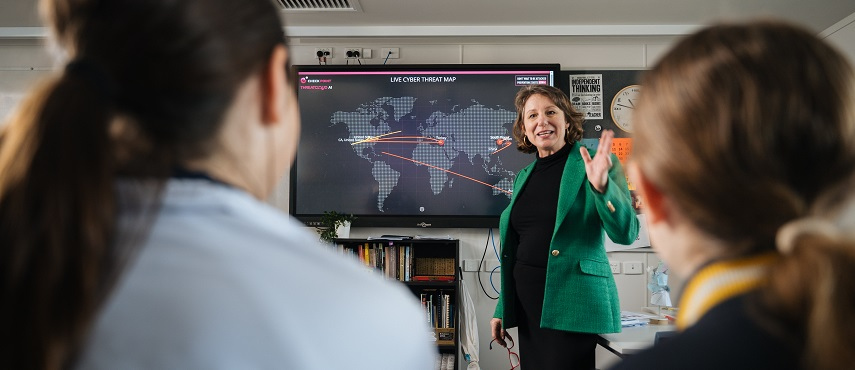 Donna Buckley. Image: Supplied.
The 2023 winner of the Prime Minister's Prize for Excellence in Secondary Teaching is Donna Buckley from John Curtin College of the Arts in Fremantle, Western Australia.
As a cybersecurity teacher and Head of Mathematics at the school, Buckley has been recognised for applying mathematics to real-world problems in the classroom and introducing students from a diverse and creative background to career opportunities in science.
'Ms Buckley is very active in building creativity through STEM and I rely on her passion,' her nominator, principal Travis Vladich, says. 'She has influenced STEM thinking and concepts for teachers and students throughout Western Australia. She has taken on responsibilities with cybersecurity and local, state and national projects and initiatives.'
Some of Buckley's achievements include establishing an accredited cybersecurity course for students in Western Australia and being coordinator of the Perth Girls' Programming Network. She is also being recognised for a number of initiatives she has implemented, such as a Maths Talent Quest for students in the state, establishing #MathsBookClubWA to encourage teachers across the state to learn from resources written by mathematicians, and creating projects for students to explore First Nations art and sustainable travel.
'John Curtin College of the Arts has nearly 2,000 students with a passion for the arts. I'm here to inspire and engage our students by connecting mathematics to their passions and the real world,' she says. 'To receive the Prime Minister's Prize for Excellence in Science Teaching in Secondary Schools is such an honour. It validates the work we've been doing to put mathematics on the map.'
Previous winners of the Prime Minister's Prizes for Excellence in Science Teaching include George Pantazis and Veena Nair (2022), Scott Graham and Megan Hayes (2021), Darren Hamley and Sarah Fletcher (2020), Sarah Finney and Dr Samantha Moyle (2019), Brett Crawford and Dr Scott Sleap (2018) and Neil Bramsen and Brett McKay (2017).