Six high schools from across the world have been named winners of the 2023 Zayed Sustainability Prize for their innovative solutions to sustainability issues and will take home their share of a US $600,000 prize pool to begin or continue their work.
The Zayed Sustainability Prize was launched in 2008 by H.H. Sheikh Mohamed bin Zayed Al Nahyan, President of the United Arab Emirates, and is a tribute to the late Sheikh Zayed bin Sultan Al Nahyan's legacy of humanitarianism and commitment to sustainability.
The prize recognises not-for-profit organisations, small- and medium-sized enterprises and high schools with its prizes across 4 categories: Food, Energy, Water and Global High Schools. In the Global High Schools category, one school from 6 geographic regions is named winner for their region.
Applications are submitted by students and outline a proposed project for their school community to undertake in the areas of food, health, energy and/or water. In 2023, the winners for each region are:
The Americas: Fundacion Bios Terrae - ICAM Ubate
Europe and Central Asia: Romain-Rolland Gymnasium
Middle East and North Africa: Gifted Students School
Sub-Saharan Africa: UWC East Africa - Arusha Campus
South Asia: Dhaka Residential Model College
East Asia and Pacific: Kamil Muslim College
Here, we take a closer look at the projects proposed by students from the winning schools.
Fundacion Bios Terrae – ICAM Abate (Colombia)
A representative from Fundacion Bios Terrae – ICAM Abate accepts their prize. Image supplied.

To address the air pollution issues in Colombia, this school has plans to develop an air quality monitoring network as part of their proposed Community Air Quality Program in order to improve the health of those living in their region.
They have plans to train 50 teachers and 350 students at their school, and other schools in the region, to monitor air quality, analyse data and design local solutions.
Romain-Rolland Gymnasium (Germany)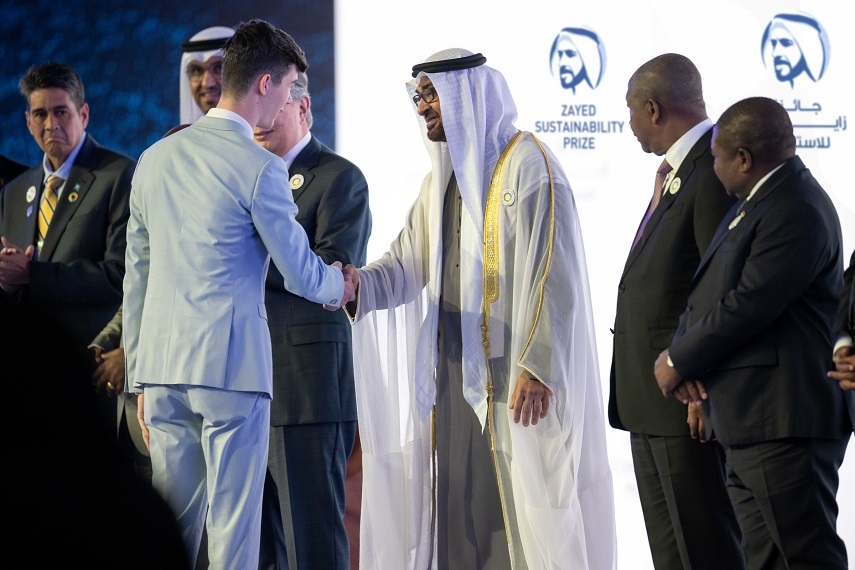 A representative from Romain-Rolland Gymnasium accepts their prize. Image supplied.

Students at Romain-Rolland Gymnasium in Germany are proposing to build a solar-powered, electrolysis-based hydrogen fuel cell as an alternative energy source to fossil fuel energy. They anticipate this build could mean the renewable energy used at the school will increase from 2% to 10%.
They plan for this project to help students learn about alternatives to fossil fuel energy, and to encourage the development of technical and vocational skills, to support the post-school pathways of students.
Gifted Students School (Iraq)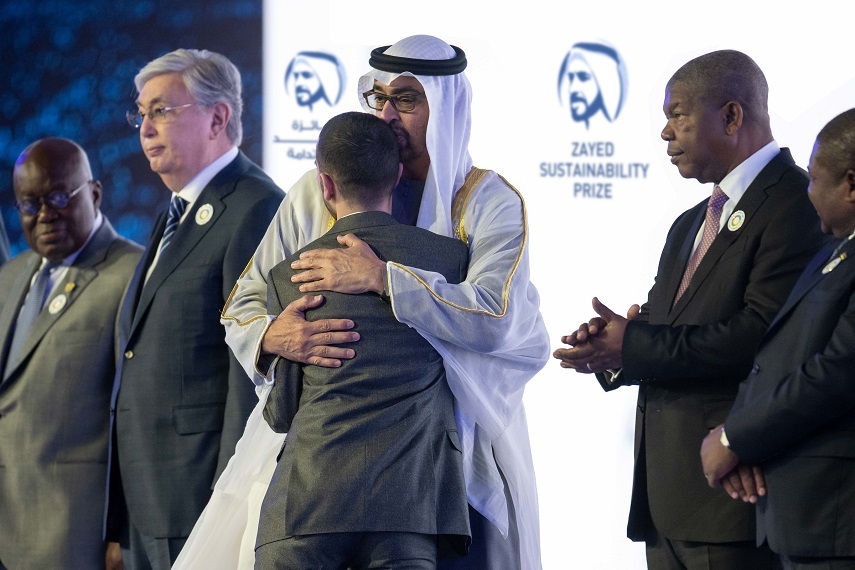 A representative from Gifted Students School accepts their prize. Image supplied.

Water scarcity is an identified problem for this school community, so to respond to this, students at Gifted Students School in Iraq have plans to develop a hydroponic greenhouse that will use groundwater, solar energy and air vacuums to grow food all year and provide food for students' breakfast and lunch.
Students anticipate this project will save 532,000 litres of water per year and reduce emissions by 255 tonnes over 3 years.
UWC East Africa – Arusha Campus (Tanzania)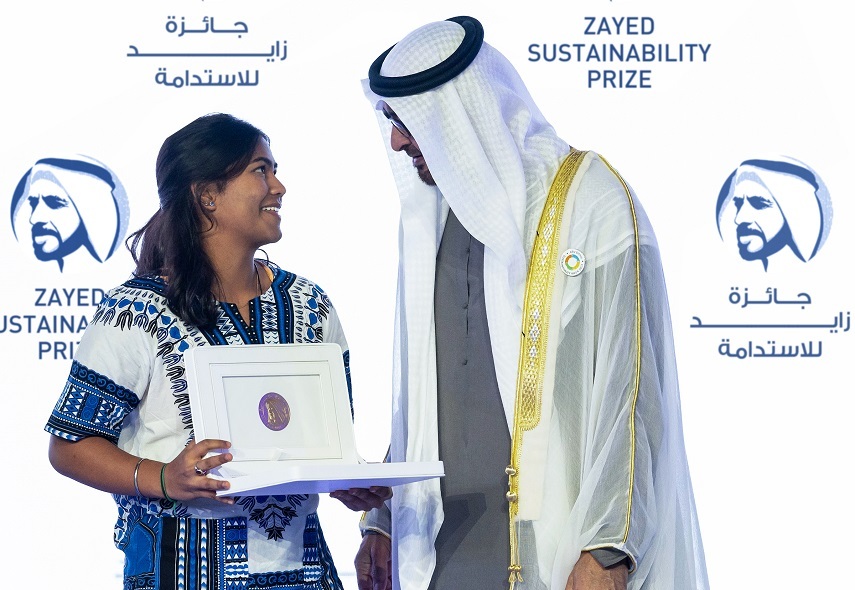 A representative from UWC East Africa – Arusha Campus accepts their prize. Image supplied.

In Arusha, Tanzania, it is estimated that around 50% of water sources contain fluoride levels above the World Health Organisation (WHO) permissible levels. To address this, students at this school have proposed to create and distribute biochar filters to households and schools in the area so they can lower the fluoride levels in water.
They will use goat and cattle bones sourced from farms, butchers and restaurants in the region to make the filters and anticipate that these filters will be able to filter 1,095,000 litres of water for 10,000 households before the filters will be needed to be sanitised.
Dhaka Residential Model College (Bangladesh)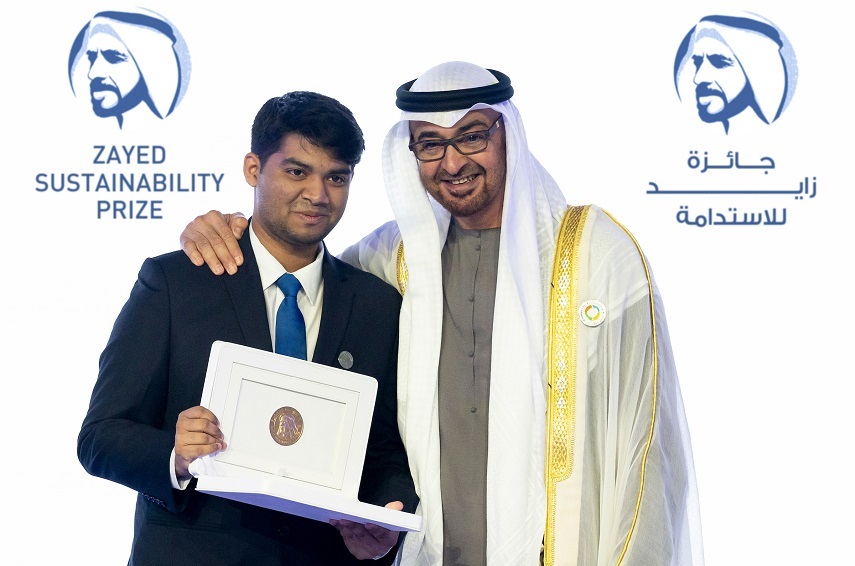 A representative from Dhaka Residential Model College accepts their prize. Image supplied.

Microorganism-based seed treatment are the basis for this project that plans to support the production of crops in a shorter time period.
The schools plans to supply microorganism-based seed and soil treatment, microbial biofertilisers and biopesticides to over 2,000 farms to assist them in cultivating crops more effectively and efficiently. They hope to reach all districts in Bangladesh and gradually spread their supply globally.
Kamil Muslim College (Fiji)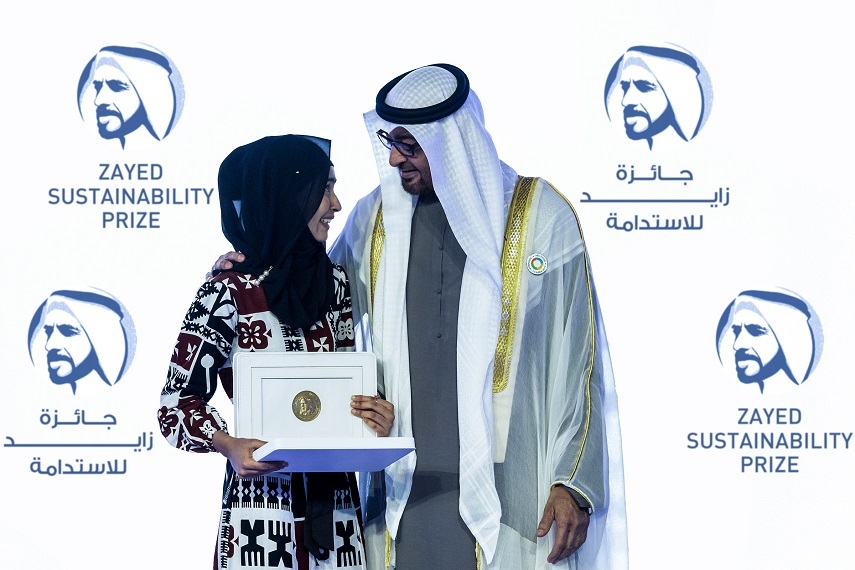 A representative from Kamil Muslim College accepts their prize. Image supplied.

Students at Kamil Muslim College in Fiji have plans to ensure their school is powered by 100% solar energy. They also propose to generate biogas energy for their canteen to use for cooking and to collect rainwater and filter it into drinking water. They will also expand their existing miniature beehive, fish and poultry farm and produce farm.
They plan to save 920,000 litres of water and provide 6,150 lunches for students per year.
With your class, or a colleague, discuss the sustainability issues impacting your school and wider community. How could your school work together to address one, or some, of these issues? Are you aware of any local grants or funding that might be available to you to help bring these ideas to fruition?