Little J, Big Cuz and their teacher Miss Chen are heading back to class for a third season of their Logie award-winning animated series, which supports the transition from home to school for Indigenous children and their families.
Little J & Big Cuz follows the adventures of the two main characters, and models the day-to-day running of an early primary classroom. Storylines for each episode are aligned with the Australian Early Years Learning Framework, and there are accompanying resources for educators, and tips on transition for parents and families.
Episodes have been translated into Indigenous languages, with English subtitles. Season Three will also be translated into several languages, including Ngukurr Kriol, Kunwinjku and Palawa kani. Students from Upper Primary and Secondary classes at Ngukurr School in the Katherine region of Northern Territory helped to translate the Ngukurr Kriol scripts as a real-world school project.
Little J & Big Cuz features the voices of Deborah Mailman, Miranda Tapsell, Aaron Fa'Aoso, Renee Lim and Shari Sebbens. This season, Ursula Yovich steps into the role of Nanna, following the untimely passing of much-loved cast member Ningali Lawford-Wolf.
Season Three sees Big Cuz (voiced by Mailman) start to navigate some bigger responsibilities – including captaining the rugby team, getting a 'pen licence' and, outside school, stepping up to the challenge of looking after her own dog. As usual, there's lots of learning and adventures on Country, in the backyard, and the classroom.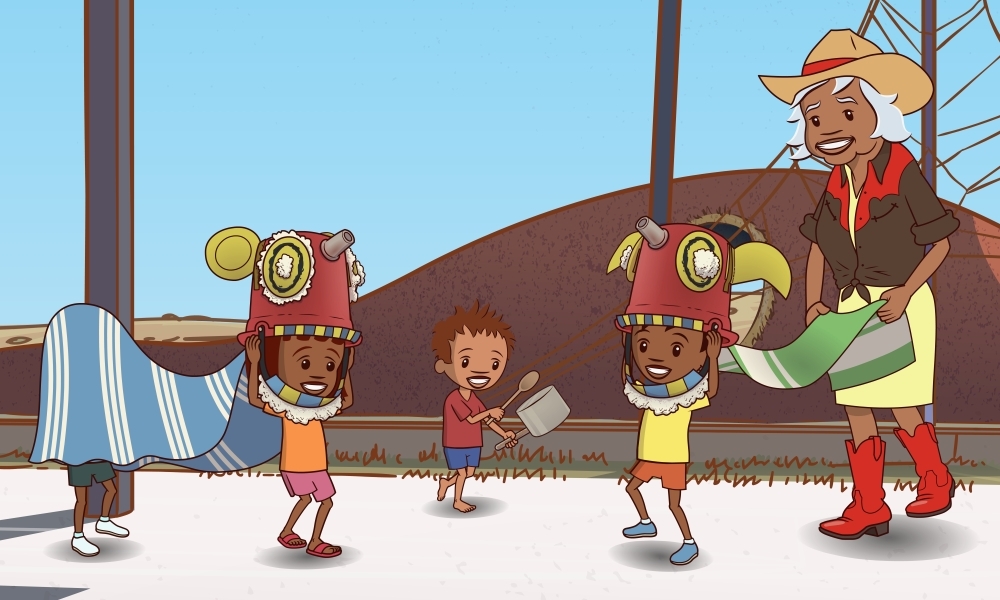 [Ally and Little J lead the Lion Dance in Season Three of Little J & Big Cuz. Image: Ned Lander Media.]
An evaluation study found the ground-breaking TV series bolsters pride and identity in Indigenous children, and supports children's emotional wellbeing and teacher improvement. Feedback from teachers includes this comment from an educator at Clontarf Aboriginal College: 'The students enjoy watching the series in homeroom and it helps them settle at the start of the day ready for school. We also have a lot of students who are boarding, but are from all over Australia from many different Communities and this program helps with the extreme homesickness they feel from being off Country.'
And Sam got in touch with the team to say: 'Hey guys just wanted to say what an amazing job with your show! My son Flynn has a speech delay and has trouble with communication, even sometimes as his Mum I have difficulties trying to understand what he wants. Getting his brekkie in the morning I don't normally watch telly. My son kept giving me the remote and telling me Nanna and Dog. I wasn't sure what he was talking about but put the telly on then he told he told me kids (which is ABC kids) then your show started, then I suddenly realised he wants to watch Little J & Big Cuz. Now it's our together watch show the in morning and we both love it. Love learning so much through the eyes of kids about Country. Can't wait to see more episodes.'
Little J & Big Cuz was conceptualised by the ACER Foundation, the charitable arm of the Australian Council for Educational Research (ACER), and Ned Lander Media. Season One was developed in partnership with Ned Lander Media, SNAICC, NITV, Screen Australia, Screen Tasmania, Film Victoria, and the Australian Children's Television Foundation. Season Two was further supported with principal production investment from ACER, Screen Australia, Screen Tasmania, Film Victoria and NITV in association with the ABC.
Season Three of Little J & Big Cuz premieres on National Indigenous Television (NITV) at 7.30pm AEDT on Friday 17 December, 2021, with catch-up available on SBS On Demand. The show will air on ABC Kids in 2022 and be available on the ABC Kids app, as well as ABC iview.
Visit the Little J & Big Cuz website for educator and parent resources.
Season 1 of Little J & Big Cuz is available on DVD through ACER's online shop.
How are you using Little J & Big Cuz in the classroom? Get in touch with the Teacher team and let us know.