In late 2019, Glenaeon Rudolf Steiner School's Outdoor Education team won a New South Wales Outdoor Education Award for the most outstanding Outdoor Education program conducted in a NSW school. In today's Q&A, we speak to Scott Williams, the school's Outdoor Education Coordinator, about the extensive program offered to students in Year 4 to 12.
To begin, what are some of the features of your school's Outdoor Education program?
At Glenaeon Rudolf Steiner School, we have a core belief that the more time students spend in a place, the more they understand it. Throughout the Glenaeon Outdoor Education program we aim to develop students' sense of place. In order to achieve this, we re-visit environments in differing capacities to build on the foundational learning we create in the primary years. There are many aspects of our program that we believe makes it a standout from the rest, with the main reason being that all of our programs are expedition based.
Highlights differ for each student depending on where their personal interests lie. Some highly anticipate the Year 12 program, where students spend 48 hours solo in the bush being totally self-sufficient. Students who are more adventurous look forward to canyoning and rock climbing in the Blue Mountains in Year 9, or bushwalking one of the iconic locations in Tasmania in Year 10.
The Year 10 and 11 students who want more, can opt-in to our elective trips to Far North Queensland; sea kayaking or white water rafting. Our most recent addition is the Nepal Enrichment Program – open to the Year 12 students after they finish studies, which was a definite highlight for all who attended last year, an alternative to Schoolies week.
Who is involved in the Outdoor Education program at your school?
Glenaeon's Outdoor Education program starts from Year 4. Students spend two days exploring the coastal woodland trails that surround our Middle Cove campus and stay overnight on the school oval. After this introduction, we gradually expose students to new environments and re-immerse them in others throughout future years. We do this in order to instil a sense of place, develop connection with, and gain an appreciation of, different landscapes throughout the country.
Outdoor Education teacher Kristen Gardner and I organise and run the Outdoor Education program at Glenaeon Rudolf Steiner School. We have amazing staff who help us out, most notably Glenaeon's Deputy Head Class K-6, Danielle Finch who is our 24-hour school contact while we're out in the field.
In your view, what are some of the skills that students learn from their involvement?
On the practical level, our program aims to provide meaningful experiences that equip our students with the skills to safely and confidently embark on their own adventures.
More broadly, learning in the outdoors provides a sense of wellbeing, a connection with nature and opportunities to grow, develop and be responsible within a small self-sustaining community for the duration of each program. Skills, safety, resilience and learning to live a meaningful life in connection with the environment are key outcomes.
I understand that you began building this program eight or so years ago. In the very beginning, how did you put the program together? What were some of the practical things you needed to do?
The five foundational aspects of Glenaeon's education are: academic, aesthetic, artisan, altruistic and active wilderness. The active wilderness component was in place when I arrived at the school, however, outdoor trips were facilitated by external providers.
I had a look at what other schools in the area were doing, what regions they were visiting and what activities they were doing and that helped formulate the picture of what I was going to do. We were not going to copy what anyone else was doing!
My first year at Glenaeon was more observational, to identify what elements were in place, which things would continue and what needed to be changed. After this, the major change was to move away from external providers. This allowed much more freedom and flexibility in delivering quality outdoor education programs that better reflected Glenaeon's core values.
How has the program evolved over time?
Our program is constantly changing and evolving, however the change happened slowly. We needed to ensure that our program grew whilst complementing and enhancing Glenaeon's overall educational delivery. The most important factor was ensuring parents were on board. The program needed to develop their children's outdoor skills gradually but also visibly within the home environment and I think we're very lucky with the community we have that are incredibly supportive of our grand plan. Seven years on, we did take a group of students down the Grand Canyon, USA, on a rafting journey.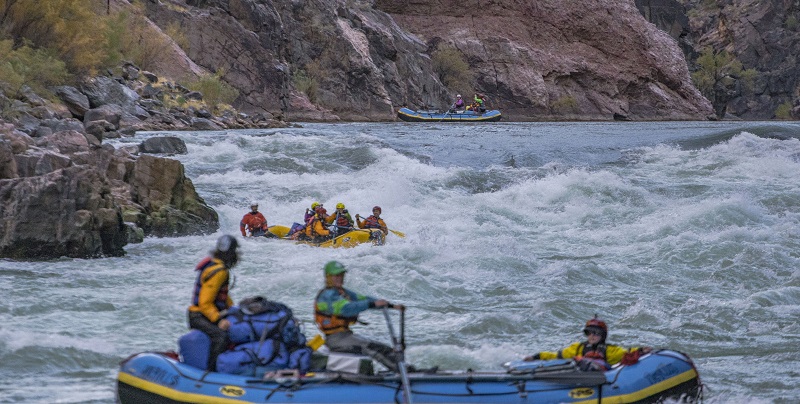 Glenaeon students on the Colorado River, Grand Canyon USA in 2017. Image credit: Nicholas Covelli
Our base program allows us to spend 90 nights in the field each year and we're always coming up with ideas for new programs for our students. We recently added an international component to the program, which has really rounded out what we offer our students.
Safety is obviously a huge consideration for any Outdoor Education program. What are some of the safety measures you have to put in place before undertaking any activities? How do these things differ for longer trips?
Program safety underpins everything we do. Risk management is the key strategy that we have developed to ensure that participants will be safe while in our hands. This phase should not only encompass risks that might occur whilst on program, but should give scope to the broader context of developing the programs. Things like:
What are the Standard Operating Procedures of the organisation?
What supports do we have within the management of the organisation?
How are the programs set out in the calendar?
Will our staff be affected by being on consecutive programs and how will these factors affect the overall implementation of the program?
Accidents don't usually happen as a single event. They tend to snowball – where small factors, that on their own, would not cause any undesirable outcome but when piled together can have tragic consequences. Safety whilst on program is actually the easy part. We do specific activity risk management documents and people inherently know the risks associated with activities such as kayaking, climbing or bushwalking. I think this is where 'real risk' and 'perceived risk' come into play and people often perceive the outdoors to be risky, because there is the element of the unknown. People who are unfamiliar with an activity will usually perceive it to be riskier than it is. Our job actually becomes easy when the students are harnessed in and attached to a rope on the edge of a cliff!
Fatigue is probably the main factor that comes into play with longer trips. Our focus early on, is to ensure that everyone has great self-care and to be vigilant with it. I get the students to adopt the 'be bothered' mantra for when they are in the field. 'Being bothered' refers to the little things like fixing a hot spot before it turns into a blister, or getting up and going to the toilet as soon as you need to, even if your sleeping bag is warm and toasty and it's the middle of the night. If little things are left unchecked, then they can become really big issues and we want to avoid that at all costs, especially on an extended journey.
How important is it to have a 'backup' plan for weather events? Could you share any examples of when you've had to alter or shift what you were planning to do due to weather?
It is important to have contingency plans for all undesirable events, including weather. The most important component of any program planning is knowledge of the specific area, which includes understanding local weather patterns and all potential evacuation routes. There is a well-known saying in outdoor circles 'there's no such thing as bad weather, just bad clothing'. That is not to say we would send groups out into known blizzard conditions, but it does say that we want our groups to be as prepared as possible in the case of inclement weather.
Outdoor education is one place where you spend months planning for a trip to go ahead and then when you begin you could end up doing something completely different to what you've spent months planning due to 'undesirable' environmental conditions. Outdoor education is full of teachable moments and some of the best learnings come from sudden changes in weather.
Each year we take our Year 7 students into the Blue Mountains over two consecutive weeks. We will often have one week with glorious sunshine and the second week with torrential rain. The program usually involves an overnight hike and then a day of abseiling with some environmental interpretation interspersed throughout. We have chosen the location because there are so many options for modifications in the case of 'poor weather'. During the rainy week, students make the best shelter because they receive very direct feedback if they haven't tied their tarps well enough. The rainy week also allows students to appreciate good gear, and although they might not go abseiling if the rain is too persistent (increasing hazards in a cliff environment), they might learn that a gum tree will allow 70 per cent of rain water through to the ground cover but a pine will only have 1 per cent through-fall and be a much better tree to stand under during a deluge.
For schools looking to develop their own Outdoor Education program, do you have any advice for them on where to begin?
Firstly, employ a staff member who is specifically trained in Outdoor Education. This is the most important step that gives the best return. There are some incredible courses around the country where Outdoor Education is a major. The Outdoor and Environmental Education courses at La Trobe University in Bendigo produce some of the best outdoor experts in the country. The other great thing about the Outdoor Education community is that it is tight-knit, and bringing one staff member in will open the door to a wealth of resources, which includes qualified casual staff for when you need to run programs.
Secondly, the school needs to be willing to spend money to run an Outdoor Education program. The program doesn't need to fly students interstate or overseas but ratios need to be met. Staff are the linchpin in the system; great staff deliver great outcomes and deserve recognition for the work they are doing. Because when you've got a group in a blizzard or a serious medical evacuation taking place, 24-hour care takes on a whole new meaning!
Some schools may be limited by what they can do because of the cost involved. Do you have any advice on some cost effective activities or experiences that they could consider doing in their own communities?
I would suggest researching the Australian Curriculum and discussing how that can be interpreted for the individual school. Australia is a unique country that has a diverse range of landscapes. Schools should endeavour to explore their local environment with their students as a priority in order to foster that connection to the natural world that surrounds them every day.
Utilising these areas is a great low-cost option that begins to bring the natural world into the students' lives. Bushwalking is a great activity that allows its participants to be immersed in the environment, ratios for the activity allow a higher student-to-staff ratio than water-based activities and durations can vary depending on the location and ability of students.
In late 2019 your Outdoor Education team won a NSW Outdoor Education Award for the most outstanding Outdoor Education program conducted in a NSW school. What did this recognition mean to you, and your wider school community?
Our community was already aware that our program was doing something special and the recognition that came with the award was affirming for everyone. In 2018 and 2019 we ran some parent trips which were fantastic for our relationships with the community and for parents to experience exactly what their children are gifted with through Glenaeon's unique offering.
Does your school have its own Outdoor Education program? If so, what are some of the practical skills students learn from taking part? What other skills (social, emotional, leadership etc.) do they take from these experiences?
Scott Williams says program safety underpins everything they do at Glenaeon. What is you school's risk management strategy for Outdoor Education? How does this impact the way you design your program and individual lessons?
To find out more about the Glenaeon Rudolf Steiner School Outdoor Education program, visit their website.