The annual WISE (World Innovation Summit for Education) Awards celebrate projects that are providing solutions to education challenges affecting students, teachers and communities across the globe.
Yesterday, we took a look at the six winners for 2017. Here, we focus on the remaining nine finalists, including a program supporting student transition to primary school in Ghana and a collaborative learning model aimed at increasing teacher motivation and professionalism in India and Uganda.
ANEER (Morocco)
Fondation Zakoura's ANEER program uses a community pre-schooling model developed in partnership with UNICEF to support children aged four to six, parents and educators in rural areas of Morocco.
Mothers receive training in child development, early learning activities and hygiene while fathers are offered half a dozen education awareness sessions. Members of the community are also offered awareness modules on the importance of early childhood education. The foundation works with local early childhood educators, training them to run literacy classes for community members and build local links to ensure the ANEER program continues once the two-year funding ends.
Following the introduction of the pre-school education program, student attendance in participating rural areas has reached 95 per cent, parent attendance in the program is 90 per cent and all children accessing ANEER have transitioned to primary school. http://www.fondationzakoura.org
Mindspark (India)
Outlining the challenge facing classroom practitioners, Educational Initiatives says: 'Research has found that the average eighth grade child is at the fourth grade level, and that the actual learning levels in the class range from grade 1 to 8. Even for the highly motivated and best paid teacher, it would be difficult to understand and adapt her teaching style to each student in her classroom.'
In response, the project team created Mindspark – a personalised, tech-based adaptive learning program for mathematics and language where students learn at their own pace and can access the tool in English or Hindi.
Over the last seven years, the tool has been used in elite private schools and low-income government schools across India. To further extend the reach, Mindspark Centres have been set up in Delhi's urban slums where children can attend six days a week and access the program for 45 minutes per day. http://www.ei-india.com
Open Book Publishers (global)
This UK-based not-for-profit organisation provides free academic and text books in digital formats to schools, students and teachers in 120 countries, with a particular focus on developing countries.
The project team says 'education is the key to individual fulfilment, social mobility and economic growth – but no large-scale educational program is possible without easy and free access to learning resources'.
OBP books are accessed by an average 30 000 readers per month. Greece, India, Kenya and Nigeria are in the top 10 list of the countries with the greatest number of online readers. http://www.openbookpublishers.com
REACH (Ghana)
The 'Reaching and Teaching Out-of-School Children in Ghana' (REACH) project supports student transition to primary school by providing a nine month, accelerated, complementary basic education (CBE) learning program.
Developed by Plan International in collaboration with the Ghana Education Service, local communities and Educate a Child, REACH has scaled up an existing national program. Community education challenges include a lack of teachers and schools. REACH works with out of school children to design activities to meet their learning needs. Local community committees monitor and support the daily classes.
Training for committee members includes highlighting their role in addressing barriers to girls' education. To help students transition to primary education, the project provides scholarships to cover the initial cost of school supplies and orientation sessions for teachers.
The target is to enrol 90 000 eight–16-year-olds from 34 of Ghana's most disadvantaged districts. In its first two years, 30 000 children (44 per cent girls) and almost 300 teachers have benefited. http://www.plan-international.org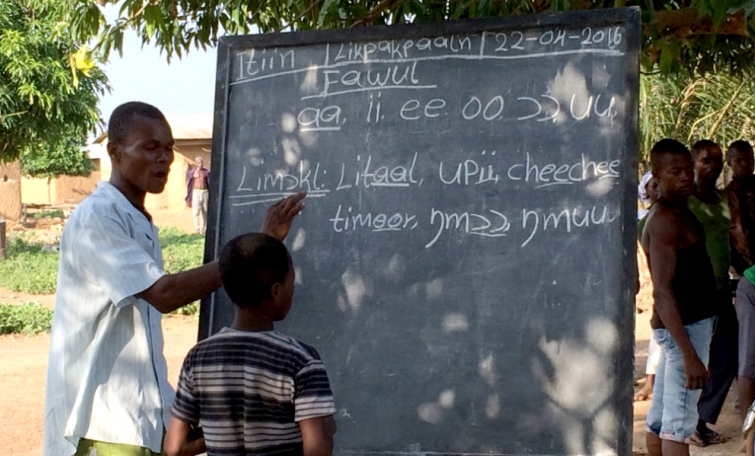 [Image: Plan International]
Science Bits (global)
Science Bits is a repository of research-based science lessons based on inquiry learning, critical thinking, discovery and learning-by-doing. The multimedia resources – including simulators, animations, 3D models and videos – have been created to support middle school and high school teachers.
The resources are linked to real-life contexts and follow the 5E Instruction Model (Engage, Explore, Explain, Elaborate and Evaluate). The project team says: 'Students have become active learners who don't just memorise formulae and definitions, but seek understanding and manage to use new knowledge to solve problems in real life contexts.'
Science Bits is used as the main science resource in one-third of Catalan secondary schools (Spain) and, to date, the project has benefited 3000 teachers and 120 000 students around the world. http://www.science-bits.com
Shams Generation (Qatar)
Shams is Arabic for sun. Qatar Solar Technologies (QSTec) teamed up with Qatar Museums to develop a combined arts and science program – spanning primary, secondary and tertiary – where students create 'solar art' from reusable materials such as cans, cereal boxes, shoe boxes and other household waste.
Physical and online resources provided to schools include a solar kit, curriculum materials and teacher training workshops. The aim is to support students in developing skills such as teamwork, critical thinking, design and innovation, increase awareness of solar technologies and sustainability, and encourage students to consider a career in solar industries.
The students' art work is displayed in schools and the best pieces are selected for a public exhibition. http://www.shamsgeneration.com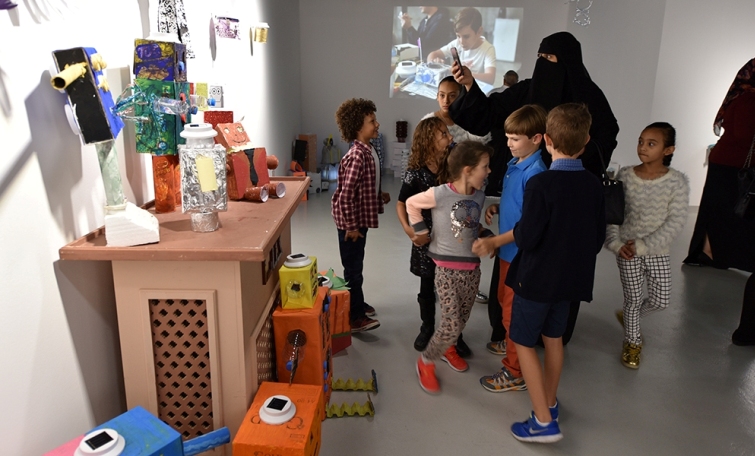 [A Shams Generation exhibition. Image: Qatar Solar Technologies]
STIR Education (India, Uganda)
STIR is working with state and national governments to build local teacher networks aimed at increasing teacher motivation and professionalism, leading to mastery of classroom practice and improved student outcomes.
The model sees teachers use a collaborative Learning Improvement Cycle – identifying a problem, developing, reflecting on and adapting a solution, and evaluating its impact. Educators receive STIR support for two years and are encouraged to attend network meetings for a further three years to improve other aspects of their practice.
From its starting point five years ago as a pilot involving teachers in Delhi, STIR has now reached 27 000 teachers and impacted 1.1 million students across India and Uganda. Plans are now in place to work with the Indian government and scale up the impact to 60 million children. http://www.STIReducation.org
Tele Education Project – SAME (India)
The Satellite & Advanced Multimedia Education (SAME) program offers support to rural and disadvantaged students in their Mathematics, Science and English learning.
The team behind the project says a shortage of adequately trained teachers, teacher absenteeism, inadequate teacher resources, student absenteeism, and poor infrastructure and connectivity, all have a negative impact on student learning outcomes in rural and remote areas of India.
SAME seeks to close the gap in student achievement between rural and remote and urban areas by delivering live, interactive, sessions from broadcast studios via EDUSAT – a dedicated educational satellite launched by the Indian Space Research Organisation. The sessions are delivered in the local language and English, integrated into the school curriculum and are designed to supplement existing lessons. They reach around 180 000 students every year. http://www.edutel.in
The remaining finalist is working outside the K-12 education sector:
OPENPediatrics (global)
In partnership Boston Children's hospital, this project is helping to educate doctors, nurses and healthcare professionals around the world in the use of life support technologies such as ventilation and dialysis machines by giving them access to interactive medical simulators. www.openpediatrics.org
All 15 finalists will be celebrated at the eighth World Innovation Summit for Education in Doha, Qatar, 14-16 November, 2017. To find out more visit www.wise-qatar.org