Over the past 7 weeks, we have been sharing the stories of each of the winners of the Teacher Awards 2023. In the final article we speak to Debbie Watts and Bronwyn Cole from Broadwater Public School, whose entire school community was named winner of the Special Contribution Award for 2023.
The Special Contribution Award category of the Teacher Awards aims to celebrate an individual member of staff or school team, including those not involved in teaching and learning (for example, support staff, office and administration staff, and wellbeing staff). It is an opportunity to sing their praises and say thank you for their positive contribution to the school community.
The 2023 winners of this category are the entire staff and community at Broadwater Public School in New South Wales, whose school, homes and township were devastated by floods in February 2022.
Broadwater is a small town of around 600 people. Broadwater Public School itself is a small school – it has 51 students, a staff of 3 full-time teachers, including a teaching principal, 2 part-time teachers, 2 school administrators and 2 school learning support officers. The school is the focal point of a close-knit community – many of the families are close friends and relatives who live and work in Broadwater.
In late February 2022, following unprecedented rain, the Richmond River inundated Broadwater, laying waste to homes, the sugar mill and Broadwater Public School. The river rose so rapidly during the night that many students and their families were evacuated to higher ground in boats owned by locals. Many homes, treasured possessions, livestock and pets were sadly lost.
Bronwyn Cole is Relieving Principal at Broadwater Public School and lost her own home in the floods. She says that when you see catastrophic weather events on the news or in media, you don't necessarily get a true sense of the devastation.
'I would say most of the town was impacted by the flood in a devastating way,' Cole tells Teacher. 'Obviously the school was completely wiped out. It led to a lot of people having to live out of the town for a long time in temporary accommodation. The trauma of seeing everybody's belongings out the front of their houses in big piles, and walking through the school and seeing everything just upturned, with all the sand and the mud and the smell – it was horrendous.'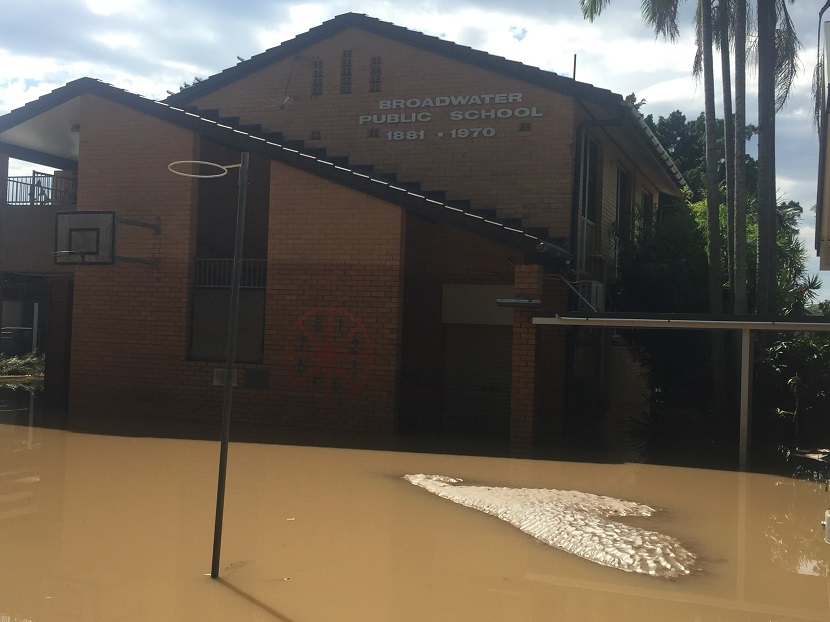 Broadwater Public School in New South Wales was devastated by floods in February 2022.
Debbie Watts is a Senior Classroom Teacher at Broadwater Public School, and she says that the scale of the clean up was more than she ever could have imagined.
'With a flood, the water doesn't just pass through, it sits there. It was over a week before we could actually get into the school, so by the time the water receded everything was covered in mud. We had a 2-storey building and the mud made it up to the top of the stairs of the 2-storey building. Everything was gone. There was nothing that could be recovered.'
Managing student welfare
After a couple of weeks, the NSW Department of Education relocated Broadwater staff and students to the library at another local school, Evans River K-12 Community School. Initially, the library housed their whole school.
'A lot of students didn't have clothes or food. The first thing we had to do was make sure we had supplies, so we could physically help families out with essential items like clothing and food. There was a lot of donations,' Watts says.
'Slowly, as time went on, our numbers increased and once that happened and we had most students reasonably settled, we knew we had to bring a bit of normalcy back to the kids' lives. We had to shift our focus again. So, we said, "we're going to try and re-engage the students, we're going to try and make them want to come to school". We tried to have fun tasks and fun days, but still we wanted to also have a little bit of learning because otherwise it was going to be a long time without learning occurring.'
Around this time, Broadwater were offered a 'permanent temporary' arrangement, where classes were moved from the library into demountable buildings situated near the Evans River primary classrooms. It had a small, grassed area, the size of 2 demountable buildings that is now the playground for the school's 51 students. The local Bunnings donated planter boxes so that students could create vegetable gardens.
'We're working really hard to make this area that we've got here allocated at the school, to present it really nicely. We've got a gardening club now. We've had play equipment installed. So, making it their own as much as it can be until we return to Broady,' Cole says.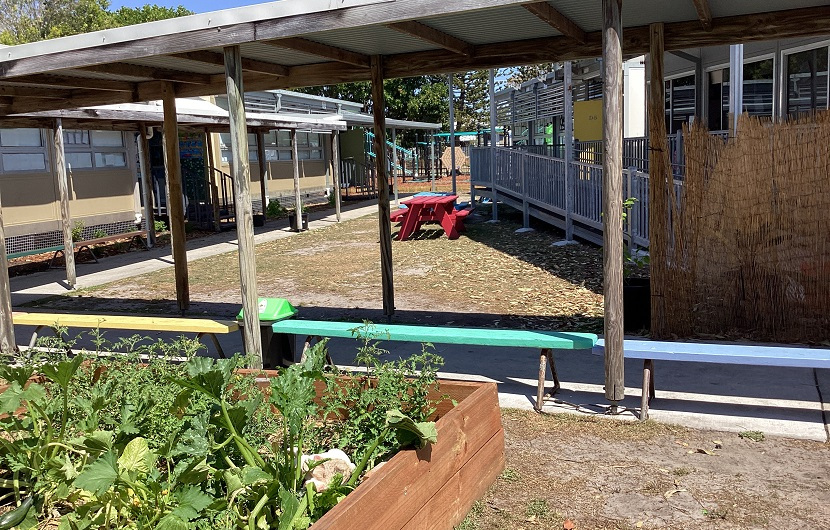 The temporary site at Evans River K-12 Community School has vegetable gardens for the Broadwater students.
Managing student welfare is critical at this time, to ensure that students know that school is a safe and positive place for them to come.
'Communication was key,' Watts says. 'It wasn't just communicating how the students were doing, but also communicating with the families. "What can we do to help you or what do you need from us?", "Can we give you food?", "Can we give you clothing?", "Do you need some help finding accommodation?" That was our big focus – connecting with families.
'We did the same thing with the students. Each morning we would get them together and let them talk about whatever they wanted, sort of like a sharing circle, and they could share anything. And if they didn't want to, they could just sit and listen. We tried then, and even now, to make it as bright and happy as we can.'
Quality Teaching Rounds
Prior to the floods in 2022, staff at Broadwater Public School undertook Quality Teaching Rounds (QTR) and included QTR as a strategic direction in their School Improvement Plan. Whilst circumstances have stymied them undertaking the program in full, the teachers at Broadwater have developed a novel approach to incorporate the Quality Teaching Model into their lessons to improve engagement and ensure a high-quality learning environment.
Combining trauma informed pedagogy and the QT Model, the teachers, working with specialised counsellors, create time and space to talk about their experiences in whole class, small group, and individual discussions.
'We made it our focus to try and make sure that we got the school running as a school again and make sure that we're still making our lessons as high quality as we can because that's always been our focus – it has always been about high quality teaching,' Watts shares.
'It actually was amazing how much the QT Model did help us move on; it gave us something that we could focus on. We do want to try and do the rounds within our own school environment when we're ready.'
The impact on the school community
In the award nomination, the submission says: 'It is emotionally jarring driving past the devastated ruins of Broadwater Public School, surrounded by security fencing, boarded up windows and overgrown with grass and weeds. It's hard to reconcile this scene with the pride staff felt in their large, lush, green school grounds. Plans have been drawn up for their new school building, but work is yet to start.
'The entire Broadwater Public School staff and community deserve to be recognised with the Special Contribution award for the superhuman efforts to ensure students have a school – more than just brick and mortar buildings but a place for them to come, heal, be kids, learn and grow.'
This year, Broadwater students won both the junior and senior small schools spelling bee competition, came runners up in the regional rugby 7s competition, and made the state swimming, athletics and small schools soccer finals. Last year, students attended state athletics and swimming carnivals, and one student won the NSW Premier's Respect Award. The staff and the P&C have also continued to hold events and bring the community into their temporary school location to maintain their school and community spirit.
On winning the Teacher Awards in 2023, Watts says she is proud of all they have achieved.
'To me it was an acknowledgement of all that we achieved after the floods, but also it sends a positive message to the community. It broadcasts that we are still thriving. I don't want us always to be known as the school that was lost through floods. I want us to be known as Broadwater again and I want us to be known as the strong school that we are,' she says.
Cole says that it also recognises the community support and how they worked together during such a difficult period.

'It celebrates the fact that after a devastating event, that as a community we've all worked together. It acknowledges that it wasn't just teachers and students, but parents, the P&C, the whole community.'
The Teacher Awards will be returning in 2024! The awards recognise work that's been completed in the past 12 months, so it's not too early to start thinking about your nomination for next year. You can browse the specific criteria for this award, and the other 7 categories, here, and our FAQ page for the Teacher Awards here.